Wi-SUN
What is Wi-SUN?
Wi-SUN, which stands for Wireless Smart Utility Network, utilizes the 920MHz band referred to as specified low-power wireless radio in Japan. Although featuring slower communication speeds than Wi-Fi which uses the 2.4GHz and 5GHz bands, advantages include a longer communication range, stable connection even against obstacles, and lower power consumption.
Wi-SUN Adoption
Wi-SUN has been adopted as the standard for B-Route communication between smart meters (next-generation power meters from Japan's leading power companies) and residential HEMS (Home Energy Management Systems).
The adoption of Wi-SUN for B-Route communication is expected to expand to AC and lighting connected to HEMS gateways as well as HAN (Home Area Networks) in the future.
Wi-SUN Profile
Wi-SUN utilizes a PHY layer based on IEEE802.15.4g, with the upper layers varying depending on the application.
The Wi-SUN Alliance is responsible for certification and promotional activities to create and ensure interoperability of the Wi-SUN profile.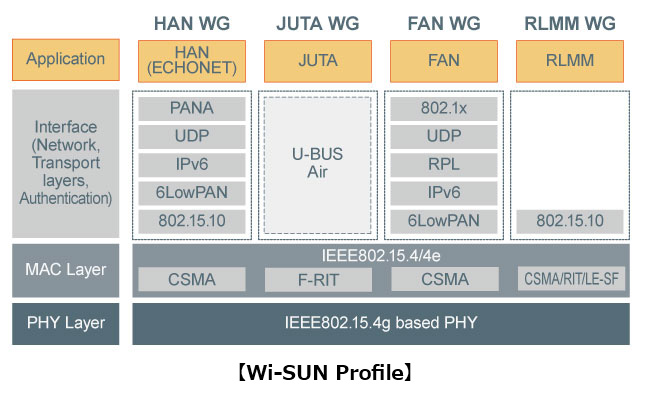 ■ HAN
HEMS standard profile that supports Wi-SUN ECHONET Profile for Route B, Wi-SUN ECHONET Profile for HAN, Enhanced HAN with sleeping and HAN relay functions, and more.
■ JUTA
A wireless communication profile that enables mutual communication by supporting the U-Bus Air wireless standard for telemetering established by the NPO Telemetering Promotions Council (JUTA). Ultra-low power wireless communication is achieved, ensuring long-term operation of battery-equipped smart meters (i.e. gas, water) for over 10 years.
■ FAN
Field Area Network profiles developed for applications used to construct smart cities and smart grids, including infrastructure and advanced transportation systems.
■ RLMM
Profiles utilized in factories, building automation, and maintenance systems to monitor the conditions of buildings and structures.