csv_title
ROHM's CSV

Solution of Social Issues through its Core Businesses
csv_main
ROHM's Development and Technology Strategies for Attaining SDGs - Contribution to the World by Utilizing Technologies
ROHM Group has been actively engaged in CSV activities to help solve social issues in order to contribute to the achievement of the SDGs, which are common global goals.
To contribute to society through our products, we have been supplying innovative products with the keywords of energy saving, miniaturization, safety, and comfort. In recent years, we have been providing many key devices for a wide range of fields, including the automotive market, where technological innovation is progressing, as well as the industrial equipment and IT equipment markets. We will continue to aim to solve social issues based on our three CSV strategies.
Medium-Term Targets and Achievements
ROHM has identified "Strengthening Sustainable Technologies, Developing and Supplying Innovative Products" as an important issue for achieving the medium-term management plan launched in 2021, and has set it's 2025 target. We will continue to work toward the sustainable growth of society and ROHM Group.
Strengthening Sustainable Technologies, Developing and Supplying Innovative Products
[Background and Challenges for Activities]
Decarbonization is an issue that must be achieved worldwide. To achieve these goals, technological innovations are progressing around the world to significantly reduce environmental impact, including the use of electric vehicles and renewable energy.
On the other hand, as technologies such as automatic operation have become widely spread throughout society, ensuring safety has also become a major issue. ROHM's strengths are power and analog technologies. By utilizing these technologies to develop and provide new value-added technologies and products, we will contribute to the realization of global environmental problems and a safe society.
Theme
Targets
(Target Year: FY2025)
Targets for FY2022
FY2022 Actual
Targets for FY2023
Contribution by developing energy-saving products and supplying them to the market
Achieve sales amount of 600 billion yen or more* with sales as the total amount of social contribution
*Updated from the original target of 470 billion yen or more to 600 billion yen or more
Sales amount: 510 billion yen
507.8 billion yen
540 billion yen
Contribution by developing and supplying miniaturized products
Contribution by developing and supplying products pursuing functional safety
[Related Activities]
[CSV Strategy 1] Pursuing Lower Energy Consumption
Realization of large-scale power saving through development of devices ~ Development of devices with the lowest energy consumption in the world and introduction of such devices onto the market ~
Social Issues:Increased Energy Consumption Stemming from a Rise in Population Has Exceeded the Earth's Bio-capacity
The management resources of a company are generally said to be "people, goods, money, and information," but the foundation of these management resources is the natural capital, the global environment. The world's population is expected to increase rapidly from 6.9 billion in 2010 to approximately 8.5 billion in 2030. This population is expected to increase rapidly to approximately 8.5 billion by 2030. If this growing population were to use the same level of energy as today's developed countries, it would require three to five Earths to secure the capacity to process that energy. Therefore, reducing CO₂ emissions produced by human activities and reducing the burden on the earth are social issues that must be addressed in order to create a sustainable society and company.
ROHM Group believes that replacing the energy used itself with renewable energy and curbing CO₂ emissions, as well as promoting technological development to further reduce power consumption in the products we bring to market as a semiconductor manufacturer, will lead to solutions to energy problems.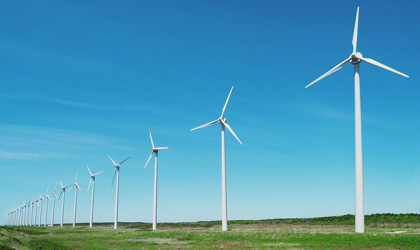 ROHM's Efforts:Development of Power Devices that Contribute to Energy Conservation
It is believed that half of the 20 trillion kWh of global electricity consumption is used for "motors", and if we could improve the efficiency of all motors by 10%, we could reduce 1/3 of all nuclear power plants in the world. Furthermore, the key to the remaining power consumption is the "power supply". In various electronic devices, a loss of 5 to 20% is generated at every minute voltage conversion, and improving the efficiency of this loss is also a major issue. Semiconductors called power devices and power supply ICs play an important role as devices to improve the efficiency of these "motors" and "power supplies. ROHM will contribute to solving the world's energy problems by providing the world's most advanced devices, including SiC devices.
SiC Power Devices that can Lead to Substantial Power Saving
Compared to conventional silicon (Si) power devices, silicon carbide (SiC) power devices have lower operating loss, high-speed operation, and excellent high-temperature characteristics. ROHM has been leading the industry in the development of SiC MOSFETs since 2010 and the world's first full-SiC power module since 2012. Currently, these SiC power device products are widely used in automotive and industrial equipment, demonstrating their effectiveness and contributing to energy conservation and miniaturization in society. ROHM will continue to contribute to the miniaturization and high-efficiency of various motors and inverters by providing total solutions that combine the world's most advanced SiC power devices, control ICs such as gate drivers that maximize the device performance, and module technologies. We will continue to contribute to the miniaturization and high efficiency of various motors and inverters.
[ Voice of the Person in Charge ]
ROHM's ability to make proposals that help customers solve problems
In the pursuit of achieving carbon neutrality, demand for SiC power devices, which contribute to miniaturization and energy savings, is increasing, especially for EVs. SiC power devices using new materials are different from conventional Si devices in terms of usability, and problems that customers have never experienced before may occur. To minimize such problems, we offer proposals based on an understanding of the customer's needs, including the characteristics of the power device, how it will be used in the application, and how it will be driven to help customers who are adopting SiC devices for the first time to proceed with their evaluations without any problems. ROHM has a large lineup of not only power devices but also ICs that drive devices and general-purpose components and we are proud of our strength in proposing solutions by combining these products and technologies.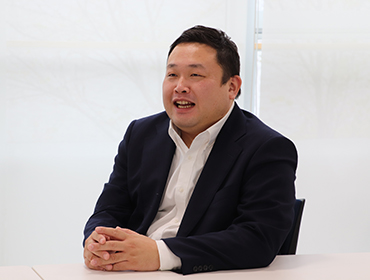 Developing Products that are Better for the Environment and Society
I am working on a module proposal that integrates components from various fields and considers the design of the customer's product.
SiC, which ROHM is currently focusing on, is a product that truly embodies ROHM's environmental vision, as it is characterized by its ability to significantly reduce power loss and increase the efficiency of power conversion, with data showing that power loss has been reduced by up to 50% in DC/DC converters for solar power generation. I am currently developing SiC molded modules for main engine inverters for electric vehicles. I am also conducting quantitative evaluations to see how much the performance of the inverter improves when ROHM's SiC is used in comparison to SiC. I am proud of the fact that what I am making is for the betterment of the environment and society, and I take pride in my work.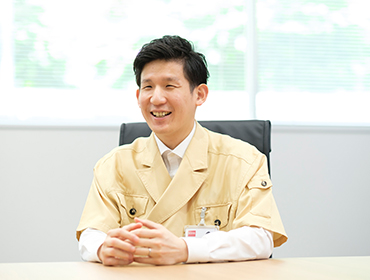 Promoting Development to Further Improve Safety of Lithium-Ion Batteries
In a world aiming for carbon neutrality, the battery market is expected to expand further with the spread of battery reuse., and the safety requirements for lithium-ion battery monitoring LSIs are increasing more than ever. In order to maximize the performance of lithium-ion batteries, customers are demanding lower current consumption, highly accurate measurement of remaining battery capacity, and enhanced protection functions.
Currently, in order to achieve even higher accuracy and lower cost of remaining capacity measurement, we are developing a battery monitoring LSI that combines the design technology cultivated in LAPIS Miyazaki's high-voltage process with ROHM Hamamatsu's process, which has a lineup of high-performance, high-voltage elements. We also hold regular technical exchange meetings with our customers and make technical proposals to solve their problems. Recently, we have been evaluating the validity of battery degradation measurement methods, and have proposed battery degradation prediction incorporating ROHM's new technology, and are considering its realization while reflecting customers' opinions. In addition to improving the functionality of its products, Lapis Technology has been promoting the qualification of its engineers as functional safety engineers for several years.
Through these efforts, we will contribute to further improvement of lithium-ion battery safety by expanding our battery monitoring LSI product lineup and enhancing its functions.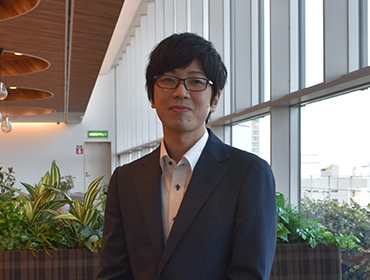 [CSV Strategy 2] Pursuing Smaller Size of Products
Reduction of raw material usage through device development
~ Develop and bring to market optimized, high-efficiency devices ~
Social Issues:Limited "Underground Resources"
The technology required to maintain and further develop our current lifestyle is supported by devices and machines that use electronic components. At present, these electronic components, devices, and machines are made from natural underground resources, and the limited mining potential of each underground resource is a serious problem that is not being addressed.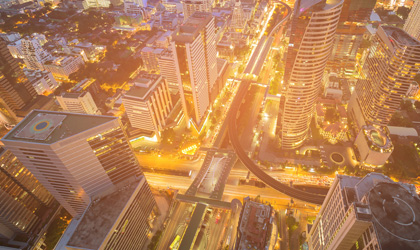 As a company, ROHM Group not only recycles and reuses waste in order to make effective use of limited resources, but as a semiconductor manufacturer, we also believe that the development of technologies to reduce raw materials used and waste itself will lead to solutions to social issues.
ROHM's Efforts:Reduction of Raw Material Usage by Developing and Bringing to Market Optimized, High-efficiency Devices
Power devices, which play an important role in power saving, can further enhance performance at the system level by matching their characteristics and specifications with analog ICs (control ICs and driver ICs).
ROHM has developed a number of analog ICs that maximize the performance of various power devices, mainly SiC devices, and can provide optimal solutions for your system. In addition, by integrating these power devices and analog ICs into a single package or a single chip, it is possible to achieve further miniaturization and higher efficiency in addition to the performance provided by conventional devices.
ROHM is committed to minimizing the burden on the global environment by contributing to the reduction of materials and waste through the miniaturization and weight reduction of systems with optimized, high-efficiency devices.
Compact, High-efficiency Power Supply IC with Built-in SiC Power Device
In 2019, ROHM will be the first in the world to mass produce an AC/DC converter IC with built-in SiC MOSFET, which combines a SiC device and control IC in a single package. Compared to the conventional Si device and control IC component configuration, this product not only dramatically improves efficiency by extracting the performance of the SiC device, but also reduces the number of components to 12 in total and the heat sink to only one. In addition, the product eliminates the need for inter-component coordination and improves reliability, contributing to the dramatic miniaturization, higher reliability, and power savings of industrial equipment.
[CSV Strategy 3] Pursuing Security and Safety
Contribution to realizing a society without traffic accidents caused by products ~ Development of products focused on functional safety and introduction of such products onto the market ~
Social Issues:Increase in Traffic Accidents due to the Worldwide Aging Society
The number of people who die in traffic accidents amounts to approximately 1.25 million annually on a global basis (according to a survey conducted by the WHO in 2013). In Japan, the number of traffic accidents involving elderly people, in particular, is increasing. This is because the number of elderly drivers is increasing due to Japan's aging population. Such aging populations are accelerating globally, and even in so-called "developing countries" the number of people aged 60 years or older is expected to account for one-fifth of the total population in 2050.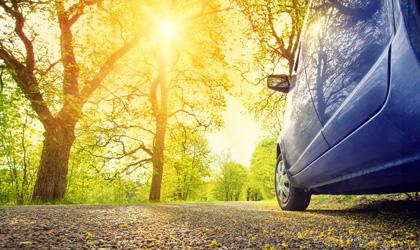 ROHM Group believes that contributing to the development of technologies to create vehicles that do not cause traffic accidents will help solve social issues toward the realization of a motorized society in which even the elderly can drive safely.
ROHM's Efforts:Contributing to technological Innovation in Automobiles by Providing a Stable Supply of High Quality Products with safety in Mind
Since its foundation, ROHM has contributed to the automotive market by adopting a "vertically integrated" system in which all processes from development to manufacturing are carried out within the group under the corporate objective of "quality first," creating high quality in all processes, realizing reliable traceability, and optimizing the supply chain. In recent years, technological innovations represented by ADAS (Advanced Driver Assistance Systems) and automated driving have accelerated, and to ensure the safety of automobiles, it is necessary to achieve safety targets at the level of semiconductors that make up in-vehicle components.
Against this backdrop, ROHM was one of the first semiconductor manufacturers to obtain ISO 26262 development process certification, the functional safety standard for automobiles, in 2018, and in 2021 launched the "ComfySILTM" brand to contribute to the safety, security, and comfort of society through products that support functional safety. ComfySILTM" brand to contribute to the safety, security, and comfort of society through products that support functional safety. As the role of electronic components in automobiles continues to increase, we will strive to create even safer products and contribute to the realization of a safe, secure, and environmentally friendly automotive society through our products.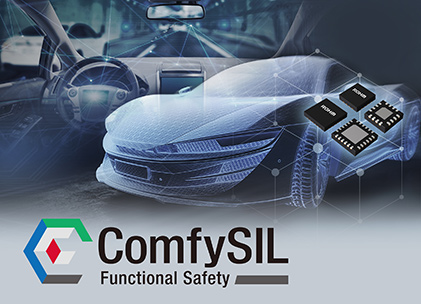 Providing Solutions for ADAS Camera Systems for Functional Safety
In ICs installed in ADAS camera systems for safety, it is natural to enhance the performance and reliability of ICs, but it is also important to take measures to prepare for possible failures at the semiconductor level in order to build safer systems.
ROHM has developed power supply ICs and communication ICs that are compatible with "functional safety", which clarifies the risks associated with failures and ensures an acceptable level of safety in the event of a malfunction. In addition to excellent performance aspects such as low power consumption and low noise, these products monitor whether the system and ICs themselves are operating properly, and have functions to notify abnormalities in the event of a failure, thereby contributing to the evolution and safety improvement of ADAS camera systems.
[ Voice of the Person in Charge ]
Products that Contribute to the World, Saving Energy and Reducing Size
For nearly 10 years since I joined ROHM, I have been involved in the development of power supply LSIs for LCD TVs. Since then, I have shifted to the automotive field, which is currently ROHM's focus, and have been proposing solutions for power supplies that lead to ADAS and automatic driving for automobiles, mainly to major manufacturers in Japan and Europe. I find it really interesting to be involved in the development of such cutting-edge technologies and to be able to develop them together with client companies.
For automotive applications, we have recently released power supply LSI and communication LSI products for cameras, which have enabled us to save 10% energy compared to conventional products. In addition, the miniaturization of the product and its surrounding components has made it possible to use only one substrate, whereas two substrates were previously required to mount various components in an in-vehicle camera module, which is now as small as 20 mm x 20 mm. We have also been able to contribute to the price reduction necessary for the product to be widely used in the world.
We will continue to engage in dialogue with our customers to discover technologies that contribute to the world and to commercialize them.