Block Diagram
Power Management

Protection

Interface

Signal Control / General Purpose
Reference Designs
A system-level evaluation board that combines ROHM's IC and discrete products. We have already solved not only the characteristics of individual products but also the problems that may occur when combining them to build a system, thus contributing significantly to the reduction of development time for our customers. For example, it has been confirmed that all the products equipped with the product meet CISPR25 Class-5 standards in operation with regard to EMC standards, which are important factors in incorporating the product into automotive equipment. In addition, system-level evaluation and design data can be downloaded so that customers can use it as a reference for their designs. ROHM will continue to offer a wide range of solution evaluation boards in the future.
ROHM Solution Simulator
ROHM Solution Simulator is a new web-based electronic circuit simulation tool that can carry out a variety of simulations, from initial development that involves component selection and individual device verification to the system-level verification stage. This makes it possible to quickly and easily implement complete circuit verification of ROHM power devices (i.e. SiC) and ICs (e.g. driver and power supply ICs), in simulation circuits under close to actual conditions, significantly reducing application development efforts.
*MyROHM Login Required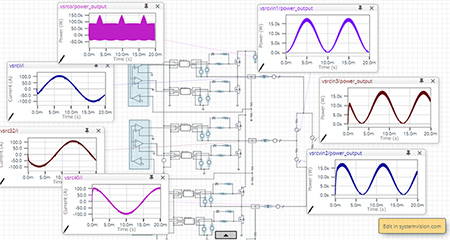 Functional Safety
In recent years, the increasing advancement and proliferation of automated driving have brought about a need for standards such as ISO 26262 that defines functional safety along with functions that contribute to the prevention of accidents in the event of an emergency. As such a growing number of companies are promoting functional safety not only among automotive manufacturers (OEMs), but Tier 1 electronics equipment suppliers as well, making it an increasingly important requirement worldwide.The 1st Edition of ISO 26262, a functional safety standard for automotive electronics and electrical systems, was published in November 2011, then after several revisions the 2nd Edition was released in December 2018.
Video
Wettable Flank Package-DFN1010-3W
ROHM offers a new ultra-compact 1mm² bottom electrode MOSFET package leveraging original wettable flank technology that significantly improves heat dissipation while guaranteeing a minimum side solder fillet height of 125µm, resulting in superior mounting reliability ideal for ADAS, automotive ECUs, and other high density applications.