Speech Synthesis LSI with Long-time Playback
Long Playback Speech Synthesis LSI ML22Q6xx has a large-capacity 4Mbit to 32Mbit flash memory with rewritable sound data.
The ML228xx and ML227xx incorporate LAPIS Technology's proprietary memory P2ROM capable of short TAT from 4Mbit to 16Mbit.
Both are ideal for long playback such as voice operation guidance.
Speech Synthesis LSI with

Long-time Playback


Internal Flash Memory Type:ML226xx series

Internal P2ROMTM Memory Type:ML227xx series,ML228xx series
Overview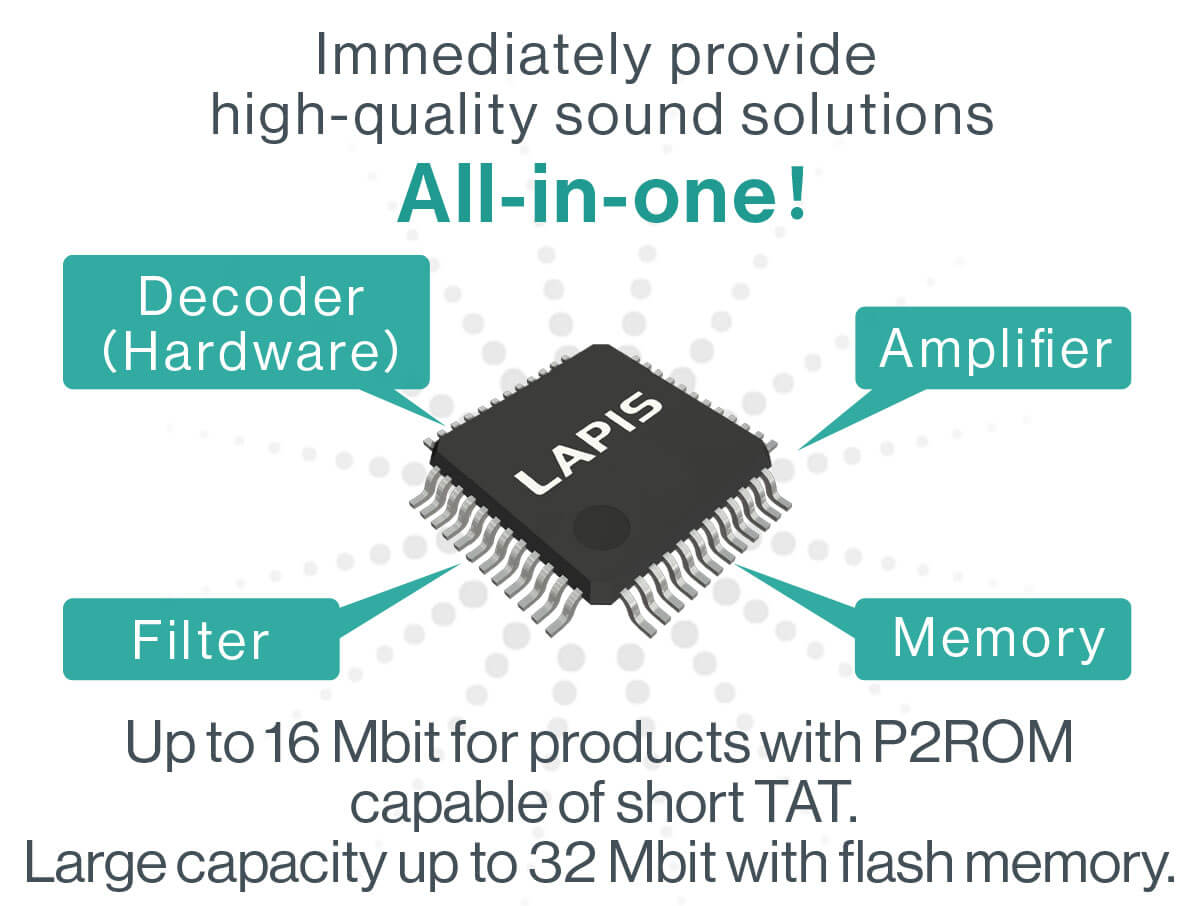 For long playback speech synthesis LSIs, we have a lineup of products equipped with flash memory and products equipped with P2ROM that can be used with short TAT.
Products with flash memory that can rewrite sound data have a ROM capacity of 4Mbit-32Mbit.
LAPIS Technology's proprietary memory with P2ROM has a ROM capacity of 4Mbit-16Mbit.
Large ROM capacity is ideal for long playback such as voice guidance.
Product Features
Feature 1

Sound data can be rewritten for products with flash
The ML22Q62x allows data to be rewritten to the internal Flash memory via the MCU's SPI I/F. In addition, sound data can be rewritten in the field even after product shipment.
---
Features 2

Products with P2ROM™ *1 achieve short TAT! Reduce inventory risk and delivery risk
The "ML228xx" and "ML227xx" integrate LAPIS Technology's proprietary P2ROM memory technology for storing sound data.
This provides ROHM the capability to immediately ship prototype samples and shorten mass production TAT for customers by half.
Development TAT can be shortened to around one month, about a quarter that of Mask ROM.
P2ROM enables one-time writing in the customer's environment, making it possible to verify the sound quality on the spot without taking additional time.
(Write shipment only from LAPIS Technology for mass production)
*1 : P2ROM™ is a registered trademark of LAPIS Technology.

---
Feature 3

Built-in high-output, high-efficiency Class D amp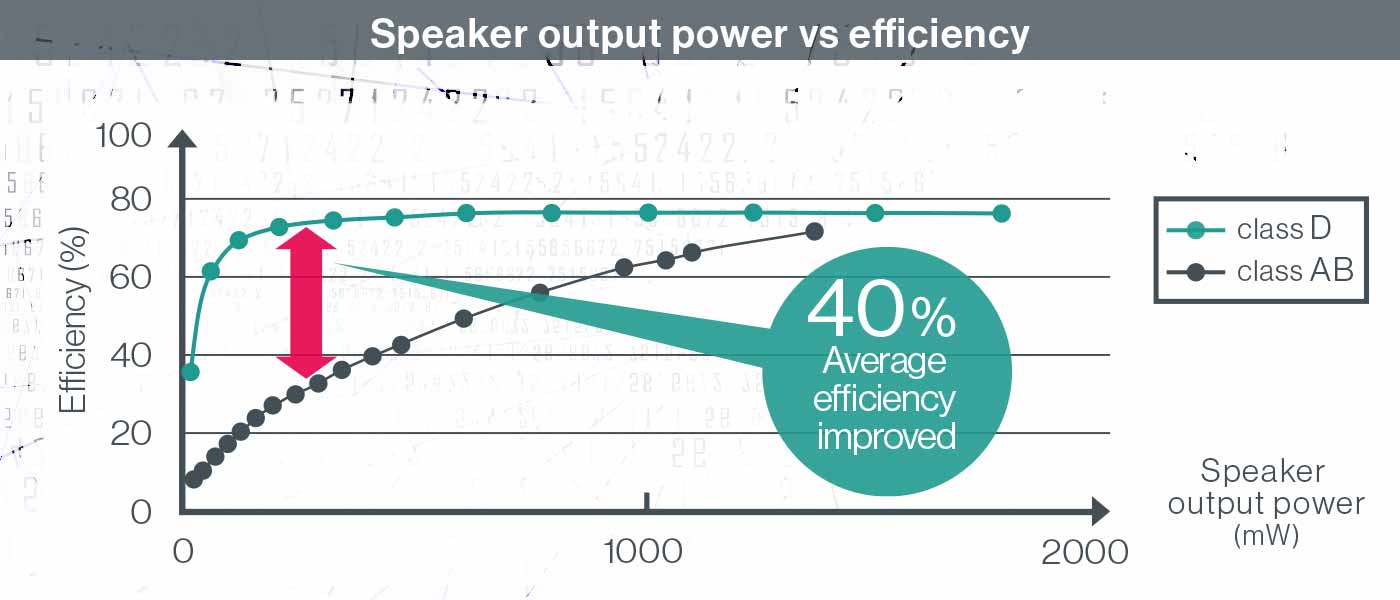 Built-in high output 1W class D amplifier.
Class D amplifiers are more efficient and generate less heat than conventional class AB amplifiers.
---
Feature 4

Built-in speaker fault detection function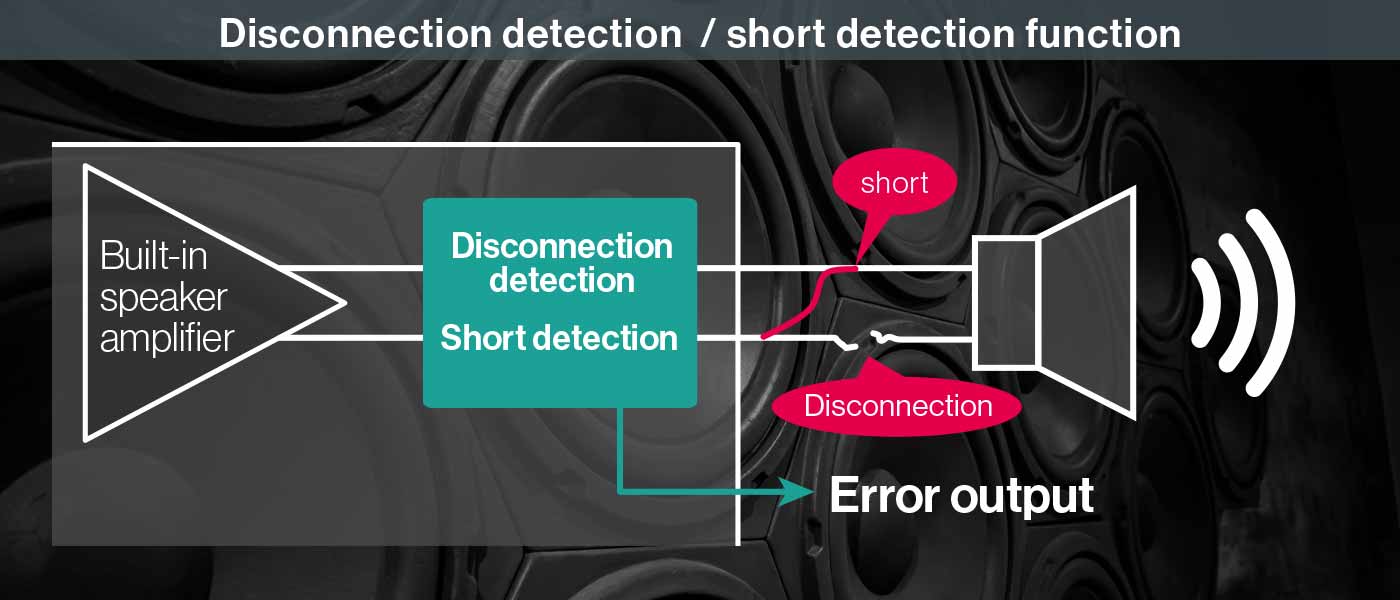 Both the ML22Q62x and ML22Q66x are equipped with failure detection functions for detecting speaker disconnections and short circuits.
This allows for immediate notification of speaker failures. Speaker output is stopped when a short-circuit is detected to prevent overcurrent.
Applicable Models : ML22Q62x、ML22Q66x
---
Feature 5

Integrated mixing function for 2 internal and 1 external channel. External input is also possible, allowing the speaker amp to be used independently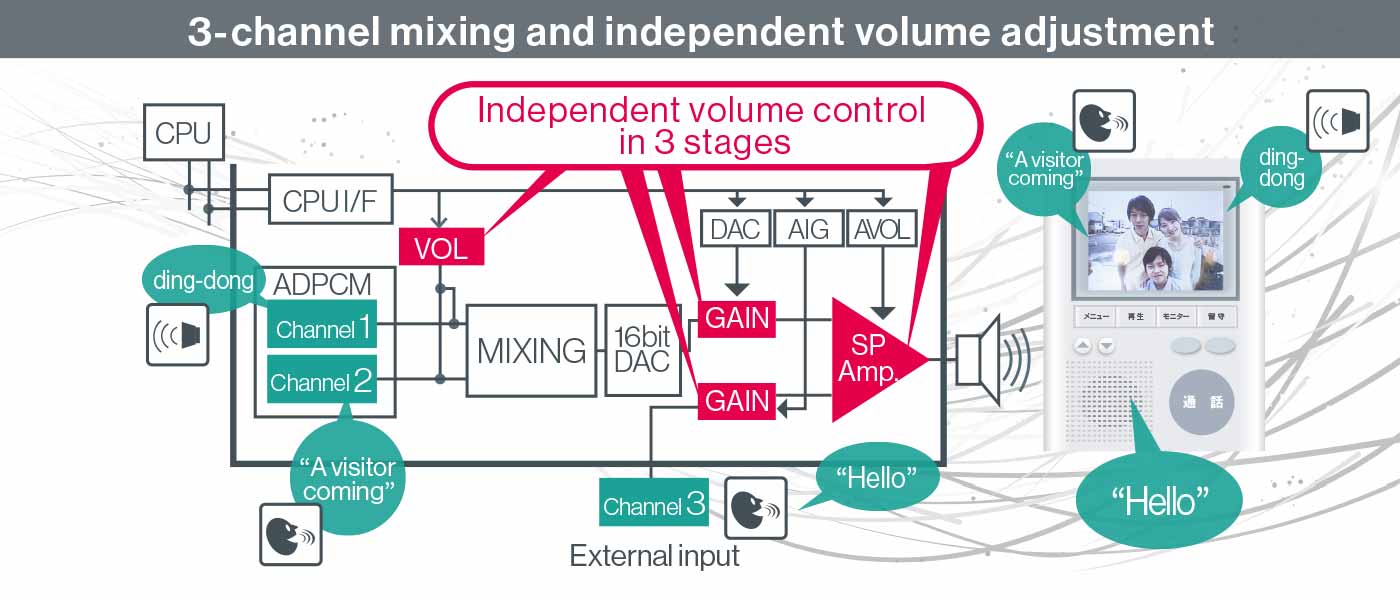 The ML228xx series includes a mixing function that provides simultaneous playback of 2 internal and 1 external channel while enabling the volume to be adjusted for each sound. It is also possible to prioritize each channel.
For example, users can mix and use external voice calls while generating voice guidance and sound effects using the speech synthesis LSI. In addition, since the speaker amp function can be used independently for external sound data, it can be shared within the system as an amp to reduce costs.
Applicable Models : ML22863、ML22864、ML22865、ML22823、ML22824、ML22825
The product names, service names, company names or logo marks of Rohm Co., Ltd., its affiliates or other companies on this website are trademarks or registered trademarks of their respective owners and/or licensors.