Thin-Film Piezo MEMS Foundry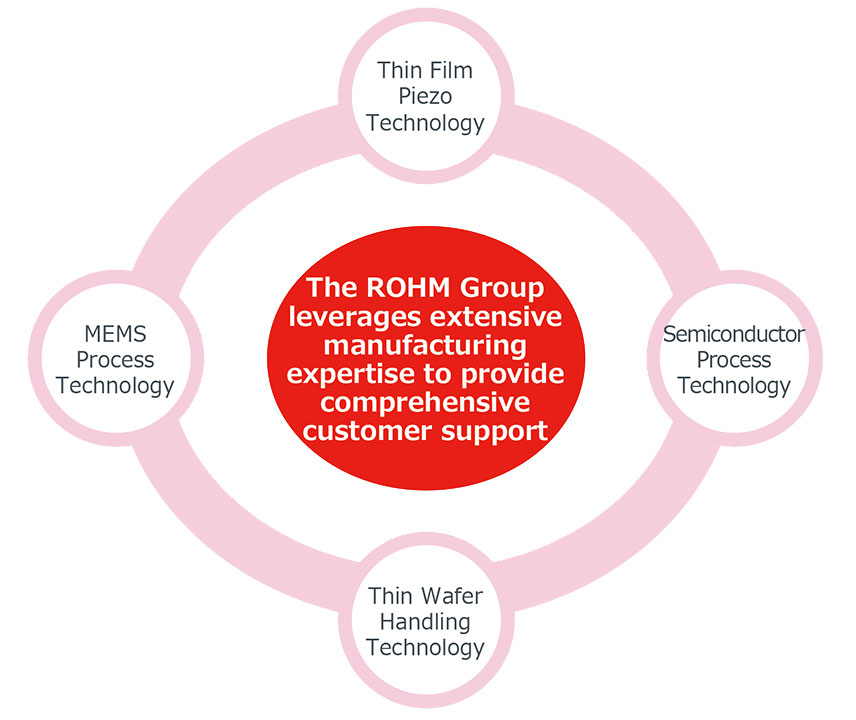 ROHM has conducted R&D over many years, focusing on technological innovation using ferroelectrics. ROHM thin-film piezo MEMS foundry utilizes in-house high reliability production equipment leveraging market-proven ferroelectric technology along with a heterogeneous material management system that makes it possible to integrate thin-film piezoelectric MEMS and IC microfabrication technologies. In addition, joint development allows customers to achieve next-generation solutions featuring breakthrough miniaturization with unprecedented energy savings and performance.
・Total support is provided, from prototype development to mass production.
・As a strategic partner with customers, ROHM supports products from the process and manufacturing aspects.
・Achieves superior products utilizing high performance, high reliability thin-film piezo technology.
R&D ・ Manufacturing Site: LAPIS Semiconductor Miyazaki Co.,Ltd.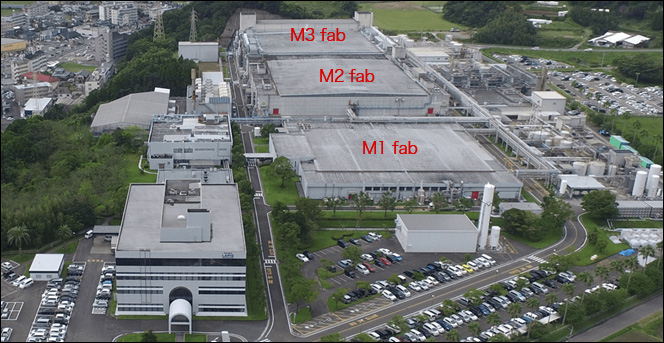 | | |
| --- | --- |
| Location | Kiyotake-cho, Miyazaki City, Miyazaki Prefecture, Japan |
| Clean Room | 1,360m2 dedicated to Piezo MEMS (of 6,000m2 total M2 fab.) |
| Clean Rating | Class 1-1,000 |
| Wafer Diameter | 6-inch |
| Services Provided | Engineering samples, mass-production |
| ISO Certifications | ISO9001, ISO14001 |
| Development / Production Experience | Actuators, sensors |
| Process Technologies | PZT piezo thin film, bulk/surface MEMS, double-sided Si processing, wafer-to-wafer bonding |
Flow from Customer Consultation to Mass Production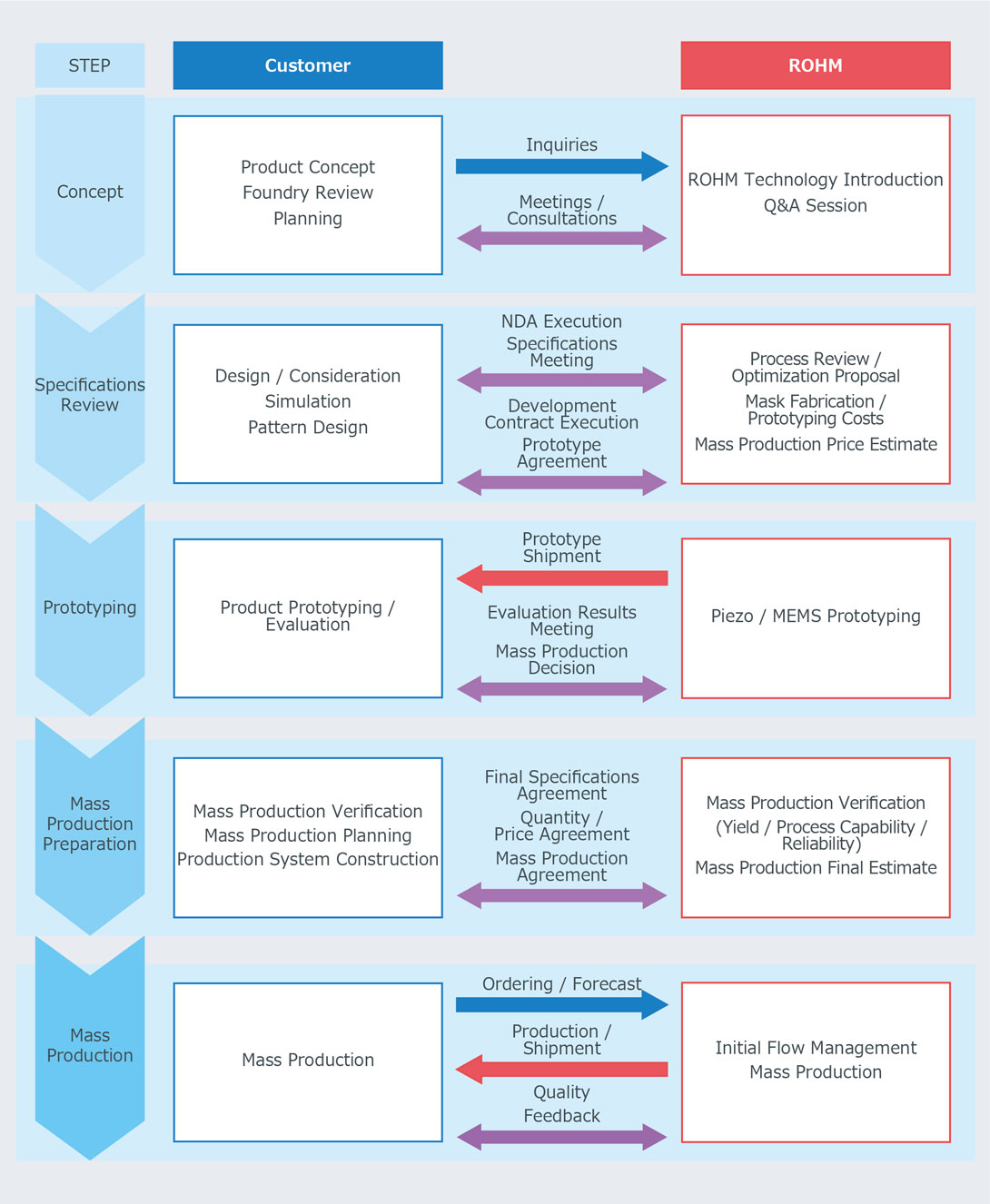 *The above flow is just an example - the actual flow will be determined after consultation in each case
For inquiries, requests, and/or consultation, please feel free to fill out the form on the contact page by clicking on the button below
In-House Equipment
Process Category
Equipment
Photolithography
Resist Coating / Development
MPA (Mirror Projection Aligner)
Double-Sided Aligner
i-Line Stepper
Tape Lamination
Laminators (UV Tape, Thermal Release Sheet, PI Film, etc.)
Deposition
Sol-Gel (PZT System)
PE-CVD (SiO2, SiN)
LP-CVD (SiO2, SiN, poly-Si)
Furnace (Thermal Oxide)
Sputter (Al System, Au, Ti, TiN, TiW, Pt, Ir, etc)
ALD (Atomic Layer Deposition) (Al2O3, SiO2, Ta2O5)
Water-Repellent Coating Formation
Dry Etching
Si Deep RIE
Isolation Layer RIE
PZT/Electrode ICP Etcher
Wet Etching
SiO2 Etching
Au Etching
Si Anisotropic Etching
Stripping and Cleaning
Asher
Organic/Polymer Stripper
Acid Cleaning
Scrubber
Wafer Bonding
Resin Bonding
Anodic Bonding
Dividing, etc.
Dicing, Two-Fluid Cleaning
Circle-Cut Dicer
Measurement
Analysis/Dimension Measurement SEM
Optical Dimension Measurement Equipment
Front/Back Misalignment Measurement Equipment
Visible Light/IR/Laser Microscopes
X-Ray Diffractometer
Laser Displacement Measuring Equipment
X-Ray Fluorescence (XRF) Analyzer
Needle/Optical Interference Type Step Gauges
Ellipsometer
Appearance Inspection Equipment
Electrical Characteristics Evaluation Devices (i.e. Probes, Testers)
Process Capabilities
Process
Process Specifications
Remarks
Photolithography
Minimum line width: 1mm (Stepper)
Minimum line width: 3mm (Aligner)
Si Deep RIE
Taper angle: 90 +/- 1deg
Etching rate in-plane uniformity: <5%
Dimensional accuracy: ±0.1μm
(Both are pattern-dependent)
Substrate through hole processing possible
Both sides can be processed
(Notch-free)
Taper control possible
TMAH Etching
Within 5% in-plane with respect to depth
Substrate through hole processing possible
Both sides can be processed
PZT Deposition
Film thickness accuracy: In wafer: ±1.0%
Between wafers/lots: ±2.5%
Doping ex. (Nb, La)
PZT Etching
Processing line width accuracy: ±1μm
Etching rate in-plane uniformity: <5%
(PZT thickness ~3μm, tapered shape available)
Pt stop enabled
Sputter
Thickness uniformity: <4% in-plane
AlCu, Au, Ti, TiN, TiW,
Pt, Ir
CVD
Thickness uniformity: <4% in-plane
SiO2, SiN
ALD
Thickness uniformity: <5% in-plane
Al2O3, Ta2O5, SiO2
Resin Bonding
Alignment accuracy: ±5μm
Resin thickness: 1 to 3μm
Epoxy, BCB
Anodic Bonding
Internal seal pressure: >0.01Pa
Si/glass
Prototype Examples
Inkjet actuators
Inkjet fluidics, nozzles
MEMS mirrors
MEMS microphones
Piezo MEMS speakers
Micro pumps
RF elements
Pyroelectric sensors
Ultrasonic sensors
Accelerometers
Gyro sensors
Pressure sensors
Process Technology Examples
PZT Film Performance
In 1998 ROHM became the first in the world to successfully mass produce ferroelectric memory by leveraging many years of experience and expertise in utilizing PZT thin film for Si wafer processes.
Developed using in-house equipment, ROHM's sol-gel PZT film features industry-leading performance and reliability.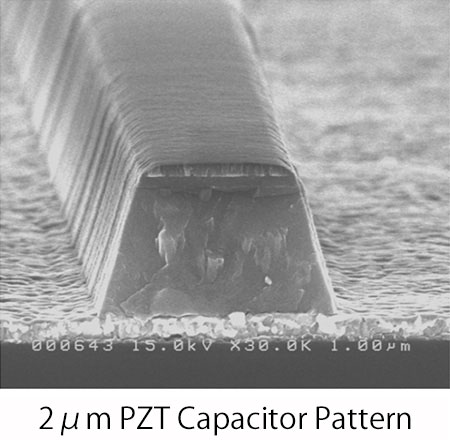 Parameter
Value
Conditions
Effective Piezoelectric coefficients e31, f (-C/N)
19
10V/μm
Piezoelectric coefficients d31 (-pm/V)
260
10V/μm
Breakdown Voltage (V/μm)
>75
Room temperature,
(Restricted due to evaluation power supply)
Breakdown Life (years)
>10
20V/μm, 105℃,
(Estimation via acceleration testing)
Fatigue Life (times)
>1x1010
10V/μm, displacement reduced 10%
(Unipolar pulse)
Leakage Current Density: (A/ cm2)
<1x10-7
20V/μm
Si Deep RIE
Several Si deep etching equipment from different companies (along with some developed in-house) allow ROHM to propose the optimal Si etching process (shape, tolerance, foreign particle level, cost) for each product.
Tapered etching is also possible.

Thin Wafer Handling Technology
ROHM developed original wafer transport equipment that enables process and wafer bonding of thin Si wafers.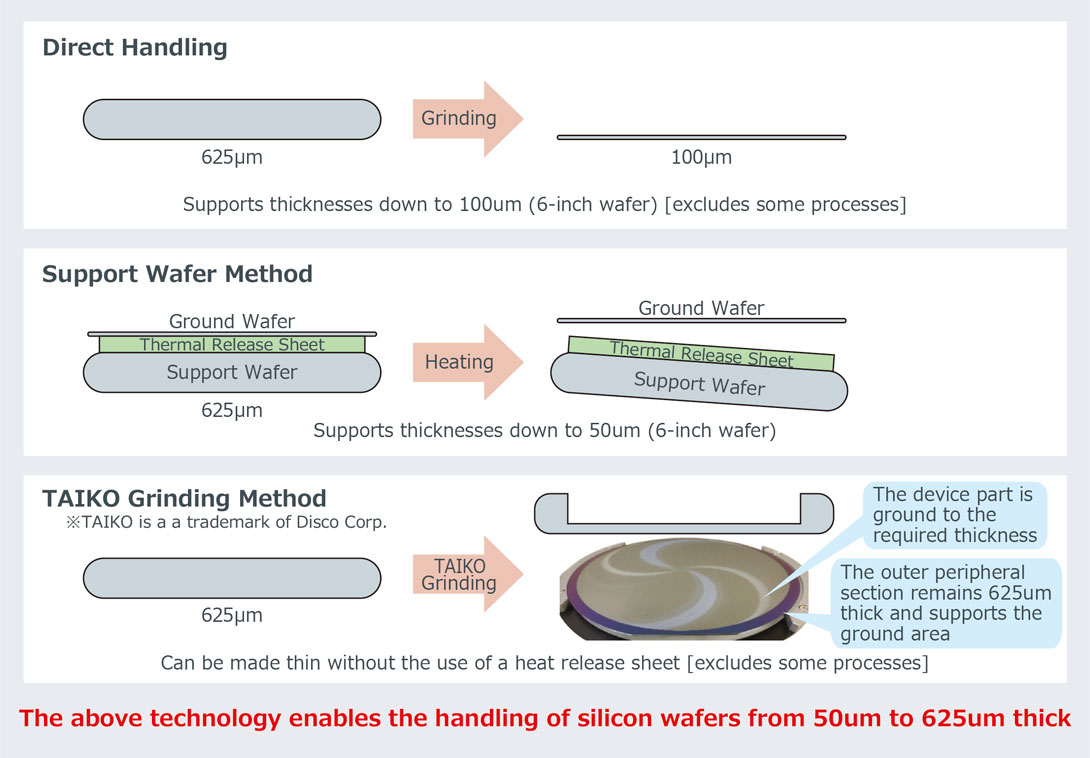 Q&A
Q.

What is the compatible wafer size and standard?

A.

The 6-inch JEITA standard (orientation flat length 47.5mm).

Q.

Is it possible to process SOI wafers?

A.

Yes, it is possible.

Q.

Is it possible to deposit PZT by sputtering?

A.

Unfortunately, at this time sputter deposition is not supported.

Q.

Is it possible to deposit PZT using the specified Sol-Gel solution?

A.

Consultation is required.

Q.

What range of PZT film thicknesses are possible?

A.

We have a proven record in the range of 200nm to 5um, but a 2um thickness is standard when considering costs .

Q.

What can be done at pre-inspection?

A.

Electrical characteristics evaluation (i.e. capacitance, hysteresis, leakage, resistance), external visual inspection (automated), and other processes are available.

Q.

Is it possible to request only a prototype?

A.

As a general rule, we prioritize projects that have the potential to be mass produced.

Q.

Is it possible to perform specific processes?

A.

Generally, we do not undertake partial processes for mass production, but are open to negotiation.

Q.

Is it possible to produce masks?

A.

Yes, it is possible.

Q.

What data format is required for mask production?

A.

Please provide the data in GDS format.

Q.

Is an NDA or development contract necessary?

A.

Yes, based on the development STEP.

Q.

Is it possible to visit a factory upon request?

A.

Yes, it is possible. We can allow visits, depending on the request.

Q.

Is it possible to perform processing not available at your facility?

A.

Yes, outsourced and offsite equipment are available.