risk-management_title
Risk Management

Business Foundation
risk-management_main
Risk Management and Business Continuity Policy
The following is defined to implement the objectives and policies such as " Company Mission" and "Basic Management Policy" and to promote risk management and business continuity management within ROHM Group.
Risk Management
・Promote group-wide global risk management.
・Identify and assess critical risks and take measures to minimize losses.
・Regularly review the status of evaluation and response to critical risks and share them with the management team.
・In the event of an incident, promptly gather and report information, and transition to a business continuity and recovery plan as appropriate.
Business Continuity
・Place the highest priority on ensuring the safety and confirming the safety of employees and related persons, and strive to prevent secondary disasters such as fire and environmental pollution.
・To maintain the supply chain, we will work for prompt restoration of production and business.
・Fulfill our social responsibilities as a company.
・The entire company will work together to promote business continuity management and recovery activities under the direction of the management team.
・Periodically review the business continuity plan in response to changes in the business environment and strive for continuous improvement of the business continuity management system.
Promotional System
In the course of our business activities, various risks may affect our financial position and operating results. ROHM Group is working to strengthen risk management in order to avoid or minimize the impact of such risks, and has organized the Risk Management and BCM Committee (which meets four times a year) under the EHSS General Committee* established in 2022. The committee identifies important risks that may occur in the Group, evaluates them on a risk map in terms of frequency of occurrence and impact on the business, and manages and promotes countermeasures. In addition, we are checking the status of activities of each management system and department, and are promoting the formulation of a business continuity plan (BCP) to ensure that the entire company is prepared to deal with any risks.
EHSS General Committee・FA committee composed of the executive officers of management that oversees the eight lower management systems (environment, health and safety, labor, ethics, information, supply chain, quality, and risk management BCM) and ensures that the PDCA cycle for each is properly implemented.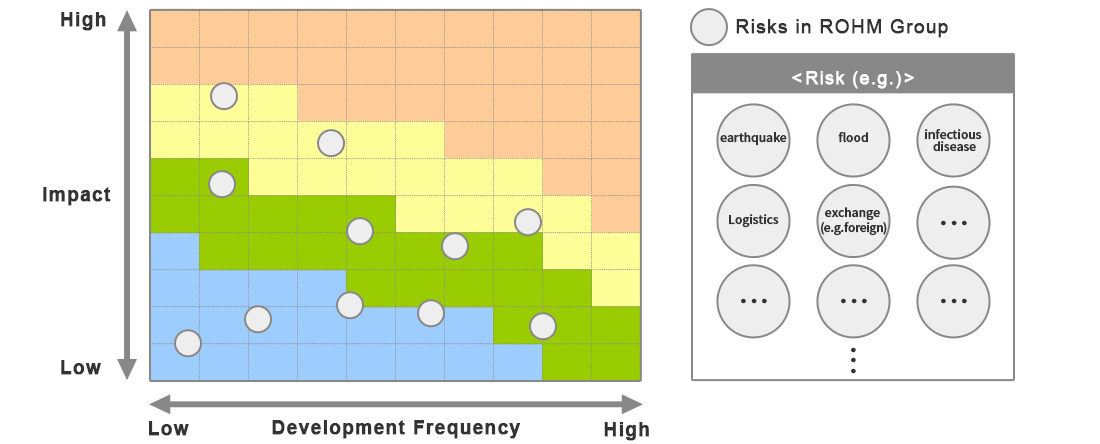 Risk Management System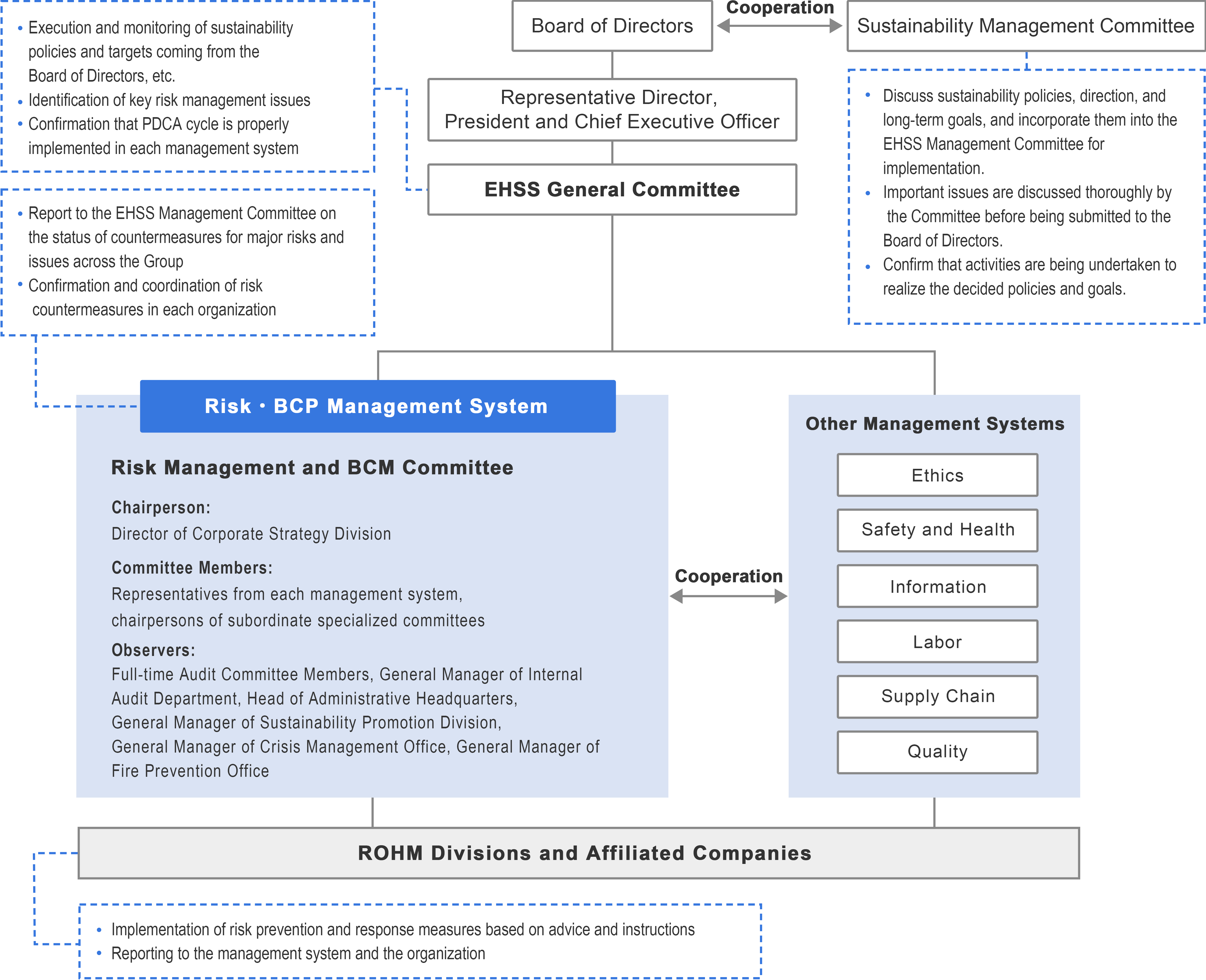 Activity Cycle for Risk Management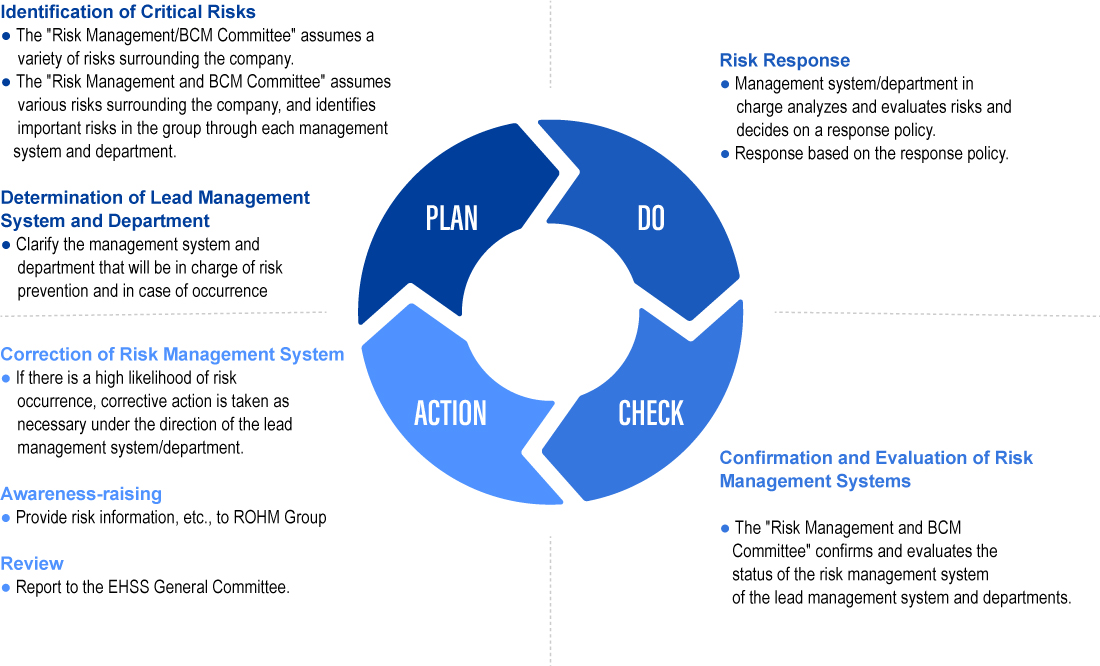 PLAN
Identification of Critical Risks
The "Risk Management/BCM Committee" assumes a variety of risks surrounding the company.
The "Risk Management and BCM Committee" assumes various risks surrounding the company, and identifies important risks in the group through each management system and department.
Determination of Lead Management System and Department
Clarify the management system and department that will be in charge of risk prevention and in case of occurrence.
DO
Risk Response
Management system/department in charge analyzes and evaluates risks and decides on a response policy.
Response based on the response policy.
CHECK
Confirmation and Evaluation of Risk Management Systems
The "Risk Management and BCM Committee" confirms and evaluates the status of the risk management system of the lead management system and departments.
ACTION
Correction of Risk Management System
If there is a high likelihood of risk occurrence, corrective action is taken as necessary under the direction of the lead management system/department.
Awareness-raising
Provide risk information, etc., to ROHM Group.
Reviews
Report to the EHSS General Committee.
Medium-Term Targets and Achievements
ROHM has identified "Risk Management" as a priority issue for achieving the medium-term management plan launched in 2021, and has set it's 2025 target. We will continue to work toward the sustainable growth of society and ROHM Group.
Risk Management
【Background and Challenges for Activities】
Amid the diversification of risks surrounding companies in conjunction with economic globalization and changes in society, appropriately managing various internal and external uncertainties related to business is indispensable for the execution of management strategies and business objectives. Even if we suffer damage from a large-scale natural disaster, accident, infectious disease, or other epidemic, etc., it is an important responsibility as a company to ensure that critical operations are not interrupted, and that recovery and resumption of operations are carried out in the shortest possible time in the unlikely event of interruption. ROHM Group considers "risk management" to be an important management issue for the business foundation, and considers events that may interfere with operations and business performance as "risks" and minimizes the occurrence of such events, and takes measures to ensure business continuity and recovery smoothly even when events occur.
Theme
Targets
(Target Year: FY2025)
Targets for FY2022
FY2022 Actual
Targets for FY2023
Strengthening BCM management system
Strengthen BCP system through continuous identification of risks
・Continuation of activities implemented in FY2021
・Build a more robust risk management system in coordination with each management system of the EHSS General Committee
・Implemented initiatives to raise awareness of fire and disaster prevention among all employees
・The Risk Management and BCM Committee, which meets quarterly, identifies and evaluates the Group's risks, confirms the status of countermeasures, and reports major risks to management. Create indicators to predict the occurrence of risks and monitor the progress of countermeasures
・Conducted earthquake response BCM drills centered on the BCM task force with management participation, utilizing remote work tools, to verify the effectiveness of disaster response.
・Conducting remote risk surveys focused on fire and water-related disasters at major production sites in Japan and overseas to verify the status of fire and water-related disaster risk response
・Conducted internal audits of fire and disaster prevention at domestic and overseas group companies
・Established Fire Prevention Guidelines for clean rooms and disseminated them throughout the Group
・Reviewed internal standards in line with government guidelines as a measure against the COVID-19 and took flexible measures
・E-learning program for ROHM employees to raise awareness of disaster prevention
・Continuation of activities implemented in FY2022
・Build a more robust risk management system in coordination with each management system of the EHSS General Committee
・Implement initiatives to raise awareness of fire and disaster prevention among all employees
・Establishment of a fire risk assessment system to prevent fires
【Related Activities】
Risk Management
Business Risks
The following is a list of risks that ROHM Group recognizes as having the potential to significantly affect its financial position, operating results, and cash flows, as well as major countermeasures against these risks, among matters related to business conditions, accounting conditions, etc. Forward-looking statements in the text are based on the judgment of ROHM Group as of June 27, 2023.
The following is not an exhaustive list of all risks, and ROHM Group may be affected in the future by risks other than those listed.
1. Risks Related to Business Strategy and Market Fluctuations
Frequency of occurrence: Moderate
Impact: Large
Contents
ROHM Group focuses on markets with higher growth potential and on markets and technologies in which the ROHM Group can demonstrate its strengths, such as automotive, industrial equipment, and overseas markets as key markets, and power, analog, and general-purpose devices as key products. In these priority fields, global competition is likely to intensify, and the ROHM Group may be involved in price competition that exceeds the limits of cost reductions and fierce development competition. Again, the market growth may slow down due to various changes in social needs and other factors.
In addition, market growth may slow or the market may shrink due to various changes in social needs and other factors. There is a risk that ROHM Group's financial position, business performance, and cash flow may be adversely affected by these market trends and changes in the competitive environment.
Main Measures
In response to these risks, ROHM Group is strengthening its product lineup in the automotive field, where a shift to EVs is expected, and in the industrial equipment field, where growth is expected over the medium to long term, and is reviewing its proposal-based sales structure to anticipate customer needs. In addition, the ROHM Group is enhancing its competitiveness by developing new products and technologies, focusing on its strengths in the "power," "analog," and "general-purpose devices" technology fields.
In order to develop globally competitive products, ROHM dispatches Product Marketing Engineers (PMEs), who are familiar with technologies and markets, overseas to conduct product planning and detailed product specifications for new products that anticipate market needs on a global level, mainly in Europe, China, Taiwan, and the United States. This will enable us to offer new products that satisfy customers in a wide range of regions. In this way, we are increasing the number of inputs into the market for new products that will please customers in a wide range of regions.
In addition, in order to increase sales in overseas markets, we have established a sales structure that allows our worldwide sales network to operate under a strategy of total optimization. In addition, we have organized a "System Solution Engineering (SSE) Division," centered on Field Application Engineers (FAEs), who are well versed in development trends and other technical information of finished product manufacturers, who are our customers, to strengthen our ability to propose solutions. Through collaboration between sales representatives and FAEs, we are able to provide optimal solution proposals and meticulous technical support to customers worldwide.
2.M&A Risk
Frequency of occurrence: Moderate
Impact: Large
Contents
ROHM Group believes that it is necessary to consider and implement mergers and acquisitions worldwide with the aim of increasing corporate value, expanding existing businesses with a view to future business prospects, entering new fields based on existing technologies, and acquiring new technologies and securing promising human resources. On the other hand, inadequate verification of governance and management structures, business systems, and synergy hypotheses, which should be verified through due diligence prior to the acquisition, could result in the estimated acquisition value exceeding the actual value, resulting in a situation where losses are incurred.
Even after an acquisition, if post-merger integration (PMI) is not properly conducted, unexpected events or significant changes in market trends may cause the acquired business to not perform as expected, possibly resulting in losses.
Main Measures
In M&A, we search for potential acquisition candidates in advance in line with our own business strategy. In the implementation phase, we form a specialized project team, and if necessary, we also use outside advisors to incorporate third-party perspectives to ensure appropriate decision-making, and make decisions after sufficient research, consideration, and deliberation prior to acquisition.
To ensure effective post-acquisition PMI, we formulate and execute a plan with a view to making the PMI effective even before the acquisition.
3. Exchange risk
Frequency of occurrence: Moderate
Impact: Large
Contents
ROHM Group has development, manufacturing, and sales sites around the world, generating revenues and expenses as well as assets and liabilities in multiple currencies. The translation of company currencies into financial statements and the translation of yen into consolidated financial statements of each location fluctuates depending on the exchange rate, which affects the business performance and financial position of ROHM Group.
In addition, ROHM Group conducts production activities in Japan, Asia, and Europe, and sales activities in the global market. As a result, the currencies used for transactions at our production and sales sites differ, and we are constantly affected by fluctuations in exchange rates.
Generally speaking, a strong Japanese yen has a negative impact on business performance, while a weak Japense yen has a positive impact.
Main Measures
To reduce the risk of exchange rate fluctuations, ROHM enters into a certain amount of forward exchange contracts for trade receivables denominated in foreign currencies.
4. Risks related to natural disasters and infectious diseases
Frequency of occurrence: Small
Impact: Large
Contents
ROHM Group conducts development, manufacturing, and sales activities not only in Japan but also in other parts of the world, and the occurrence of natural disasters such as earthquakes and floods, or a decline in operating rates due to the spread of infectious diseases, could damage production or sales sites in such regions. In addition, these risks may occur simultaneously in multiple regions, which may have a significant impact not only on ROHM Group but also on the entire supply chain, including customers and suppliers.
Main Measures
ROHM Group has taken measures such as locating production lines at multiple sites around the world to diversify risks. In addition, each site operates under a risk management and business continuity policy. In particular, major domestic and overseas sites with production functions cooperate with external specialized organizations to conduct risk assessments in terms of natural disasters, infectious diseases, safety, and operational, economic, and political risks, and identify, analyze, and evaluate the top risks for each plant. Based on these assessments, we organize countermeasure committees and other groups to formulate business continuity plans, conduct drills based on these plans, and take various other measures to prepare for contingencies.
ROHM then organizes a countermeasures committee and implements various measures to prepare for emergencies, including the formulation of business continuity plans and drills based on these plans.
With regard to infectious diseases, the safety of employees, customers, and suppliers is our top priority. To continuously reduce the risk of infection, we have implemented various measures, including the implementation of flexible work styles such as telecommuting and the introduction and utilization of IT tools that enable such flexible work styles.
In order to maintain supply to customers, some models are being transferred to other ROHM Group sites and OSAT* to cope with reduced or suspended operations, and we are working on measures from a long-term perspective to reduce possible risks, such as developing flexible production lines and labor-saving lines.

*OSAT (Outsourced Semiconductor Assembly and Test): A manufacturer that undertakes assembly and testing, the back-end processes in semiconductor manufacturing.
5. Risks Related to Climate Change
Frequency of occurrence: Moderate
Impact: Large
Contents
Global climate change may affect our business activities due to damage caused by unprecedented extreme weather events, costs beyond expectations associated with the introduction of a carbon tax and response to stakeholder requests, and a decline in brand value as risks materialize.
Main Measures
In April 2021, the ROHM Group formulated the ROHM Group Environmental Vision 2050 to address environmental issues, setting the goals of "climate change countermeasures," "realization of a resource-recycling society," and "harmony between natural cycles and business activities," and has been promoting these efforts. The ROHM Group is promoting climate change countermeasures on a group-wide basis, including efforts to curb greenhouse gas emissions through continuous energy-saving measures and the introduction of renewable energy sources, including solar power generation.
In September 2021, we revised our 2030 Medium-Term Environmental Targets to achieve a decarbonized society. At the same time, we endorsed the recommendations of the Task Force on Climate-related Financial Disclosure (hereinafter referred to as TCFD*1) and have been disclosing information in line with TCFD recommendations.
In April 2022, we also joined RE100*2, an international corporate initiative that aims to make 100% of the electricity used in our business operations from renewable energy sources.

*1.TCFD(Task Force on Climate-related Financial Disclosures):An organization established by the Financial Stability Board (FSB) to examine climate-related disclosures and how financial institutions should respond. The FSB recommends that companies and others should understand and disclose their "governance," "strategy," "risk management," and "indicators and targets" related to climate change-related risks and opportunities.

*2.RE100(100% Renewable Electricity): An international corporate initiative organized by The Climate Group in partnership with CDP and also operating as part of the We Mean Business coalition. In Japan, the Japan Climate Leaders Partnership (JCLP) has supported the participation and activities of Japanese companies as an official regional partner of RE100 since 2017.
6. Geopolitical risk
Frequency of occurrence: Moderate
Impact: Large
Contents
International relations in various countries and regions are becoming increasingly uncertain due to such factors as the protracted Russia-Ukraine problem, rising military tensions in the vicinity of Taiwan, and bilateral relations between the U.S. and China. For the ROHM Group, which operates globally, geopolitical risks not only have a direct impact on production and sales activities, such as business withdrawal or shutdown, but can also affect the entire supply chain, including material procurement and transactions with customers.
In addition, countries and regions are pursuing protectionist policies regarding semiconductors, which are used in products of all industries, as a key material for economic security. If  ROHM Group fails to respond appropriately to these policies, its business activities and performance may be adversely affected by administrative penalties and legal sanctions.
Main Measures
In ROHM Group, the Risk Management/BCM Committee collects information, monitors, and implements countermeasures for geopolitical risks that may affect management.
Each regional business location is also working to identify risks and formulate and promote risk management measures and business continuity plans to ensure the safety of employees and minimize the impact on business.
In addition, with regard to export regulations for semiconductor-related products, the Export Control Specialist Subcommittee, consisting of relevant departments throughout the company, implements appropriate security export control in cooperation with attorneys.
7. Legal Risks
Frequency of occurrence: Moderate
Impact: Moderate
Contents
ROHM Group develops various new technologies and know-how to manufacture products that are differentiated from those of other companies, and manufactures and sells products worldwide backed by these proprietary technologies. Therefore, it is essential for ROHM Group to protect its intellectual property rights and avoid disputes with other companies.
In addition, ROHM Group complies with all laws and regulations to ensure the environment, health, and safety in all areas in which it operates, including exhaust emissions, wastewater discharge, use and handling of hazardous substances, management of chemical substances contained in products, waste disposal, soil and groundwater contamination, and other investigations. However, the occurrence of unforeseen circumstances that could have a negative impact on our business results could result in legal liabilities of some kind.
Main Measures
The technologies and know-how used by ROHM Group are protected by intellectual property rights to enhance business competitiveness while protecting its own technologies. At the same time, we conduct strict controls through internal investigations and checks during product development to prevent infringement of intellectual property rights held by other companies.
In addition, ROHM Group has established and is operating a group-wide environmental management system that conforms to ISO 14001, the international standard for environmental management systems, and is promoting continuous environmental improvements aimed at environmental conservation, including reducing environmental impact. The Environmental Conservation Committee established at the ROHM Head Office plays a central role in these efforts, managing the environmental impact caused by production, activities and services at each site in accordance with laws and regulations, and horizontally disseminating improvements identified through internal audits at each site to all Group companies.
8. Risks Related to Securing Human Resources
Frequency of occurrence: Moderate
Impact: Large
Contents
Amidst a major transition period of digitalization and decarbonization, the need to secure human resources for business activities is becoming even more critical, due in part to the structural labor shortage caused by the declining birthrate and aging population. If ROHM Group is unable to continuously develop and secure highly specialized human resources, in particular, this may lead to a decline in competitiveness.
In order to continue to develop and secure human resources over the long term, it is important to create a stage where a wide range of talented human resources can play an active role. It is also important to enhance and strengthen human resource policies and systems to increase employee engagement with the company and productivity, and to enable each employee to maximize his or her abilities.
Main Measures
ROHM Group's basic management policy states: "We seek out and develop a wide range of talented human resources to lay the foundation for the company's permanent prosperity." In order to secure the human resources that will serve as the foundation for the company's rapid growth over the next 10 years, we have been actively recruiting people from diverse backgrounds, hiring more than 100 mid-career workers over the past several years.
We are also developing an environment in which such human resources can play an active role over the long term. To enable the highly specialized human resources who support the sustainable growth of ROHM headquarters to fully demonstrate their abilities, we have drastically revised our employee career system and established the Specialist Position System in FY2019. This system recognizes employees who contribute to the company with highly specialized skills as "Specialist Workers" and clarifies their career paths as leading experts in their fields. We are systematically developing highly specialized human resources with the aim of passing on technology and expertise, fostering future generations, and enhancing corporate value through innovation.
In addition, the Job Posting System, launched in FY2022, provides opportunities for employees to raise their own hands and get transfered  to a new position by disclosing and publicly soliciting job offers internally as well as when strengthening and increasing the number of employees in focused businesses. The increased internal mobility of human resources enables us to respond flexibly to rapid changes in the business environment and to secure the human resources needed for our core businesses.
Furthermore, we have introduced various systems that allow each employee to work flexibly according to his or her lifestyle and life stage. In addition to providing childcare and nursing care leave, we also focus on creating an environment where employees can continue to work with peace of mind through remote work systems and systems that allow employees to change work locations.
In order to create a stage where excellent human resources can play an active role, we will continue to use the engagement survey to understand the gap between the ideal organization and the current situation and issues, and to implement effective measures to improve engagement.
9. Risks Related to Information Security
Frequency of occurrence: Moderate
Impact: Large
Contents
Appropriate management of information of customers and suppliers, as well as information held by ROHM, is indispensable for providing better products and services to society and for conducting trustworthy corporate management. On the other hand, in recent years, there have been many reports of sophisticated cyber attacks targeting companies and information leaks caused by people, such as retirees taking confidential information with them.
If these measures are not properly addressed, the company will not be able to maintain confidentiality of information.
Failure to properly address these issues could result in the leakage of confidential and personal information, business shutdowns due to system downtime, and other adverse effects on the ROHM Group's corporate activities, business performance, and financial position.
In addition, as countries continue to revise and strengthen their personal information protection laws and data protection regulations, any violation of such laws and regulations could result in a loss of public trust, a suspension of corporate activities, and the imposition of large fines.
Main Measures
ROHM Group has established information management rules, including the Information security policy, the  Confidential information management policy, and Privacy policy, dealing the confidential and personal information of ROHM Group and its stakeholders handled in the course of business activities, and appropriately manages and operates such information.
We have obtained ISO/IEC27001 certification for information security management systems since 2013, and by expanding the scope of operation and certification, we are promoting appropriate information management, including the prevention of leaks and unauthorized use of confidential and personal information. The computers used by employees are monitored 24 hours a day, 365 days a year by a specialized external organization, and a system is in place to detect and respond to signs of cyber attacks as early as possible. In the event of an emergency, we have established an internal response team with the objective of localizing and minimizing damage and promptly restoring operations. Similar measures are also in place globally.
In addition, as a measure to maintain and improve the information literacy of employees, we regularly conduct educational and awareness-raising activities, such as training sessions in which employees receive e-mails simulating targeted attacks and e-learning programs.
10. Human Rights Risks
Frequency of occurrence: Small
Impact: Large
Contents
Due to increasing global consideration of human rights, we are required to give consideration to human rights not only in our own company but also throughout our supply chain from suppliers to customers. Inadequate consideration of forced labor, child labor, low wages, and health and safety at the workplace and in local communities, especially in developing countries, can lead to a loss of public trust. In addition, as countries and international organizations continue to establish human rights-related guidelines, laws, and regulations, if we do not identify and address risks related to human rights in our own companies, including those in our supply chain, we may not be able to conduct our business on a global scale.
Main Measures
As a company with global operations, the ROHM Group supports, complies with, and respects international principles and norms such as the United Nations Global Compact, based on the recognition that it is important to build a sustainable society where human rights are respected. In addition, the ROHM Group has established the ROHM Group Human Rights Policy and declared its commitment to respect for human rights and due diligence. Specifically, we have established a hotline for employees and suppliers, and issued a statement on the UK Modern Slavery Act.
We are also promoting such initiatives not only in our own company but also throughout our supply chain. We confirm through audits and surveys that there are no problems with the labor conditions and initiatives of our company and suppliers based on international norms such as the RBA*1 Code of Conduct, and request improvements as necessary. In addition, in sales through sales agents, we are working to prevent human rights violations at our suppliers by asking them to pledge not to violate not only various laws and regulations but also human rights-related rules and regulations.

<International principles and norms endorsed by ROHM Group>
Ten Principles of the UN Global Compact
Universal Declaration of Human Rights
International Labour Organization (ILO) "Fundamental Principles and Rights at Work"
UN Guiding Principles on Business and Human Rights
OECD Guidelines for Multinational Enterprises ISO26000
RBA(Responsible Business Alliance)code of conduct
*1 RBA Alliance to promote CSR in the supply chain of the electrical and electronic equipment (electronics) industry or industries that are their main components. It has established codes of conduct in the areas of labor, health and safety, environment, ethics, and management systems.
11. R&D activity risk
Frequency of occurrence: Small
Impact: Large
Contents
R&D in the electronics field is in the midst of intense global competition, and delays in the development of new products directly lead to a decline in competitiveness and to the risk of losing new markets.
Specific risks that may cause delays in R&D include stagnation due to a lack of optimal human resources, narrowing due to uniformity in human resources, inferiority due to technological obsolescence, and suspension of activities due to regulatory deviations and noncompliance. As a result, future business performance may be affected.
Main Measures
We will not only focus resources for the next five years, but also ensure that resources are allocated to new fields based on our long-term vision, and realize R&D activities that lead to seamless, sustainable growth. We will acquire a diverse range of human resources, including global and career hires, and conduct active R&D that constantly anticipates needs through open innovation and constant review of themes. Also, we will continue to conduct R&D that avoids incident risks by maintaining a legal and fair R&D system. In addition, we are strengthening collaboration with external organizations, such as joint research with many universities in Japan and overseas, for the future 10 years or more into the future. Furthermore, we are implementing CVC (Corporate Venture Capital) as an open innovation initiative.
12. Product Defect Risk
Frequency of occurrence: Moderate
Impact: Moderate
Contents
ROHM Group's basic corporate philosophy is "we always put quality first," and we conduct production under strict quality control. However, there is no guarantee that all products will be defect-free or that claims for damages will not arise in the future due to defects in products from customers.
However, there is no guarantee that all products will be defect-free or that claims for damages will not arise in the future due to product defects. In the unlikely event of a claim for damages, our business performance may be affected.
Main Measures
In ROHM Group, the quality department of each business division assures design quality, and the quality department of each production division assures manufacturing quality.
The Quality Division, which reports directly to the president, is responsible for establishing a company-wide quality assurance system that transcends the boundaries of business and production divisions, spreading information, and monitoring the operations of each business and production division. In order to reduce the risk of quality compliance violations that frequently occur outside the company, a Quality Audit Office has been established within the Quality Assurance Department. In the development of new products in the Business and Production Divisions, evaluations are conducted at each stage of development study, design review, initial flow, and mass production in order to provide safe and reliable products that satisfy customer requirements in a timely manner.
Improvement information is fed back to the origin and is used for the next stage of design. In addition, the Monozukuri Innovation Department of the Production Division is developing its own assembly and processing equipment with the goal of building quality into the equipment and making it impossible to produce defects. With the goal of equipment that cannot produce defects, we aim to prevent the equipment itself from self-diagnosing and producing defects.
In the unlikely event of a product-related defect, production information (manufacturing date or lot information) can be traced back to the actual product. From the lot information, we can confirm the 4M information (Man, Machine, Material, and Method) for all processes, and we can promptly investigate the production conditions and quality of each process, thereby limiting any possible spillover effects.
In addition, ROHM Group is building a defect-free management system based on the following international quality management systems.

・ISO9001:Quality Management System
・IATF16949:Automotive Industry Quality Management System Standards
・ISO26262:International Standard for Functional Safety of Automotive Electronic Control
13.Risks Related to Production and Procurement Activities
Frequency of occurrence: Moderate
Impact: Moderate
Contents
Although ROHM Group employs a vertically integrated business model, the manufacture of electronic components requires a variety of materials, including rare metals. Therefore, restrictions on procurement from certain sources could adversely affect production activities and cost structures.
Main Measures
Business divisions are promoting multiple purchasing of materials and other items, as well as appropriate inventory management based on suppliers' BCP status and other factors.
In the Procurement Division, in order to promptly confirm the damage and safety status of suppliers and their supply status in the event of an emergency, we are surveying and compiling a database of information on the manufacturing companies and manufacturing locations of procured parts and materials, and expanding the scope of the survey to include secondary suppliers to gain an overall understanding of the BCP status of the supply chain. The scope of the survey has been expanded to include secondary suppliers to gain an overall understanding of the supply chain BCP situation.
We are also working with suppliers that handle critical materials to agree in advance on how to respond in the event of an emergency.
Business Continuity Management
We have stated that part of our company mission is "to contribute to the advancement and progress of culture through a consistent supply, under all circumstances, of high quality products in large volumes to both the domestic and global markets". As ROHM Group is conducting development, manufacturing and sales activities in various locations around the world, we believe that one key issue for the management of the company is to establish Business Continuity Management (BCM). We have therefore formulated ROHM Group fire and disaster prevention policy for the implementation of activities. A part of this is the implementation of various measures to prepare for emergencies at our production sites in both Japan and overseas. For example, we identify the risks such as disasters and form countermeasure committees to handle them. We also propose Business Continuity Plans (BCP) and conduct training based on them.
Fire and Disaster Prevention Policy
"The policy shall be to prevent and be prepared for disasters by promoting the fire and disaster prevention based on the respect for the international norm, etc., and observance of laws and regulations."
ROHM Group shall provide the safe and secure work environment and be prepared for emergencies, such as a fire, and also seek to prevent any disasters that possibly affect the business continuity through the continuous approach to the fire and disaster prevention.
Main Activity Topics
[ Action for Earthquake Risks ]
1.ROHM Domestic Base : Introduction of "Building Safety Judgment Support System" to Prepare for a Domestic Earthquake Risk
In fiscal 2020, ROHM installed the "Building Safety Judgment Support System" at major domestic sites in order to protect the safety of employees in the event of an earthquake and to respond appropriately to business continuity risks. Earthquake risk is one of the highest risks when doing business in Japan. This system analyzes the shaking of the building immediately after the earthquake and judges the safety of the building structure in three stages. By utilizing this system, we can judge the safety of buildings in a timely, professional and objective manner, and can proceed with efforts to reduce and prevent earthquake damage.
2.ROHM Headquarters : Conducting Earthquake Drills
ROHM Head Office has established a BCM task force to ensure the safety of employees and others in the event of an emergency, and to ensure the continuity and early recovery of core businesses, and conducts periodic assumed drills and video-based training.
In FY2022, BCM task force training was conducted at the ROHM Head Office for the BCM task force and its subordinate organization, the operational team members, to link information by connecting two venues with remote work tools.
Assuming that not everyone could gather at the same place due to telecommuting or the prevention of infection spread, we verified the effectiveness and efficiency of methods how to consolidate, organize, and report information on each place where people assemble online and to hold online meetings to make decisions on issues raised at the task force headquarters.
The participants were able to clarify issues related to the roles and activities of each team and group, and reaffirm the procedures for their activities, thereby improving their awareness of and ability to respond to BCM and BCP.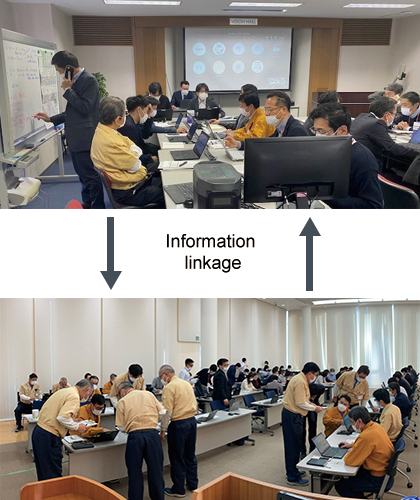 3.LAPIS Semiconductor : Conducting Drills Based on Lessons Learned from the Great East Japan Earthquake
Miyagi production site has set as Miyagi production site has set March 11th, the date of the Great East Japan Earthquake, as the Comprehensive Disaster Prevention Training Day to implement company-wide training including all the outsourced companies that are permanently stationed on the site.
The BCM Countermeasures Headquarters serves as the central role implementing this training. It conducted company-wide evacuation drills and established the Disaster Rehabilitation Headquarters to simulate the entire recovery process of the actual experience from the Great East Japan Earthquake, which allows employees to learn from real-life scenarios and know how to implement countermeasures against the risks of earthquakes in the future.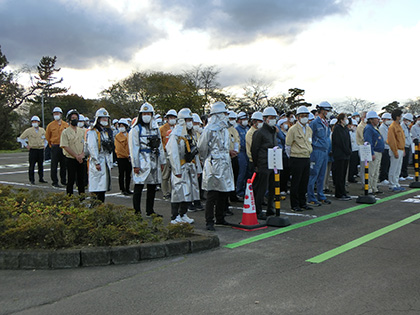 4.ROHM Hamamatsu : Maintain Disaster Prevention Headquarters Functions and Strengthen Information Management and Sharing
In FY2019, the BCM recovery task force headquarters was relocated on a seismic isolated structure and connected to a disaster generator to maintain headquarters functions in the event of a power outage. In addition, a seawall was completed in the coastal area of Hamamatsu City in March 2020. This is expected to provide disaster mitigation against tsunami.
In FY2022, we established a system to come to work and make an initial report using the chat function of a remote work tool, assuming a large-scale earthquake occurs during the nighttime or on holidays. In addition, we have established a system to check the inventory of disaster prevention supplies and to hold meetings for recovery measures using this tool.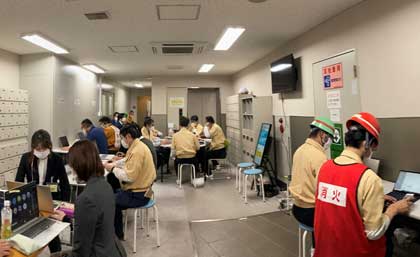 5.ROHM Head Office : Installation of a Seismic Base Isolation System in the Headquarters Server Room
In order to avoid the risk of earthquakes, ROHM Head Office has built and utilized a mirror site for its core system to ensure a system for switching operations in the event of an emergency at the Head Office. In January 2017, we completed the installation of seismic isolation devices in the server room. Similar seismic isolation measures are being taken in the server room that was relocated to the new building completed in 2021.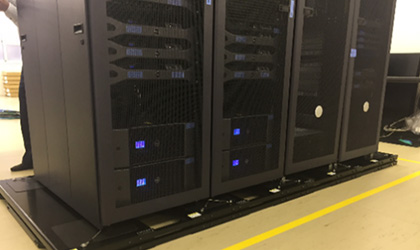 6.ROHM Electronics Philippines, Inc. : Earthquake-resistant Production Building
The production building at the Philippine plant, completed in 2018, has been upgraded to increase production capacity for resistors and printheads. Designed in accordance with the latest Philippine design standards, NSCP2015 (equivalent to Japan's seismic design standards), the new production facility is designed to be earthquake-proof.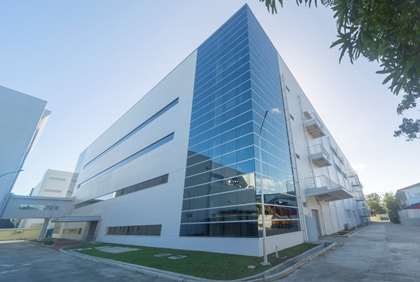 7.ROHM Apollo Chikugo Factory : Construction of a New Building to Prepare for Disasters
In 2021, a new building was constructed at ROHM Apollo Chikugo Factory for strengthening the production capacity of SiC power devices. In the completed new building, in addition to earthquake countermeasures by adopting a seismic isolation structure including ancillary areas, inundation countermeasures, gas fire extinguishing equipment, emergency generators, etc. are introduced, making it a factory prepared for various disasters.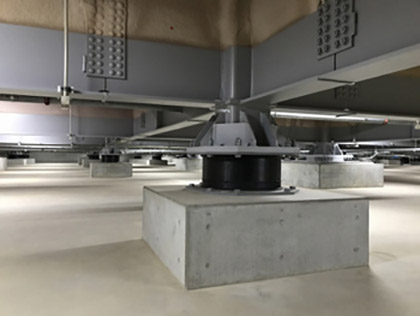 8.ROHM Wako Co., Ltd.: BCP Desktop Training (initial response)
At the production site in Okayama Prefecture, each activity team member conducts a desk-based training exercise based on the assumption of an earthquake as a preparation for a disaster. This training focuses on the following points: "What is necessary in the initial response to an emergency?" and "Amidst the confusion of various information, is it possible to accurately identify the top-priority issues of lifesaving and casualties?" and provided hands-on experience of whether the participants can make decisions and issue instructions in a more concrete and imaginative manner, if they were members of the decision-making task force themselves. Many participants commented: "this was an unprecedented type of training, and it was good to experience how complicated information can become in a case of emergency and to experience simulated decision making. We will continue the training so that each team member is able to think and act on their own rather than passively in the event of an emergency.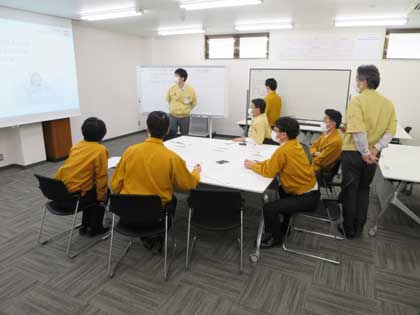 9.ROHM Electronics Philippines, Inc. : Fire and Earthquake Drills during COVID-19
During COVID-19 with restrictions regarding gathering of large numbers of people and social distancing, fire and earthquake response drills were conducted on an ongoing basis at the Philippines production site, with the goal of enabling employees to take appropriate action autonomously when the fire alarm sounds, while taking infectious diseases into consideration.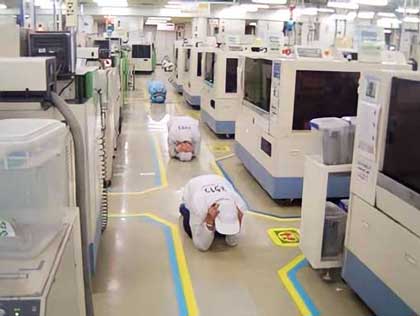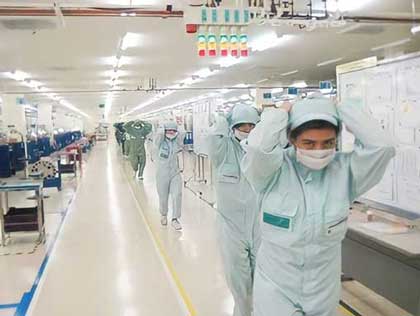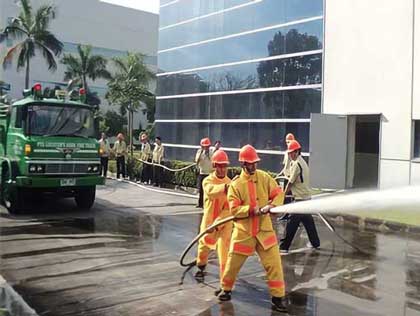 [ Action for Water Risks ]
1.Identification of Water Risks by Using the World Resources Institute's Aqueduct
ROHM Group has used the WRI Aqueduct, a global assessment tool, to identify water risks. The semiconductor industry uses large amounts of water, so securing water is very important for semiconductor manufacturing. In addition, all factories in Japan have the function of the pre-process (wafer process) of semiconductor manufacturing. Therefore, we have set long-term water intake securing and water consumption reduction targets with "drought risk" as a priority issue. In addition, we have been proceeding with a water intake plan that is linked to production plans and environmental targets.
At overseas factories that have post-process functions for assembly and inspection, flood risks are identified as an issue. The 2011 flood in Thailand caused the group's factories to shut down. In addition, the loss of facilities and equipment and the economic loss due to the suspension of production had a great impact both inside and outside the company. To prevent such problems from occurring again, we use WRI Aqueduct as a flood risk assessment tool for each factory. Then, the risk assessment and analysis extracted by the Risk Management and BCM Committee will be conducted. From the perspective of BCP, we are working to reduce the risk of production suspension due to floods by formulating and managing a BCP inventory design that reflects the expected number of suspension days.
2.ROHM Integrated Systems (Thailand) Co., Ltd. : Conducting Drills Based on Lessons Learned from the Flooding in Thailand
In November 2022, ROHM conducted drills for the BCM countermeasures head quarter as preparation for flooding at our production site in Thailand.
In this ninth meeting, the participants checked the items to be implemented based on the action plan created based on the experience of the 2011 floods for each phase of the scenario of flooding in the upstream area and the scenario of flooding equivalent to that of 2011 due to the failure of the waterwalls at the industrial park." The program also includes training in assembling the floodwalls that are being prepared for flooding, starting up drainage pumps, operating boats, and other activities such as checking items to be used in the event of flooding and training in other necessary skills.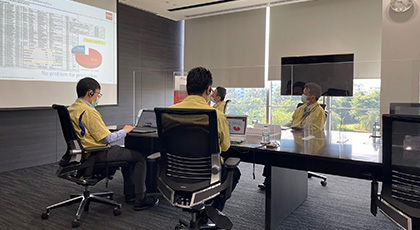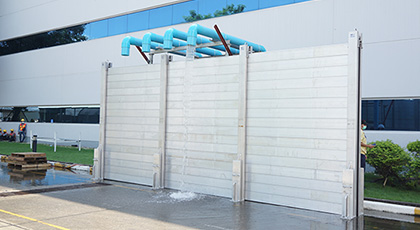 3.ROHM-Wako Electronics (Malaysia) Sdn. Bhd. : Flood-proof Production Building
The production building at ROHM Group's Malaysia plant, the largest of its kind in the ROHM Group, was completed in 2016, and together with the existing building, the production capacity has increased.
Learning from the flooding that occurred in 2014, the floor height of the first floor of the new Building A was set at 5.1 m above the mean tide level. In addition, a backup power supply system with dual power transmission has been installed to prevent long-term shutdown of operations. Currently, the new Building B, the second building, is equipped with various BCM measures of the same standard as the existing Building A.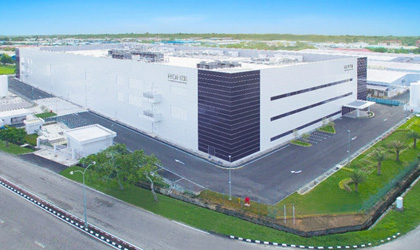 4. ROHM Wako : Conducting Training on Making and Stacking Sandbags
At our production site in Okayama Prefecture, we conduct sandbag making and stacking training once a year. This training began nine years ago when employees from ROHM Wako went to the Malaysian production site to support them during the flooding in Malaysia and asked for guidance on how to make sandbags.
The first lesson was given by an employee of the local government's crisis management division, who prepared soil and jute bags, along with materials on how to make and stack sandbags. The training now consists of self-learning and on-the-job training by watching videos taken during the training at the time. We will continue to conduct drills in preparation for chemical leaks and river flooding.
5. ROHM Hamamatsu : Extra-high Voltage Power Receiving and Transforming Facilities Flood Control
The maximum inundation depth at the time of the Tenryu River breakup assumed in the flooding simulation by the Ministry of Land, Infrastructure, Transport and Tourism is 3.1m. As a BCP measure against flooding, the Hamamatsu production site raised the floor height of its special high-voltage substation, which was renewed in FY2022, to 3.6m, assuming an additional 0.5m to the maximum flooding depth.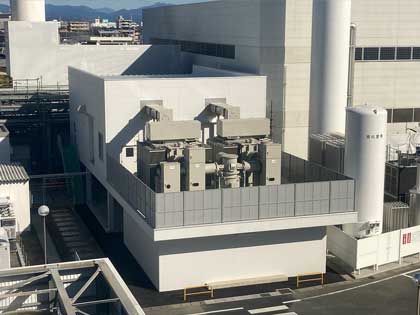 [ Action for Fires and Other Risks ]
1.ROHM Group : Correspondence to Rire Risk
ROHM Group regards fire risk as one of the top risks and is working to reduce it. In the fire-specific risk survey that started in 2021, we conducted online hearings on the status and activities of fire prevention measures at each group factory and held discussions based on fire cases at other companies to confirm our efforts regarding fire prevention.
In particular, for clean rooms, we have created Fire Prevention Guidelines that describe fire prevention measures for production equipment and ancillary equipment as well as measures to prevent the spread of fire, and in FY2022, we expanded the fire prevention activities based on these guidelines to the ROHM Group.
We will continue fire prevention measures for the entire group and strengthen awareness of employee safety and business continuity.
2.ROHM Head Office : Formation of Self-defense Fire-fighting Teams, and Fire and Disaster Prevention Drill
ROHM has organized a self-defense fire brigade organization in preparation for disasters, and deploys small power pumps, chemical protective clothing, disaster prevention fire protection clothing, rescue equipment, etc. according to the situation of each company. We also conduct evacuation drills for fires and earthquakes, drills in clean rooms where hazardous materials are handled, and earthquake prediction drills to ensure that we can act quickly and appropriately in the event of a disaster.Since the number of employees going to work at the company has decreased due to the introduction of telecommuting, we have drastically revised the self-defense firefighting system to give top priority to evacuation. Evacuation drills were also conducted in each district, and a total of 1,200 employees participated in each of the fire and earthquake assumptions. We also conduct nighttime evacuation drills every shift, assuming nighttime holidays. From the perspective of BCP, it is stipulated that the self-defense fire brigade will be dispatched and firefighting equipment will be provided in the event of a surrounding fire.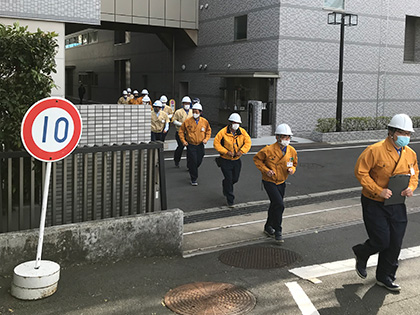 3.ROHM Head Office : Fire and Disaster Prevention Management System and Internal Fire Protection Patrols
ROHM has built and operated a fire prevention management system through voluntary inspections by fire source managers, fire extinguisher managers, earthquake countermeasures, etc. appointed for each workplace. In addition, a specialized subcommittee on fire prevention is organized into an office area and a clean room area, and member patrols on "general fire prevention", "hazardous materials", "distribution board / wiring (for clean room areas)", and "earthquake countermeasures" are carried out. By doing this, we have been promoting the reduction of fire and disaster risks. In addition, as a countermeasure against corona sickness, we have started conducting patrols using webcams since FY2020.
In addition, fire and disaster prevention audits are conducted at each of ROHM Group's sites in order to further strengthen the fire and disaster prevention management system of the entire group.
4.ROHM Integrated Systems (Thailand) Co., Ltd. : Practical Training on Initial Fire Extinguishing for Local Communities
In 2019, production site in Thailand implemented classroom learning and training on initial fire-extinguishing for 154 people from local schools and temples. The fire prevention committee at the production base took a central role to implement these activities in response to feedback received during stakeholder dialogue with local residents. Through these kinds of activities, we will continue to promote countermeasures for fire prevention, not only by the company, but also by the region as a whole.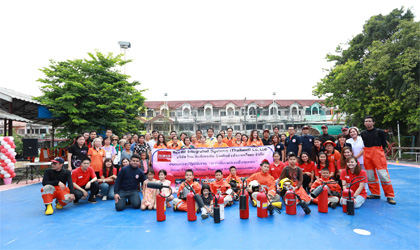 5.ROHM Wako Co., Ltd. : Fire Risk Activities
The Okayama site participates in the initial fire extinguishing training competition held by the Kasaoka District Fire Fighting Association to ensure fire prevention at hazardous material facilities and to establish a fire prevention system in the workplace by improving fire prevention awareness and initial fire extinguishing techniques.
In the 2022 event, 17 teams from the Kasaoka District Fire Fighting Association participated, and our team was able to win both the championship and a special award (individual).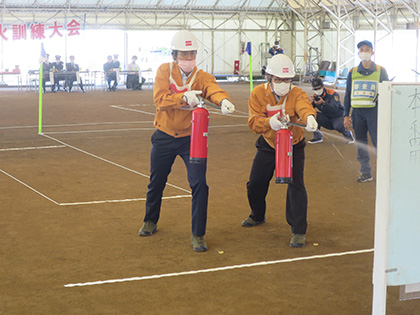 6.ROHM Head Office Co., Ltd. : Fire Fighting Drill Assuming Fire in the Clean Room
In preparation for fires in clean rooms during the night, weekends, and holidays, we have created a video showing the procedures from fire detection to initial fire extinguishing, as well as the startup of inert gas fire extinguishing equipment, and each shift conducts actual training. This training is expected to minimize damage in the unlikely event of a fire by responding quickly and appropriately.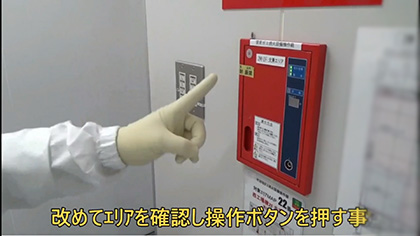 7.ROHM Electronics Philippines, Inc. : Improvement of fire resistance performance in production buildings
At the Philippines plant, emergency infrastructure and fire protection facilities in the production building were developed not only to meet government regulations, but also with an emphasis on the safe evacuation of employees in the event of a fire. The building is now equipped with an automatic fire extinguishing system that allows firefighters to extinguish fires more quickly without human intervention. At the same time, an additional evacuation corridor was constructed for safer evacuation in the event of a disaster.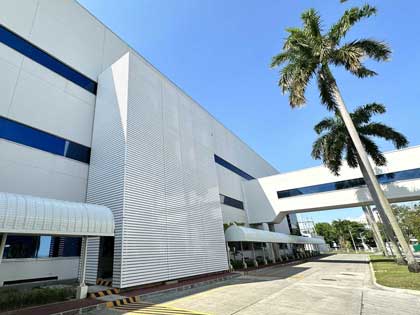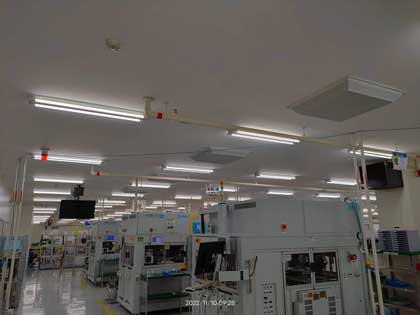 8.ROHM Semiconductor (China) Co., Ltd. (RSC): Improvement of fire resistance performance in production buildings
According to Chinese statistical data, electrical fires account for the highest percentage of fire accidents. As a semiconductor manufacturing company, our factory in Tianjin, China, is very committed to preventing electrical fires.
Since 2018, we have been conducting a full inspection of the switchboards of our production equipment once a year. Inspections are conducted using infrared thermography, and when abnormalities are detected, near-misses are quickly eliminated to reduce the risk of fire. Infrared thermography detects approximately 10 different types of items, including wiring switchboards, input terminals on the equipment side, equipment control panels, various pump control panels, and office and work bench outlets. Through the measurement of infrared temperatures and thermal images, relevant data is recorded, and by comparing historical data, safety trends can be predicted.
This initiative is also being implemented at other ROHM Group production sites, and the entire group is working on fire prevention measures.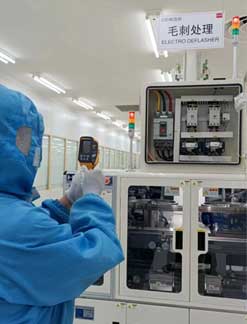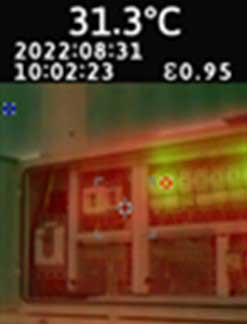 9.Action for COVID-19
During the period of COVID-19 infection spread, ROHM in cooperation with industrial physicians developed policies, manuals, and guidelines in response to the infection situation of COVID-19 and government policies, and also promoted the development of an environment and implementation of measures to prevent infection within the company, including in-house vaccination at work sites.
In preparation for possible new pandemics in the future, we are compiling archived data on the infection situation, government trends, plant responses, etc., and accumulating countermeasures and know-how.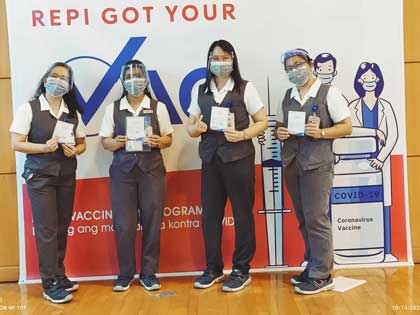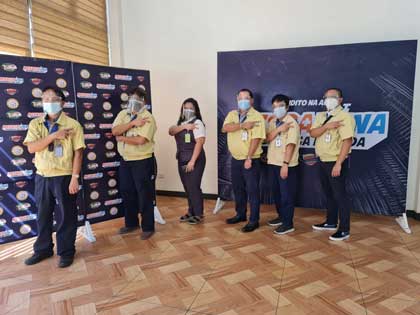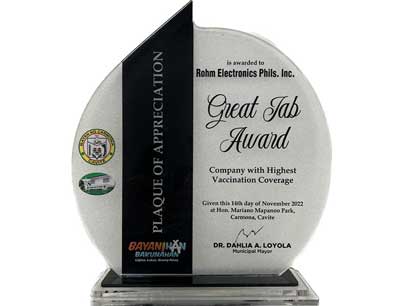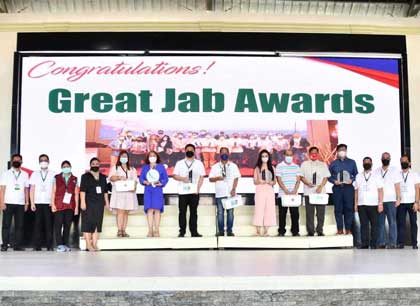 *The production site in the Philippines received a commendation from the government for promoting vaccination within the company.
10.Risk Measures in Supply Chain System
ROHM continues to conduct surveys among business partners regarding alternate production methods, increased clarification of methods for procuring critical raw materials, and maintaining safety stock.
Moreover, ROHM Group will continue to promote its approach to supply chain BCP through CSR procurement self-assessment tools, visits to verify the status of CSR procurement, and other initiatives.
Risk Management・BCM Education
ROHM Group is also focusing on training its employees to build a risk management and BCM system.
In 2022, ROHM will implemented two types of e-learning programs to raise employees' awareness of fire prevention, disaster prevention, and business continuity from normal times.
In addition, ROHM Group sites are also implementing video-based fire and disaster prevention education and e-learning programs to raise employees' awareness of how to respond to disasters from a normal time.
Major Education and Training Achievements
| Education and Training | Purpose and Contents | Target | Number of Participants | Attendance rate |
| --- | --- | --- | --- | --- |
| BCM Awareness E-Learning | E-learning to reconfirm and educate each employee on how to respond in the event of a major earthquake, etc. | ROHM | 3,809 | 99% |
| Fire and Disaster Prevention E-Learning 2022 | E-learning for employees to raise awareness of fire prevention within the company and further enhance the fire prevention system | ROHM | 3,665 | 99% |
New_company jquery_v3.6.0.js
New_company jquery_v3.6.0.js