Evaluation boards make it easy to evaluate ROHMs broad portfolio of SiC Schottky barrier diodes (SBD's), SiC MOSFET's, full SiC power modules (which integrate SiC SBDs and MOSFETs), and high heat resistance power modules.
These compact and efficient semiconductor devices have the potential to substantially reduce end-product size, and when coupled with an evaluation board, can also be used to help prototype applications and initiate set development.
Evaluation Board Lineup
Category
SiC Product
Image
Part No.
Maker
Product Details
User Guide
Purchase Board
SiC-MOS
Evaluation Board
SCT3XXX series Trench(3G) TO-247 3L/4L

NEW

P02SCT3040KR-EVK-001
ROHM
Details
User Guide
Online Distributors
Product Specification
SCT2XXX series Planar(2G) TO-247 3L
P01SCT2080KE-EVK-001
Details
Inquire
SiC Module
Drive board
BSM series Planar (2G)(1200V, E / G type)

NEW


BSMGD2G12D24-EVK001
-
User Guide
Inquire
BSM series Trench(3G) (1200V,E/G type)

NEW


BSMGD3G12D24-EVK001
-
User Guide
Inquire
BSM series (1200V,C type)

NEW


BSMGD3C12D24-EVK001
-
User Guide
Inquire
BSM series (1200V, C / E / G type)
2DU series
TAMURA
Tamura Manufacturing's Website
BSM series (1200V,E/G type)
Core Driver :
2ASC-12A1HP
Adapter Board :
EDCA1
AgileSwitch
AgileSwitch's Website
BSM series (1200V,C type)
Core Driver :
2ASC-12A1HP
Adapter Board :
EDCA2
Snubber Module
BSM series (1200V, C type)
EVSM1D72J2-145MH26
ROHM
-
Inquire
BSM series (1200V, E / G type)
EVSM1D72J2-145MH16
-
BSM250 (1700V, E type)
EVSM1D72J3-934MH93
-
AC/DC
Evaluation Board
SCT2H12NZ
BD7682FJ-LB-EVK-402
ROHM
Details
Application Note
Online Distributors
Evaluation Board Overview
P02SCT3040KR-EVK-001
For evaluating ROHM's SCT3040KR (1200V/40mΩ/TO-247-4L)
Enables evaluation of other ROHM SiC MOSFETs by simply changing the circuit multiplier
In addition to the TO-247-4L package, there are through-holes for TO-247-3L that make it possible to perform comparative evaluations on the same board
Single power supply (+12V operation)
Supports double pulse testing up to 150A and switching up to 500kHz
Compatible with a variety of power supply topologies (Buck/Boost/Half Bridge)
Built-in isolated power supply for gate drive adjustable via variable resistor (+12V to +23V)
Jumper pins enable switching between negative bias/zero bias for gate drive
Includes overcurrent protection (DESAT, OCP) along with a function for preventing simultaneous ON of both upper and lower arms

P01SCT2080KE-EVK-001
Optimized for evaluating ROHM's SCT2080KE SiC planar MOSFET (1200V/80mΩ); supports other ROHM SiC MOSFETs by changing circuit settings.
Evaluates MOSFETs and IGBTs at 1200V/5A (if item has a built-in inductor), 100kHz
Generates positive and negative bias voltages for the upper and lower arms from a single 12VDC system
Generates an internal gate signal for double pulse testing
Allows for evaluation of DC/DC converters via external supply signal
Flywheel enables selection of MOS body diodes, external diodes, and reverse conduction

※In the case of a built-in inductor
AC/DC Converter Control IC Evaluation Board with Built-In 1700V SiC MOSFET
Optimized for use with auxiliary power supplies in high-power industrial equipment, this evaluation board integrates ROHM's AC/DC converter control IC for SiC drive and 1700V SiC MOSFET.
BD7682FJ-LB-EVK-402
AC/DC evaluation board with SiC MOSFET drive (flyback converter)
Incorporates ROHM's SCT2H12NZ 1700V SiC MOSFET
Includes ROHM's BD7682FJ-LB AC/DC converter control IC
3-phase 400 to 690VAC input, 24V/1A output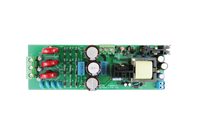 Application Note
Product Search
Related Links
Gate Driver