Throughout its history cars have continued to evolve in response to the growing awareness for safety, comfort, and the environment - in step towards continued electronification.
In response to this evolving trend, ROHM offers a broad portfolio of products and solutions for automotive systems, from the infotainment center and instrument cluster to powertrain and body ECUs.
In addition, as the demand for next-generation vehicles that embody these principles increases and automatic driving and smart cities will soon be realized, high performance ICs and high power devices are becoming indispensable.
ROHM contributes to the evolution and advancement of the automotive sector and next-generation cars by taking a quality-first approach to product manufacturing while ensuring long-term, stable supply.
Functional Safety
In recent years, the increasing advancement and proliferation of automated driving have brought about a need for standards such as ISO 26262 that defines functional safety along with functions that contribute to the prevention of accidents in the event of an emergency. As such a growing number of companies are promoting functional safety not only among automotive manufacturers (OEMs), but Tier 1 electronics equipment suppliers as well, making it an increasingly important requirement worldwide.The 1st Edition of ISO 26262, a functional safety standard for automotive electronics and electrical systems, was published in November 2011, then after several revisions the 2nd Edition was released in December 2018.
ROHM Solution Simulator
ROHM Solution Simulator is a new web-based electronic circuit simulation tool that can carry out a variety of simulations, from initial development that involves component selection and individual device verification to the system-level verification stage. This makes it possible to quickly and easily implement complete circuit verification of ROHM power devices (i.e. SiC) and ICs (e.g. driver and power supply ICs), in simulation circuits under close to actual conditions, significantly reducing application development efforts.
*MyROHM Login Required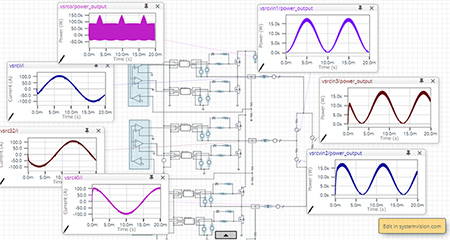 Reference Designs
A system-level evaluation board that combines ROHM's IC and discrete products. We have already solved not only the characteristics of individual products but also the problems that may occur when combining them to build a system, thus contributing significantly to the reduction of development time for our customers. For example, it has been confirmed that all the products equipped with the product meet CISPR25 Class-5 standards in operation with regard to EMC standards, which are important factors in incorporating the product into automotive equipment. In addition, system-level evaluation and design data can be downloaded so that customers can use it as a reference for their designs. ROHM will continue to offer a wide range of solution evaluation boards in the future.
Video
Industry-leading SiC Power and Gate Driver Solutions
Learn more about silicon carbide semiconductors and why they are the most promising material for use in power electronics due to the inherent advantages that SiC has over other materials.
Their lower loss, higher withstand voltage, faster switching capability, and superior thermal characteristics enable simpler designs that are more efficient, smaller, and lighter than silicon-based alternatives.