supply-chain_title
Supply Chain Management

Sustainability Initiative
sustainability_supply-chain_navi_cms.html
supply-chain_main
Our Basic Policy
In order to allow high-quality, reliable and stable manufacturing, it is essential not only to ensure the quality of parts in procurement and their stable supply, but also to engage CSR procurement which takes into consideration labor ethics and the environment. ROHM Group will cherishing continuous relationships of trust and cooperation with suppliers and aim for procurement activities in which both parties can grow on a sustainable basis.
Supply Chain Management Policy
ROHM shall view its corporate activities from economic, environmental, and social perspectives, and work toward the development of both the company and society by conducting procurement and logistics activities in accordance with the following seven policies.
1. Mutual Reliability and Prosperity
ROHM will recognize Suppliers as important partners of the enterprise activities, and importantly have a reliable and cooperative relationship, so that Rohm is able to mutually aim at building up win-win relationship.
2. Fair and Equal Footing Trade
ROHM shall deal with Suppliers on a fair and equal footing with humility when purchasing materials, semi-finished products, equipment, and other items needed for business activities or when outsourcing import/export services and logistics services. ROHM shall never enforce unfair trading practices by abusing it superior position.
3. Fair Selection
ROHM shall open its doors globally to a broad range of Suppliers to assure equality of trading opportunities.
When selecting Suppliers, ROHM shall comprehensively consider a wide variety of aspects, including not only quality, technology, delivery, price, and support services, but also eagerness and systems to continuously improve their strengths and commitment to social responsibility in terms of ethics, respect for human rights, risk management, environmental conservation, occupational health and safety, and elimination of antisocial forces.
4. Proper Evaluation and Distribution for Added Value of Product and Service
ROHM shall conduct new products' development and cost reduction activities on the basis of strong partnership with Supplier. Also, Rohm shall promote proper evaluation and price for provided product and service through these activities.
5. Promotion of Green Logistics
ROHM shall actively promote green logistics together with Suppliers and aim to build a triple-win relationship that benefits ROHM, its suppliers, and society. ROHM shall perform fair evaluations in these activities and never force Suppliers to unfairly shoulder associated costs.
6. CSR Procurement/Logistics
ROHM shall promote CSR procurement/logistics by disseminating it, while fostering the understanding of Suppliers, in accordance with the ROHM Group Supply Chain Management Guidelines. ROHM shall also promote environment-friendly procurement in accordance with the Green Procurement Guideline.
7. Security Export Control
ROHM shall establish a clear control system for the export of technologies and goods regulated by national or regional laws and regulations and properly conduct export procedures.
Promotional Structure
ROHM Group promotes the establishment of sustainable supply chains with suppliers through the effective operation of the supply chain management system. The Supply Chain Management System is ubordinate to the EHSS General Committee*, which is composed of directors and divisional managers with executive authority, and is responsible for the appropriate management of supply chain risks within the ROHM Group.The committee is chaired by an executive officer, and the Supplier Management Subcommittee, its subordinate organization, is responsible for managing supply chain risks. The Supplier Management Subcommittee formulates targets, implements measures, and evaluates them under the theme of creating an appropriate procurement environment for the entire ROHM Group, and reports the progress and results of these activities to the supply chain management system on a regular basis. In addition, the EHSS General Committee has established a system to evaluate and confirm whether the PDCA cycle of the supply chain management system is being properly implemented, and to maintain and improve its accuracy.
EHSS (Environment, Health and Safety, Sustainability) General Committee:A committee composed of executive officers in charge of eight subordinate management systems (environment, health and safety, labor, ethics, information, supply chain, quality, and risk management BCM) and ensures that the PDCA cycle for each system is being properly implemented.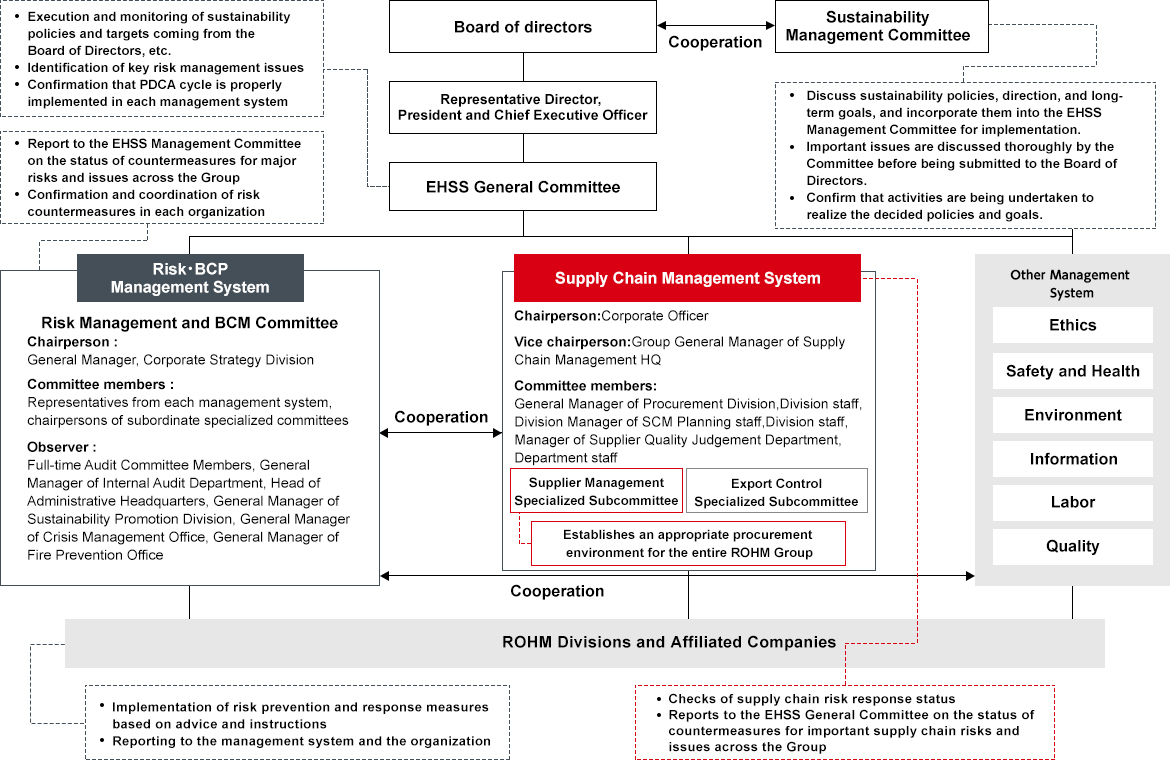 Targets
ROHM has identified "sustainable supply chain management" as an important issue for achieving the medium-term management plan launched in 2021, and has set it's 2025 target. We will continue to work toward the sustainable growth of society and ROHM Group.
Sustainable Supply Chain Management
[Background and Challenges for Activities]
In order to stably bring high-quality products to the world that meet the needs of society, it is essential to establish a robust procurement system and build strong partnerships with our business partners, which are important partners. In addition, to provide society with high-quality products in preparation for natural disasters and infectious diseases, which have recently become a threat to business continuity risks, it is essential to establish a management system with all suppliers surrounding the ROHM Group in terms of quality, safety, the environment, human rights, and BCM together with business partners, and to improve management quality throughout the supply chain.
With our business partners, we will work together to establish a procurement system that meets the expectations of society and build a sound supply chain to provide society with high-quality products based on the concept of mutual trust and prosperity.
Theme
Targets
(Target Year: FY2025)
Targets for FY2022
FY2022 Actual
Targets for FY2023
Strengthening BCM System
①Purchasing ratio of 90% or more from suppliers who have completed comprehensive evaluation of supplier activities
92.0%
(Non-consolidated)
95.4%
(Non-consolidated)
80.0%
(Consolidated)
②100% CSR self-assessment ratio of critical suppliers
30.0%
(Non-consolidated)
31.0%
(Non-consolidated)
60.0%
(Consolidated)
③100% prior agreement rate for emergency response of critical suppliers
10.0%
(Non-consolidated)
45.9%
(Non-consolidated)
60.0%
(Consolidated)
Promotion of green procurement
Environmental management system self-evaluation pass rate 100%
95.0%
(Consolidated)
92.6%
(Consolidated)
96.0%
(Consolidated)
Promotion of CSR procurement activities
CSR self-assessment result 90% or more of purchases from suppliers of B or above
65.0%
(Consolidated)
78.3%
(Consolidated)
80.0%
(Consolidated)
Targets ① and ② were established on a non-consolidated basis until FY2022, and the scope of targets was revised to include group-level targets starting in FY2023.
[Related Activities]