AC/DC Converters ICs (PWM / Quasi-Resonant)
ROHM's large current integrated FET type switching regulators are compatible with virtually all switching power supply applications. Features includes a wide input voltage range, flexible operating frequency, and low power consumption.

The broad lineup includes boost (step-up) regulators, buck (step-down) regulators, buck-boost (step-up/step-down) regulators with integrated FET, and negative voltage types. Combining our class-leading power management AC/DC converters with compact switches allows users to save valuable space and reduce the number of components required.
Evaluation Boards
There are Evaluation Boards for various power bands and topologies.
Overview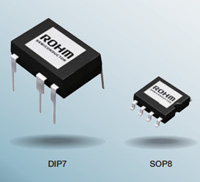 The BM2P Series was designed for use in AC adapters, home appliances, office equipment, and the like. A low ON resistance super junction MOSFET is built in for significantly improved efficiency, ensuring compliance with the latest Energy Star* standard. Delivers an optimized power supply system for sets of all types.
*:An international environmental leveling system for energy saving in OA equipment
Non-Isolation Buck Converter (COMPACT Series)
Non-Isolation Buck Converter ( Middle Power COMPACT Series)
Non-Isolation Buck Converter ( Low~Middle Power High Precision Series )
Isolation Fly-back Converter
Using 1700V SiC MOSFET
PFC
Feature 1 : Complies with the latest international standards for efficiency
Class-leading efficiency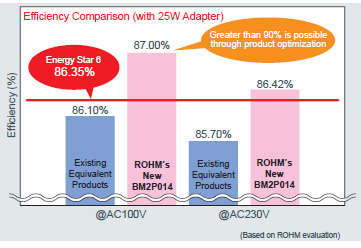 For 25W adapters, simply replacing the IC itself will boost efficiency to over 87% (compared with sub-87% with conventional products). This can be increased to over 90% by optimizing the circuit (including selecting the right peripheral components). As a result, the ICs easily pass the new EnergyStar 6 requirements for efficiency.
Significantly lower standby power consumption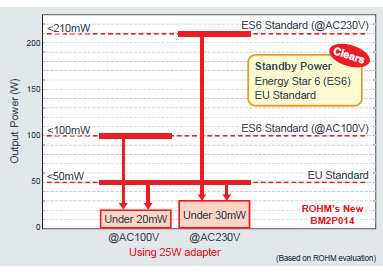 Power consumption during standby with a 25W adapter is less than 20mW at 100VAC and less than 30mW at 230VAC - well below the 100mW requirement set by the Energy Star 6 standard. And further improvements are possible through circuit optimization.
Feature 2 : Compact surface mount package added to the lineup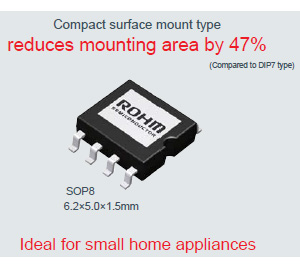 With planar-type MOSFETs commonly used in AC/DC applications, miniaturization is typically difficult due to problems associated with heat dissipation. In contrast, adopting a super junction MOSFET allows for a more compact IC design, including a small surface mount SOP8 package to complement the standard DIP7 type. The SOP8 form factor reduces mounting area by 47% over conventional models.
Lineup

・PWM Current Mode method
(PWM frequency: 65kHz, with built-in hopping function)
・Burst operation during light loads / Frequency reduction function
・650V startup circuit and switching SJ MOSFET built-in
Multiple protection functions
- Thermal shut down
- Source pin open/short protection
- Secondary overcurrent protection (64ms timer auto restore)
Compact Surface-Mount Type
(BM2PxxxF Series)
SOP8 Package
(6.2×5.0×1.5mm)
AC/DC Output Power
Protection Functions
MOSFET
ON Resistance
Type Name
BR※1
VCC OVP※2
5W Class
✓
LATCH
8.5Ω (typ.)
BM2P091F
✓
Auto Restart
BM2P092F
LATCH
BM2P093F
Auto Restart
BM2P094F
8W Class
✓
LATCH
4.0Ω (typ.)
BM2P051F
✓
Auto Restart
BM2P052F
LATCH
BM2P053F
Auto Restart
BM2P054F
※1 BR:Brown in/out voltage protection function
※2 Vcc pin over-/under-voltage protection function
Related Information
New Product Bulletin
ROHM cultivates cutting-edge proprietary technologies to develop products and solutions optimized to market needs.