BM2P060MF-Z
ON Resistor 0.7Ω, PWM Type DC/DC Converter IC With Integrated Switching MOSFET
BM2P060MF-Z
ON Resistor 0.7Ω, PWM Type DC/DC Converter IC With Integrated Switching MOSFET
The PWM Type DC/DC Converter for AC/DC provides an optimal system for all products that include an electrical outlet. This IC supports isolated power supply and enables simpler designs of various low power consumption electrical converters. It realizes the high flexibility in power supply design by incorporating a switching MOSFET and with external current detection resistor. This IC can make high efficiency power supply because it has AC low voltage protection function and X capacitor discharge function and operates frequency reduction, minimum ON width adjustment and burst operation at light load. This IC has following various protection functions.
Product Detail
Part Number
|
BM2P060MF-ZE2
Minimum Package Quantity
|
1500
Specifications:
Current Detection Resistors
External
Dynamic Over Current Detection
Yes
External LATCH Function
No
Frequency Reduction Function
Yes
Over Current Detection Voltage (typ.)[V]
0.64
Withstand Voltage [V]
730
SW Frequency (Max.)[kHz]
65
On Resistor (MOSFET)[Ω]
0.7
Under Voltage Lock Out
Yes
Operating Temperature (Min.)[°C]
-40
Operating Temperature (Max.)[°C]
105
Package Size [mm]
12.8x10.3 (t=2.825)
Find Similar
Features:
AC Low Voltage Protection Function(AC UVLO)
X Capacitor Discharge Function
VCC Pin Low Voltage Protection(VCC UVLO)
PWM Type Current Mode Control
Frequency Reduction Function
Burst Operation at Light Load
Burst Voltage Setting Function
Minimum ON Width Adjustment at Light Load
Soft Start Function
FB Pin Overload Protection Function(FB OLP)
Over Current Protection Function by cycle
Over Current Detection Compensation Function by
AC Voltage Detection
External Stop Function
Dynamic Over Current Protection
Leading Edge Blanking Function
Overview
BM2P06xMF-Z series are equipped with an original low-loss SJ (Super Junction) MOSFET together with optimized PWM control circuitry – facilitating the development of 85V to 264V AC/DC converters. Adopting a surface mount package supports automatic board mounting (which was previously difficult to do in the past). Meanwhile, the implemented functions ensure compliance with the IEC62368 safety standard, even when the discharge resistor (a source of loss during standby) is removed. Additionally, original low standby power control technology is applied – resulting in extremely low standby power consumption. Supply voltages up to 60V (VCC) are also supported – eliminating the need for an external step-down power supply circuit.
Key Features
1. 45W class surface mount package significantly reduces factory mounting costs
BM2P06xMF-Z series integrate a low loss (low ON resistance) 730V SJ MOSFET along with both startup and optimized control circuits in a compact high heat dissipation surface mount package (SOP20A). In addition to compatibility with input voltages from 85V to 264V AC, the surface mount package supports high output power up to 45W (24V × 1.875A=45W), which has been difficult to achieve in the past, while significantly reducing mounting costs by enabling automatic mounting not possible with general through-hole types.
2. Reduces standby power consumption by 90% or more over standard products
The BM2P06xMF-Z series utilizes a control circuit (X capacitor discharge function) that leverages ROHM's high voltage process and analog design technologies to meet the safety requirements of the IEC 62368 standard even without a discharge resistor (which is a source of loss but was previously essential). At the same time, original low standby power control technology (which provides optimal control of the switching frequency of power semiconductor and current flowing through the isolation transformer) further reduces IC power consumption during application standby, resulting in a system standby power consumption of just 17mW (at 0W output, 230VAC) – reducing standby power consumption by more than 90% vs general products.
Also included is a noise reduction mode that suppresses noise from the isolation transformer components. This mode can be turned OFF to decrease standby power or be turned ON and adjusted if there is a concern about isolated transformer component noise or a need to minimize the workload for countermeasures.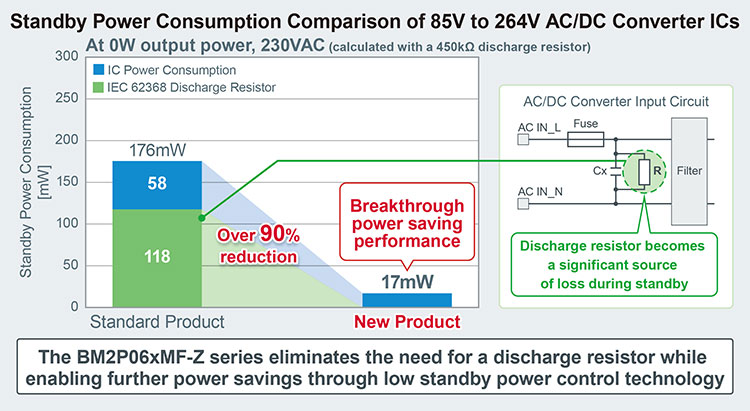 3. Decreases the number of power supply circuit components by four along with the risk of power semiconductor failure, contributing to higher reliability
The BM2P06xMF-Z series support operation over a wide VCC voltage range from 11V to 60V. The maximum power supply voltage of 60V is twice that of standard products, providing superior reliability against external noise and surge voltages. At the same time, it is possible to reduce the number of external step-down power supply circuit components that are typically required by four, while the internal SJ MOSFET which is resistant to surge voltage [featuring an avalanche (breakdown) tolerance more than 30x higher than DMOSFET and planar MOSFETs used in general products] contributes to higher system reliability by reducing the risk of power semiconductor failure.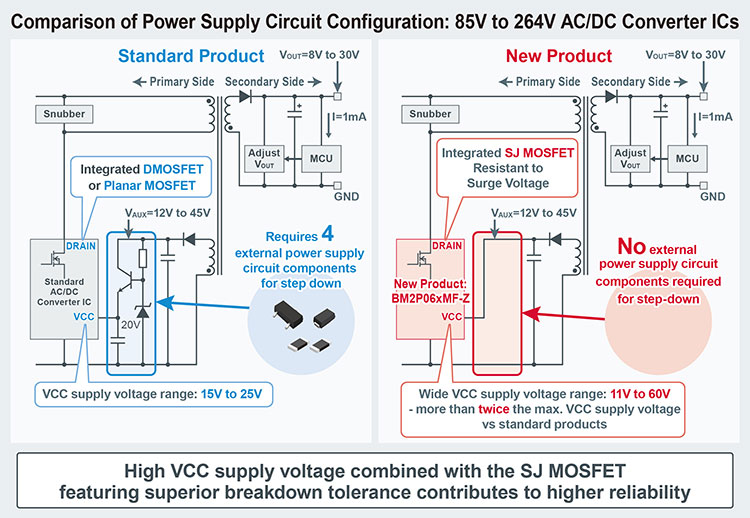 Applications
・Consumer electronics such as air conditioners, appliances, monitors, and hair dryers
・Industrial equipment including inverters, AC servos, routers, and office automation devices
Suitable for AC/DC converters up to 45W output in consumer and industrial applications
Reference Design / Application Evaluation Kit
Flyback Type PWM Mode Isolated 24V 1.67A 40W