Speech playback MCUs (8bit)
High-quality sound reproduction function and high-output speaker amplifier are integrated in one chip. You can easily add a speech playback function to white goods.
We provide speech playback solutions from dry battery driven devices such as thermometers and health care devices to security devices such as fire alarms, AC equipment such as residential facilities and home appliances.
Built-In Original High Fidelity High Compression HQ-ADPCM Algorithm


ML610Q300
HQ-ADPCM is a high quality audio compression technology developed by Ky's.
Ky's is a registered trademark of Kyushu Institute of Technology.
Overview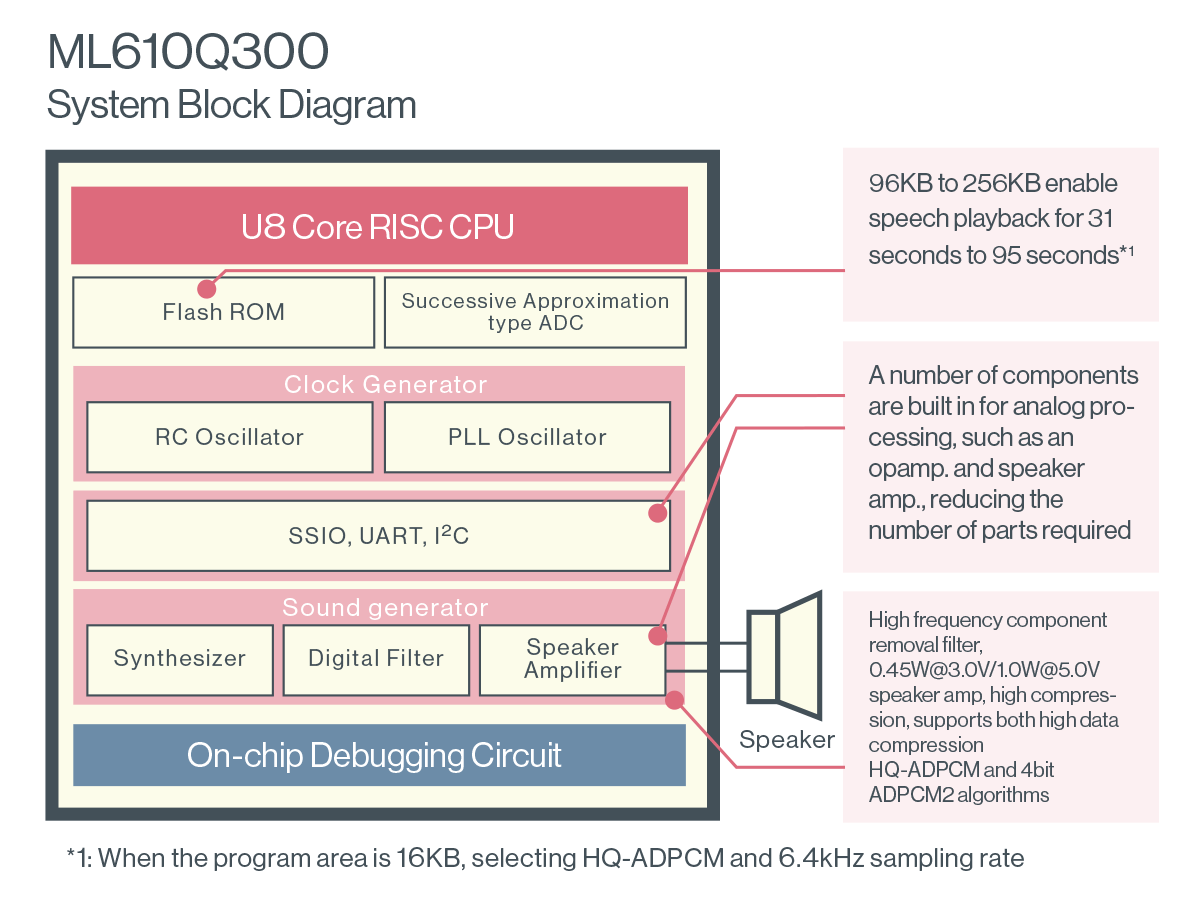 ML610Q3xx CMOS MCUs with speech output function utilizes a proprietary 8bit U8 core to achieve superior performance.
A hardware-based high fidelity voise playback function and high output speaker amp make it possible to provide voice functionality on a single chip, improving audio quality, simplifying control, and maximizing MCU performance.
The optimized combination of high fidelity speech playback functionality, low power high performance U8 core CPU, 3V/5V compatible power supply, and multiple peripheral control functions make it possible to provide speech playback operation in a variety of applications, from battery-equipped to AC-powered devices.
Speech output function on a single chip.
Reduce external components, space saving and improve the reliability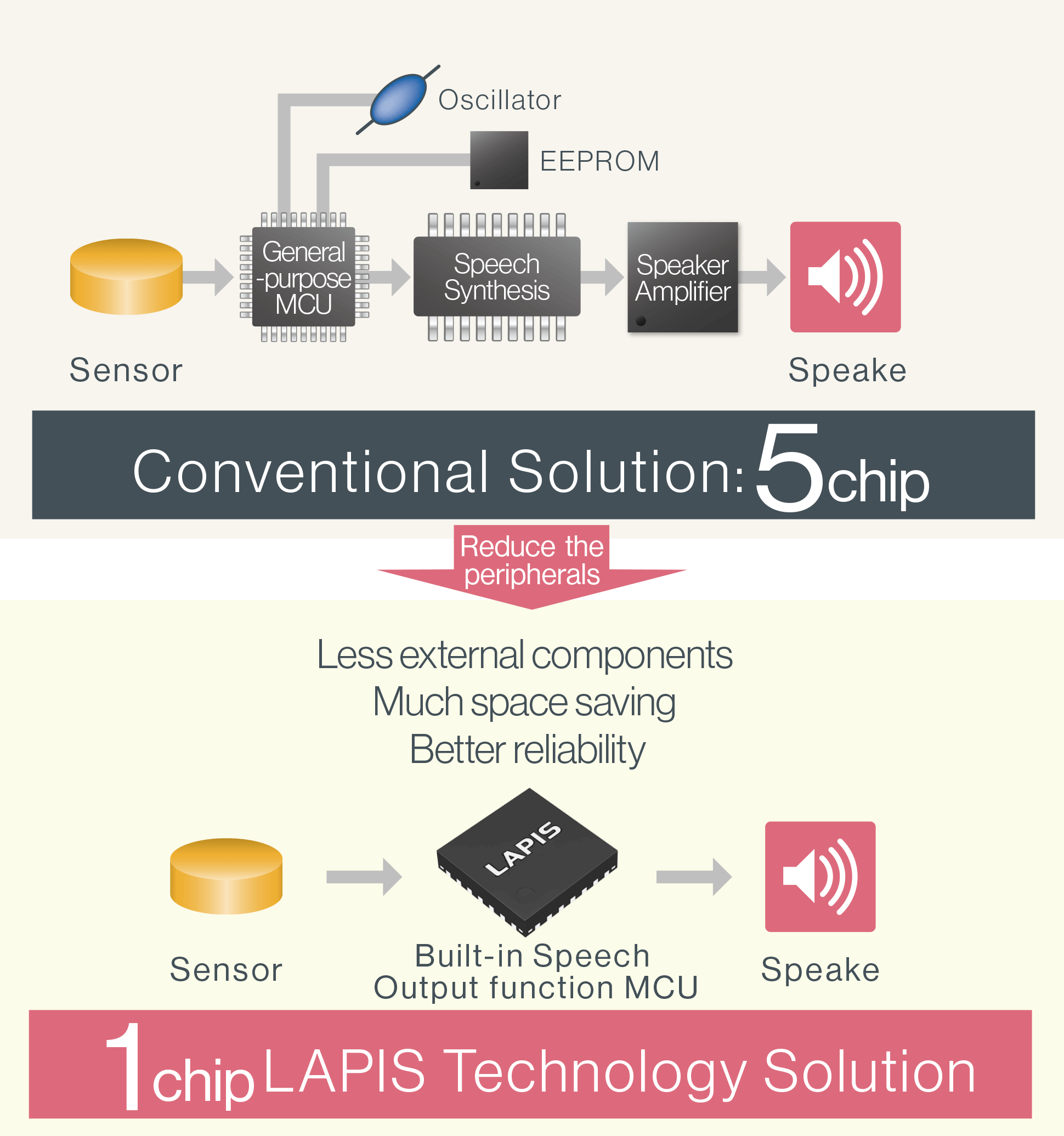 Product Features
Feature 1

Speech output function on a single chip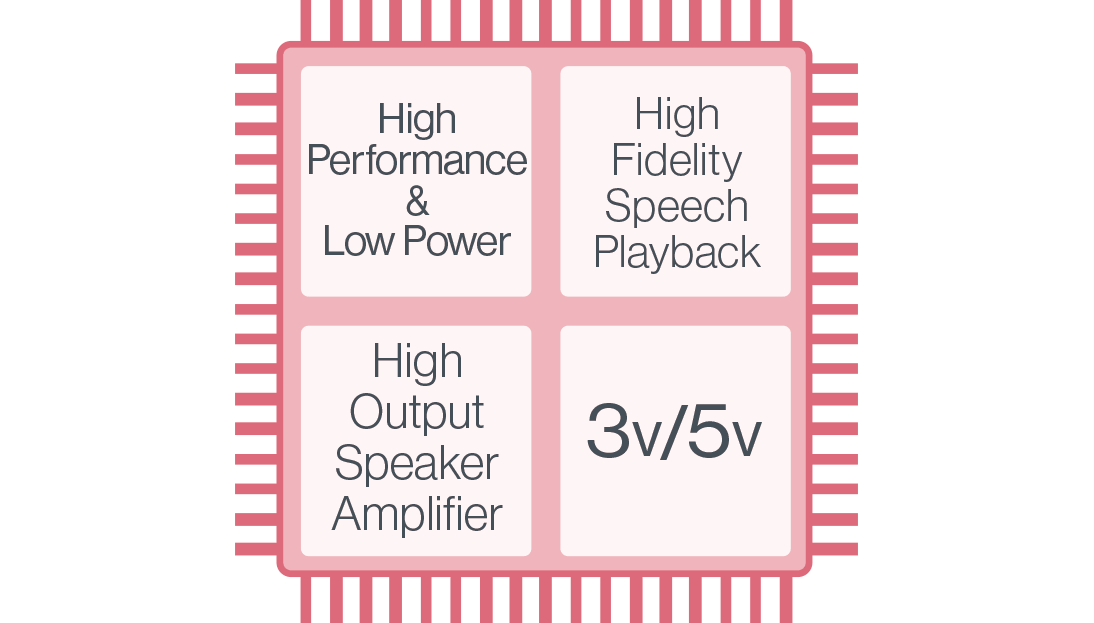 Low-pass filter reduces noise
Sound algorithms: HQ-ADPCM,4bit ADPCM2,8bit PCM (non-linear/straight),16bit PCM (straight)
1W speaker amplifler (@5V)
Power supply voltage range: 2.0V to 5.5V
---
Feature 2

High fidelity, high compression HQ-ADPCM makes it possible to reduce memory capacity
ML610Q300 adopt the newly developed high fidelity, high compression sound algorithm HQ-ADPCM that provides a clearer sound and richer audio range while reducing data size compared with conventional ADPCM, providing a more comfortable listening experience. For example, melodies and sound effects that are degraded with ADPCM and cannot be played with uncompressed PCM can be compressed with HQ-ADPCM, ensuring superior sound quality while reducing memory capacity. Up to 80% compression is possible vs.
4bit ADPCM and 20% compared with 16bit ADPCM.
---
Feature 3

Easy speech playback
| Speech Playback Conditions | Sound Code Data Request Interrupt Time*1 |
| --- | --- |
| 16bit PCM at 16kHz | 250µS |
*1 : Time from full FIFO to empty
Achieves speech playback functionality by simply setting sound code data in the sound regist
Integrating 32-byte FIFO into the sound register makes it possible to extend the interval between sound code data request interrupts
Applications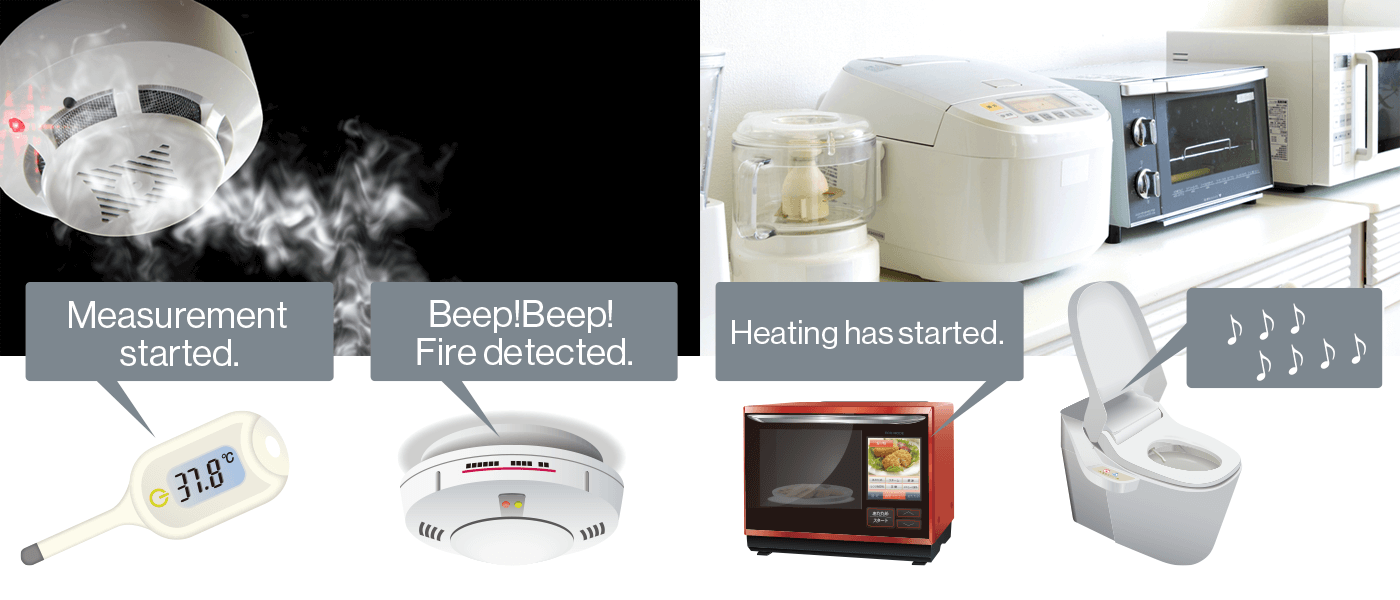 The ML610Q300 are ideal for a variety of application, from compact battery-driven devices including digital thermometers and health care products to AC-driven devices including security devices, housing equipment and home appliances.
speech synthesis utility (Speech LSI Tools)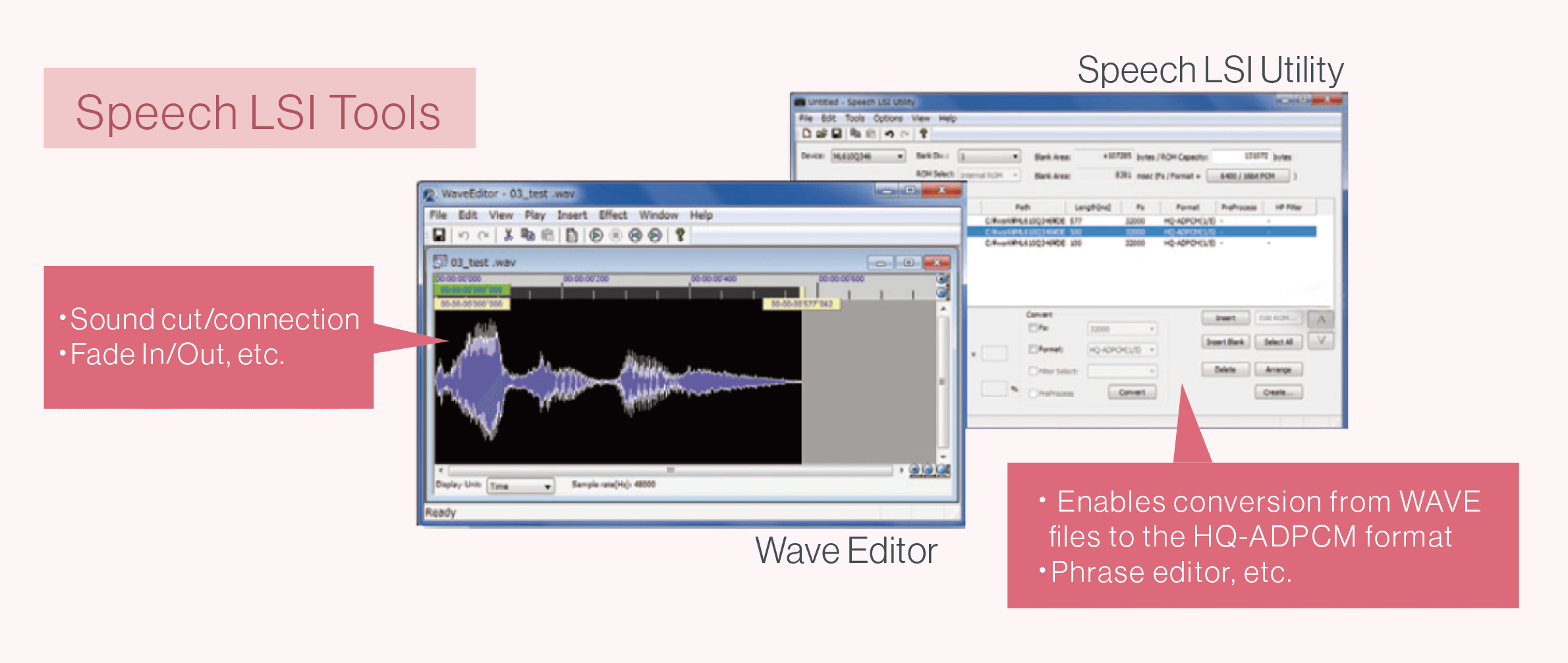 Run the 'Speech LSI Tools' program on a PC to create sound code data using a speech playback MCU.
Speech LSI Tools include a Wave Editor that makes it easy to change (i.e. fade in/out), cut, and connect original sound data (WAVE files) as well as a Speech LSI Utility capable of editing phrases and converting WAVE files to the HQ-ADPCM and ADPCM2 formats.
Speech LSI Tools Operating Environment
・Microsoft® ・Windows
Windows 7, Windows 8.1, Windows 10
Note: Compatible with 32bit (x86)/64bit (x64) environments
Processor and memory
Set up according to OS requirements
Hard disk space
1GB usable HDD space
Audio
Windows compatible sound card and speakers
USB Port
Note: Program data is developed separately in the LEXIDE-U16 integrated development environment.