software
8

bit

/16

bit

Development Support System

Consistent support from design and coding to evaluation and ROM code writing
On-chip emulator, Reference board
Software tools, Starter kits
Development support system configuration
LAPIS Technology's software development support system that realizes efficient program development
Extensive software tools
Integrated development environment "LEXIDE-U16"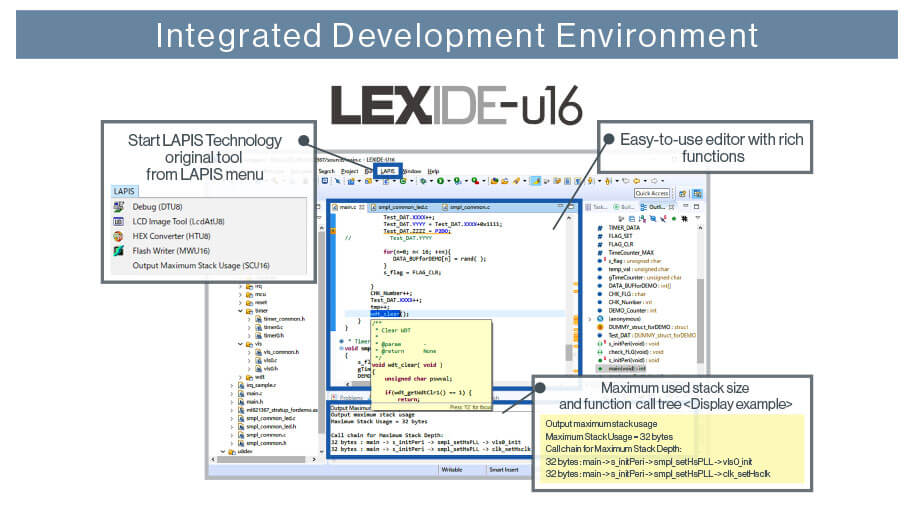 The integrated development environment based on the open source Eclipse and CDT plug-ins supports efficient program development.
---
Code generation tools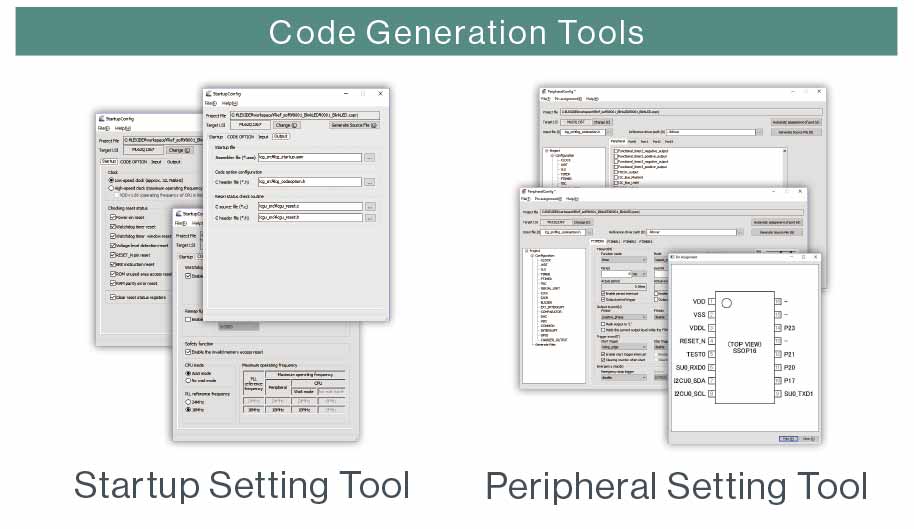 Code Generation Tools is a tool to generate codes such as setting the operation mode of the microcontroller and initial settings of peripherals. By setting the value in the tool, you can generate the code that you can check the operation immediately, so you can develop the program efficiently.
The startup setting tool is a software tool that customizes the startup routine of the ML62Q1000 series microcontroller and generates the setting code for the code option.
The peripheral setting tool is a software tool that generates code to initialize the general-purpose ports and peripherals of the ML62Q1000 series microcontroller .
---
LCD control software development support tool, LCD image tool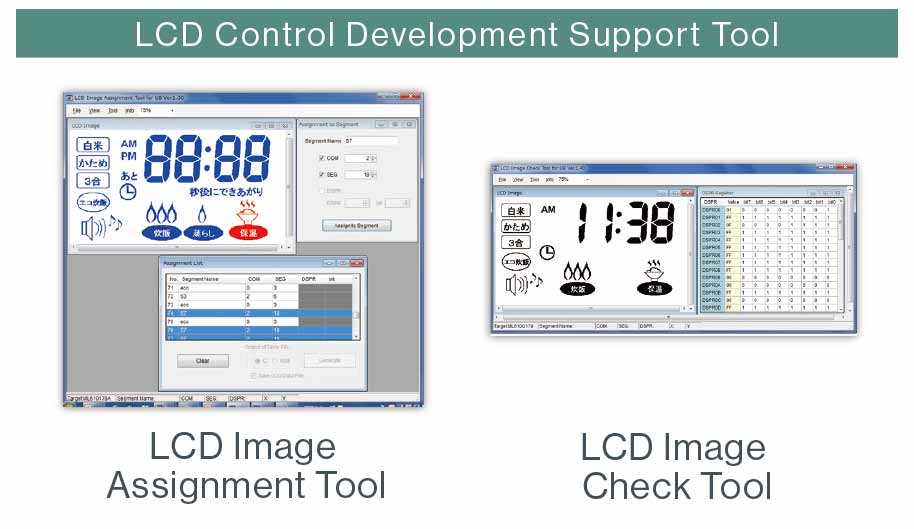 By inputting the bitmap file which imaged the LCD panel and the layout information of the LCD panel, the table data for LCD display allocation RAM and the sample of the control program are automatically generated.
By using the LCD image tool, complicated mapping work can be performed efficiently.
The LCD Image Tool consists of two tools: LCD Image Assignment Tool and LCD Image Check Tool.
The LCD image assignment tool supports the mapping work of the microcontroller pin and the LCD panel segment on the LCD panel image displayed on the PC.
The LCD image check tool is an effective tool for validating the mapping.
Emulators provided for different applications
EASE1000 V2
The on-chip emulator EASE1000 V2 is a compact emulator that supports on-board software debugging and Flash programming by connecting to an actual device equipped with the on-chip debug function.
When the ML621000 series microcontroller is connected, the real-time watch function, branch trace function, stack overflow / underflow break function, etc. can be used.
Dr.1000 Full-Featured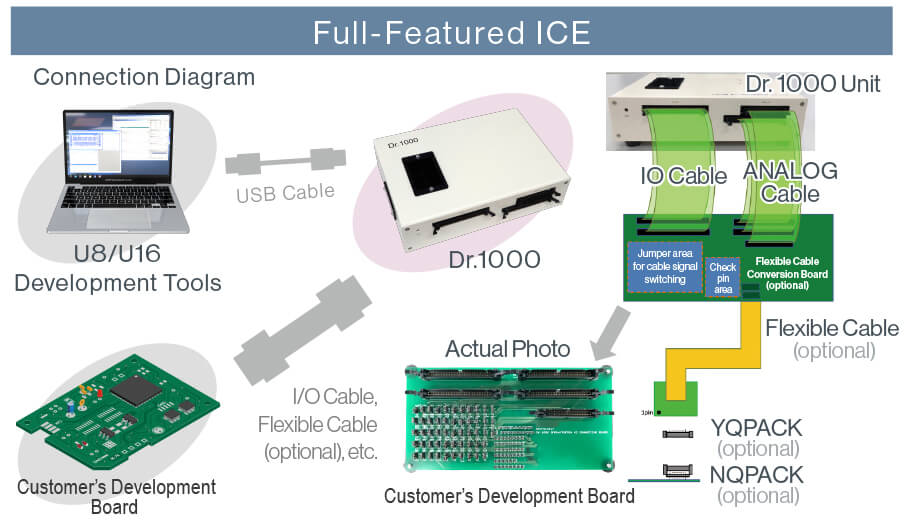 The full-featured ICE Dr. 1000 is an emulator for the ML62Q1000 series that supports advanced debugging by including a variety of debugging functions not found in other emulators.
Efficient debugging is possible using a real-time RAM monitoring function that can verify changes in the entire RAM area without stopping program execution together with a trace function capable of referencing program execution history
Enables measurement of the execution time for each operating frequency (including standby mode),facilitating low power application development
Optional flexible cable makes it possible to connect to the mounted IC on the customer's board
 
Part Name
Package
Part No.
Where to Buy
Contact
Optional
Flex Cable Conversion
Board for
QFP64/TQFP64 Packages
QFP64 / TQFP64
DR1000-FLQ-64
Please contact to the sales.
For details, please contact a
sales representative.
Website
Flexible Cable
(Including Conversion Adapter)
QFP64
TEC-064SA-KC
TQFP64
TEC-064SD-KC
YQPACK
QFP64
YQPACK064SA
Elematec Co., Ltd.
(Fukuoka Branch)
Contact Information:
2-11-3 Mikasagawa, Onojo City,
Fukuoka 816-0912
TEL : +81-92-513-9889
Website
TQFP64
YQPACK064SD
NQPACK
QFP64
NQPACK064SA
TQFP64
NQPACK064SD-ND
EASE1000 V2 On-Chip Emulator and Full-Featured ICE Dr.1000 Specifications Overview
 

EASE1000 V2

Dr.1000

Compatible Devices
ML620Q500 /
ML610Q400 /
ML610Q300
ML62Q1000
ML62Q1000 series
(QFP64/TQFP64 or lower package) MCU*2
Operating Voltage
VDD (input voltage to the VTref signal) 1.6V to 5.5V
Internal : 3.3V
External : 1.8V to 5.5V*
Operating voltage switching : internal / external voltage
via slide switch
Output Voltage for Target LSI
3.3V (Typ) / 100mA (Max)
ー
Operating Clock
ー
Low-speed clock : 32.768kHz
High-speed clock : 16MHz / 24MHz (code option switchable)
Memory
ー
Program memory : 512KByte*3
Data memory (data RAM) : 32KByte*3
Data memory (data Flash) : 8KByte*3
Real-Time Watchdog Function
ー
Real-time watch :
2pts Max
2pts Max Real-time RAM monitor (full area display of data RAM)
Real-time watch : Up to 254pts (SFR: Up to 64pts included)
Branch Trace Function
ー
Up to 170 branches
ー
Trace Function
ー
ー
Up to 256K steps
Internal : Execution address, RAM address, RAM data,
PSW, probe, interrupt transition cycle
Start Conditions : Free run, RAM data match, PC match, disable,
Stop Conditions : PC match, disable, continue/stop
switching after trace pointer overflow
Emulation
Real-time emulation/step emulation step in / step out/step over
Break
Forced break, software breakpoint break, address break, RAM match break
Hardware breakpoint break :
Up to 4pts (set/release during emulation)
Hardware breakpoint break :
Up to 20pts (set/release during emulation: possible)
ー
Sequential break, stack pointer overflow break,
stack pointer underflow break
ー
Branch trace overflow break,
illegal memory access break,
RAM parity error break
Trace overflow break,
power down break, external break,
ROM N area break, RAM N area break
Display / Change
Program memory space / data memory space / SFR
Execution Time
Measurement
Branch Trace
Unit : 100μS
Max measurement time : 119hrs (free run)
Cycle Counter
ー
32bit counter (free run)
Cycle counter by operating frequency (free run)
Cycle counter between 2 (arbitrary) points (free run)
Coverage Function
ー
✓*1
512KB total space
Sync Out (Synchronous Signal Output) Function
ー
Up to 5 pts, trigger method
User RESET Input
✓
Reset Enable / Disable switchable
Probe
ー
Input probes : 2(external break),
sync out : 1, trace : 5
Host Interface
USB2.0 Full-Speed
Supply Voltage
+5V、500mA (supplied from USB VBUS on Host PC side)
+5V, 2A (AC adapter)
External Dimensions W ×H×D (mm)
50 × 17 × 90
260 × 78 × 185
*1 : Uses branch trace information
*2 : The ML62Q1300 family and other models are currently under development
*3 : Valid only for the memory space of the set model
Extensive Flash programmer
MWU16 Flash multiwriter*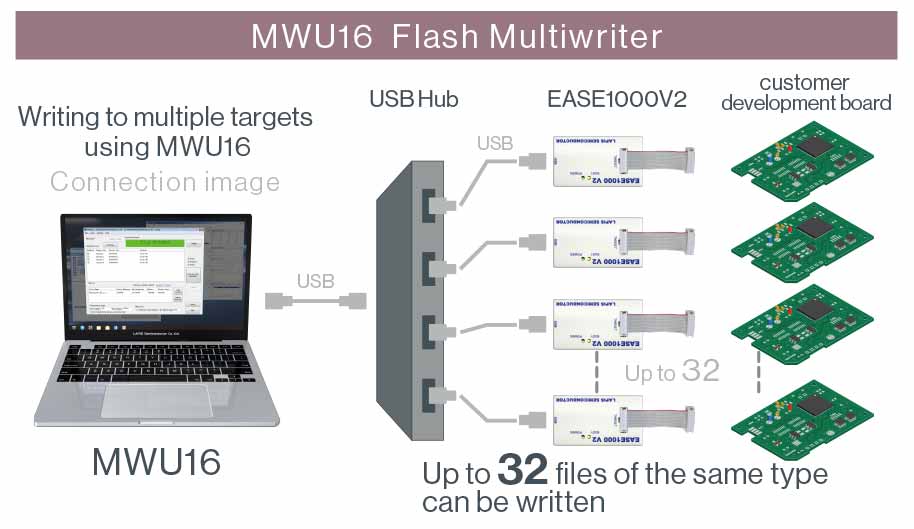 Supports writing program files to multiple (up to 32) target Flash memory of the same type.
* : When using the MWU16, please purchase the required number of EASE1000 V2.
---
3rd party Flash programmer
New Eclipse-based integrated development environment
"Enhanced editor functions" "Improved file operability" "New function stack size calculation tool"
Integrated development environment "LEXIDE-U16"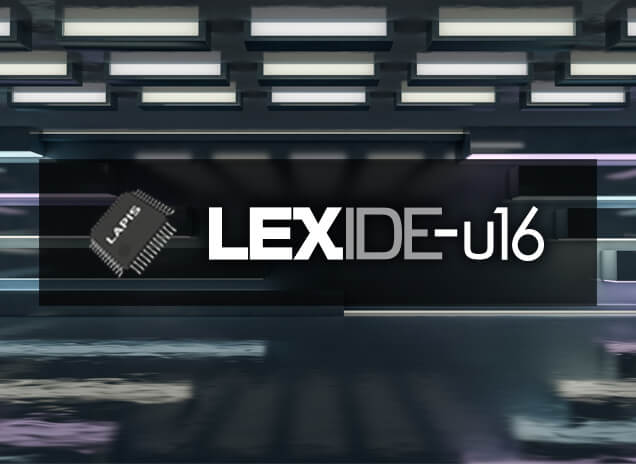 LEXIDE-U16 is an integrated development environment for developing programs for original LAPIS Technology 8/16-bit RISC CPUs based on Eclipse * 1 and CDT (C / C ++ Development Tooling) plug-ins, which are open source integrated development environments.
Compared to the existing integrated development environment "IDEU8", the editor function has been enhanced, file operability has been improved, and a stack size calculation tool has been added as a new function. You can call the LAPIS Technology original tools DTU8 debugger, LCD image tool, MWU16 flash multi-writer, SCU16 stack size calculation tool, etc. to create a program efficiently.
This LEXID EU-U16 will be released in the U8/U16 Development Tools Release 2.00.0 and later packages.
*1. An integrated development environment (IDE) provided by the Eclipse Foundation.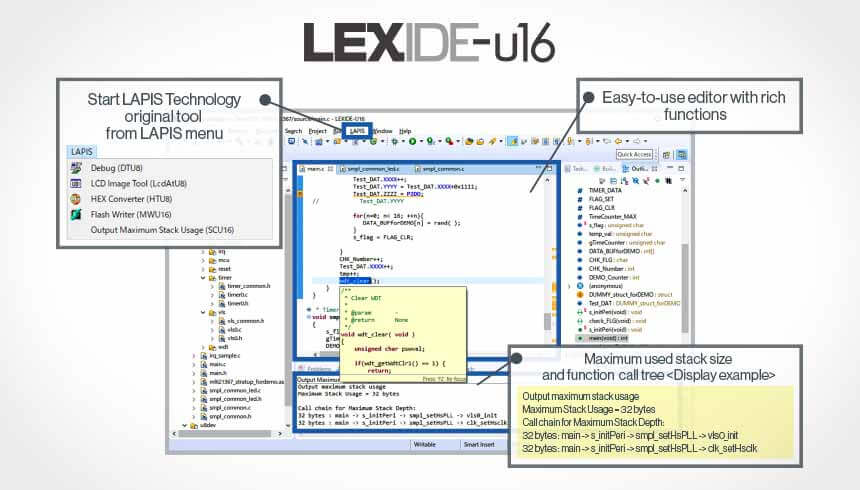 Easy-to-use editor with rich functions
Code auto-completion function: Completion of variable name, function name, etc., spell check
Code navigation features: include chain, browser, function call hierarchy, jump to function / variable declaration
Folding function: Fold and display functions and structures
Refactoring function: Batch change of function name and variable name
Syntax color coding function: Color coding for grammar, SFR (Special Function Register), conditional compilation, etc.
Easily port existing IDEU8 integrated environment projects to LEXIDE-U16.
Comparison between integrated development environment "LEXIDE-U16" and "IDEU8"
Function name
New tool
LEXIDE-U16
Existing tool
IDEU8
Editor function
Code auto-completion function
✓
ー
Code navigation function
✓
ー
Folding function
✓
ー
Refactoring function
✓
ー
Syntax color function
✓
ー
File operation function
Create folder
✓
ー
Switching display by source file tab
✓
ー
LAPIS Technology original tool start function
Starting the DTU8 debugger
✓
✓
Launch LCD Image Tool
✓
ー
Start HTU8 HEX Converter
✓
ー
Start SCU16 stack size calculation tool
✓
ー
MWU16 flash multiwriter
✓
ー
Development kit
EASE1000 V2 development kit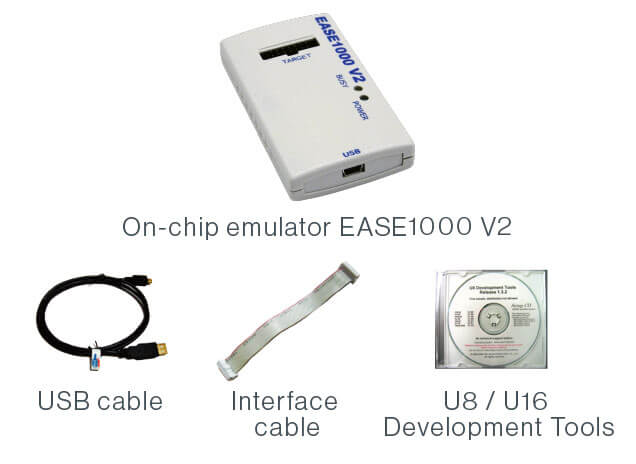 This kit provides a development environment from U8/U16 microcontroller program development to program writing during mass production.
On-chip emulator EASE1000 V2 compatible with U8/U16 microcontroller with Flash memory.
Software tools required for program development such as project management tools, build tools, debug tools, Flash programmers U8/U16 Development Tools.*1
Operating environment of U8/U16 Development Tools
*1 : Supports Windows®7*、Windows®8.1*、Windows®10* *32bit (×86) / 64bit (×64)
Compatible models

ML62Q1000 series
ML620Q400 series
ML610Q400 series
ML610Q300 series
ML610Q100 series
* Please purchase the reference board separately.
Hardware
Reference board with microcontroller
A reference board with a microcontroller and the minimum necessary parts. You can try the operation of the microcontroller. You can also develop software and write Flash.
starter kit
ML62Q1000 series starter kit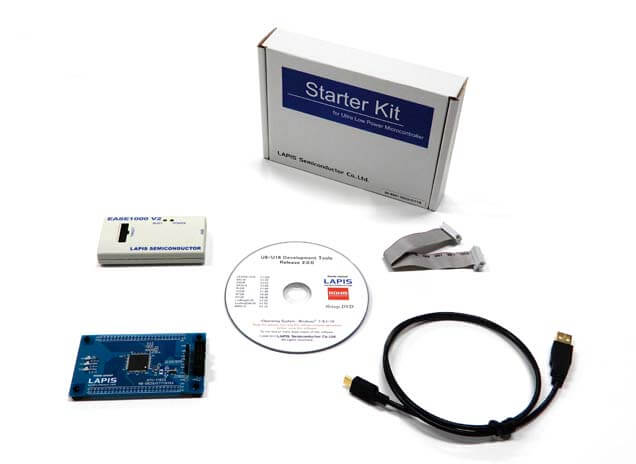 With this starter kit, we have a complete development environment from "ML62Q1000 series" program development to program writing during mass production.

Audio Playback 8bit MCU starter kit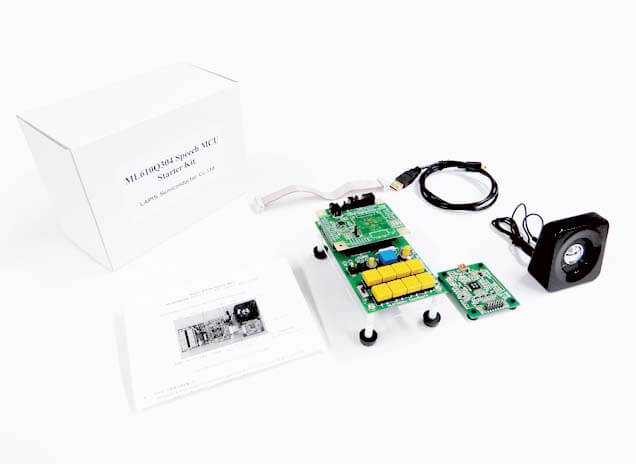 With this starter kit, you can listen to the audio immediately after opening the package. In addition, the user can easily rewrite / listen to the audio ROM data, and a set of development environment required for voice microcontroller software development and voice ROM data development is included.