Selection Guide
ROHM offers industry-leading DC/DC converters and evaluation boards that allow customers to develop and differentiate their power designs. Support videos, application notes, and commentary are also available to provide assistance at every stage of development.
DC/DC Converter Lineup
Do you need help finding the right power solution for your design? We provide a clear
explanation for selecting the the ideal DC/DC converter from our broad lineup. We offer
solutions for industrial equipment, cellular base stations, and automotive applications.
DC/DC Converter Lineup (303KB)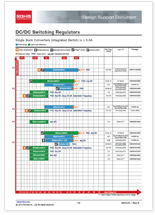 DC/DC Converters Page

Product Search
Narrow down the product by grade, ch, integrated FET / controller, buck / boost / buck-boost / inverting, synchronous / non-synchronous types and more using our parametric search function.

Datasheets are also available for download.
Switching Regulator Parametric Search