iso26262
ISO 26262
What is a ISO 26262?
ISO (International Organization for Standardization) is a non-governmental organization representative for various national standards headquartered in Geneva, Switzerland.
ISO formulates individual international standards (IS) such as ISO 9001 (Quality Management System) and ISO 14001 (Environmental Management System) which were well known.
The standard ISO 26262 is an international standard definite for Automotive Electric/Electronic Systems to adapt functional safety by the ISO.
An adaptation of IEC 61508 (International Electrotechnical Commission), the parent standard for functional safety, ISO 26262 defines functional safety for the automotive sector.

Functional Safety Standard for Modern Road Vehicles "ISO 26262"White Paper
ISO 26262 in Semiconductor Designs
The 1st Edition of ISO 26262 was published in 2011, then after several revisions a 2nd Edition was released in 2018.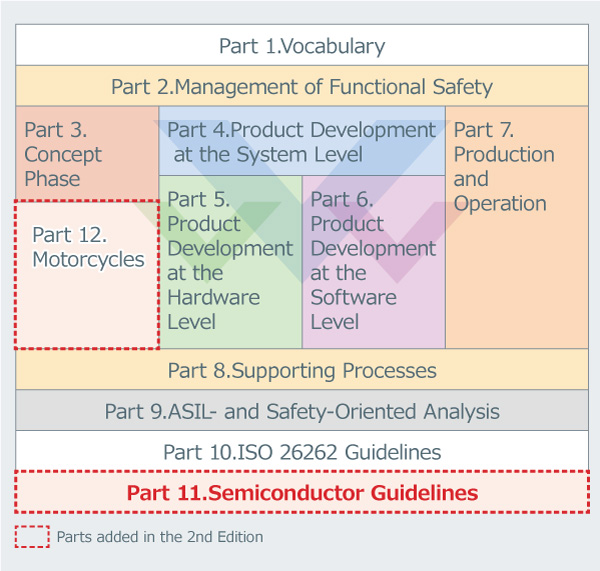 【Overview of ISO 26262】
The guidelines of safety design concepts for semiconductors has been determine from 2nd Edition as a new added Part 11 with an examples for better understanding.
Examples of Compliance Standards
Car manufacturer must ensure safety by designing electronic and electrical systems in accordance with ISO 26262.
In other words, it is mandatory for the components related to safety system to comply with this standard to get chosen.
Therefore, the component suppliers have to prove their products are compliance (certification) with ISO 26262 by audit from some organization like third party.
ROHM have been certified for ISO 26262 Functional Safety Management and product development at the hardware level. (Process certification)
Products examples supporting functional safety
ROHM offers various products optimized for functional safety. A part of product examples compliant to the safety standard are shown below.
■ Chipsets for LCD Panels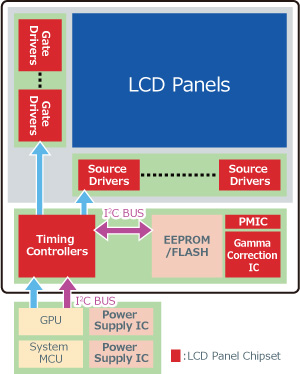 【Circuit Configuration of Display Device】
These chipsets are designed to drive and control high resolution LCD panels required from the use case of instrument panels, electric side mirrors (for showing captured vision from the cameras), navigation and other vehicle systems.
As features, it contains gate drivers and source drivers to drive the display with a timing controller, power management IC for powered each of these blocks along with gamma correction.
In order to detects several defect condition of the panel such as failure of LCD drivers caused by damage or separation mode and feedback status of monitoring the LCD input signals, these chipsets has been designed with a safety concepts to have interactive diagnostics function for expected failure modes.
Based on these safety design concepts, it can contribute to prevent serious incident happen in instrument panels (speed meter) or electric side mirrors.
Chipsets for Automotive LCD PanelsTo Details Page
■ Power Supply Monitoring Ics
The concepts of these ICs are to monitoring the status of each power rail of system power supply IC for ADAS sensor module.
The benefit will be able to support functional safety without revising the sequence by adding this monitor ICs.
Power supply monitoring IC with built-in self-diagnostic functionTo Details Page
electronics_tips_menu