memory_what1
What is Semiconductor Memory?
Semiconductor memory is a type of semiconductor device tasked with storing data. There are two electronic data storage mediums that we can utilize, magnetic or optical.
Magnetic storage:
Stores data in magnetic form.
Affected by magnetic fields.
Has high storage capacity.
Doesn't use a laser to read/write data.
Magnetic storage devices are; Hard disk , Floppy disk, Magnetic tape etc.
Optical storage:
Stores data optically, uses laser to read/write.
Not affected by magnetic fields.
Has less storage than a hard disk.
Data accessing is high, compared to a floppy disc.
Optical storage devices are; CD-ROM,CD-R, CD-RW, DVD etc.
There is also volatile memory. This is memory that loses its data once power is cut off, while non-volatile memory retains data even without power.
Semiconductor Memory Types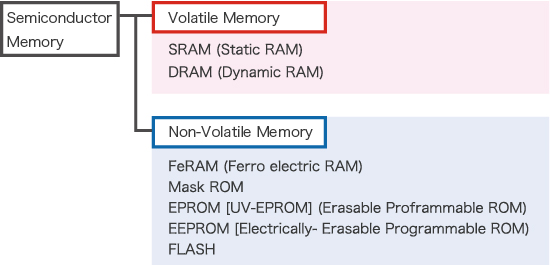 * RAM (Random Access Memory) : Enables Read/Write of stored contents
* ROM (Read Only Memory) : Allows only Read operation
Characteristics of Various Types of Memory
Parameter
RAM
ROM
Volatility
Non Volatility
SRAM
DRAM
FeRAM
Mask ROM
EPROM
EEPROM
FLASH
Data Storage Method
Voltage Bias
Voltage Bias
+
Refresh
Unnecessary
No. of Read Operations
∞
∞
10 billion
to
1 trillion times
∞
∞
∞
∞
No. of Rewrites
∞
∞
0 times
100 times
100,000 to 1 million times
10,000 to 100,000 times
Write on Substrate
Possible
Possible
Possible
×
×
Possible
Possible
Read Time
◎
◎
○
○
○
○
○
Write Time
◎
◎
○
-
△
△
△
Bit Cost
△
○
△
◎
△
△
◎
Larger Capacity
○
◎
△
◎
△
△
◎
Memory Cell

Stored in a flip flop circuit

Maintains charge in the capacitor

Polarization of the ferroelectric material

Ions implanted in a transistor

Maintains charge in the floating gate

Maintains charge in the floating gate

Maintains charge in the floating gate
electronics_tips_menu