lapis-tech-wireless
Wireless LSI

Wireless LSI

LAPIS Technology's wireless LSI supports
customer's "connecting" needs such as
Bluetooth® Low Energy、
LPWA、Sub-GHz、Wi-SUN、IEEE802.15.4
Industrial Wireless LSIs
LPWA(IEEE802.15.4k、Sigfox)
This is the wireless LSI to feature LPWA dual-mode functionality, supporting both Sigfox and IEEE802.15.4k. It is suitable for correction of sensing data using IoT.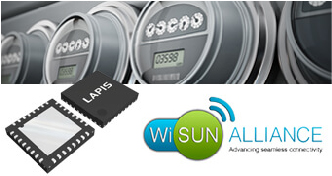 Specified Low Power Radio Station(Sub-GHz、Wi-SUN)
"Such as those used in Japan, Europe and China. Suitable for telemeters and security systems.
Industrial Wireless Module
Bluetooth®
It's added the lineup of Bluetooth 5 (Bluetooth low energy) module . "Development Flow" describes step-by-step.

Short Form Catalog
PICK UP

Industry top class product lineup and performance
While numerous overseas manufacturers are intensifying their efforts in wireless LSI products such as LPWA (Low Power Wide Area), Sub-GHz, Bluetooth® low energy, etc., LAPIS Technology is actively engaged in development activities in Japan. Wireless communication LSIs that we manufacture abide by standards of smart meters in Japan, the EU, China, etc. We provide a variety of LSI lineups in accordance with the usage environment in the world.