Combine with 8 different sensor evaluation boards to facilitate set development for the IoT market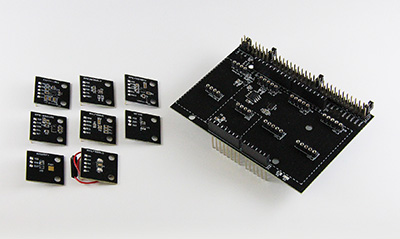 ROHM today announced the availability of a new sensor shield (expansion board) equipped with 8 sensor boards (e.g. accelerometer, barometric pressure, geomagnetic, heart rate sensors, etc.) designed for use with existing open platform MCU boards such as Arduino, and mbed.
The SensorShield-EVK-003 is the latest sensor evaluation kit offered by ROHM. The updated kit bundles 8 individual sensor boards produced by the ROHM Group (including a new optical heart rate sensor) along with a shield board for connecting to open platforms, making it easy to configure a sensor environment by simply incorporating software and connecting to Arduino Uno or other popular MCU board. This enables immediate verification of sensor operation and facilitates the design of sensor devices, significantly reducing development load while promoting the expansion of the IoT market.
In addition to meeting user demands for a kit (SensorShield-EVK-003), the sensor shield and sensor evaluation boards are available for purchase separately through online distributors. Additionally, all documents and materials necessary for operating the sensor kit can be downloaded from our website.
In recent years, following the proliferation of IoT in infrastructure, agriculture, automotive, and other areas, many companies have emerged, offering services, applications, and devices to meet the needs of the IoT market. However, significant development effort along with hardware and software expertise is required when creating products for the expanding IoT ecosystem. Additionally, the development and mounting environment for each IoT device will inherently differ, preventing easy evaluation.
In response, the ROHM Group began offering open source platform tools such as the Lazurite series that facilitate IoT prototyping and initial development. Moving forward ROHM will continue to develop sensor devices that achieve greater comfort and safety in the IoT and other expanding markets.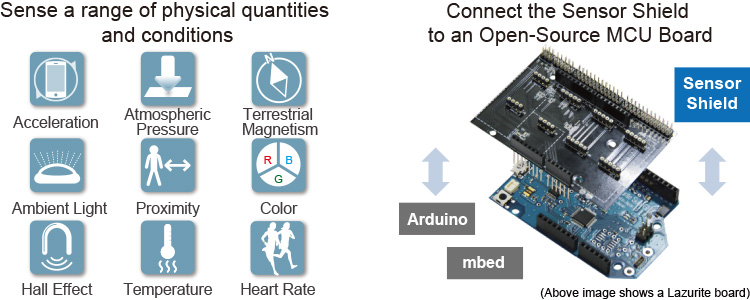 Availability: Now
Pricing: $148.80/kit
Product Lineup
* BH1792GLC-EVK-001 is sold individually.
Supporting Materials
All required materials for the sensor shield can be found on ROHM's website
◆ Materials: Circuit diagrams, manuals
◆ Software: Sample source code (Arduino Uno, mbed)
Click on the following URL for additional information.
Sensor Shield Web Page: http://www.rohm.com/sensor-shield-support
Terminology
Arduino
A popular open-source platform supplied by Arduino consisting of a development environment and board equipped with input/output ports and an MCU. Arduino Uno is the most popular board in the Arduino family.
mbed
Refers to a prototyping MCU board and development environment supplied by ARM.
Open Platform
A model promoting the universal (public) access of program source code, product lists, detailed specifications, and other information, allowing anybody to copy, modify, and distribute freely.