Back
Women in Tech: "ROHM is a very diverse and future-oriented company"
03/06/2022
Our colleague Melanie Schriefers is a real ROHM expert: Recently, she celebrated her 26th working anniversary at our company's European Headquarters in Willich, Germany. In our interview she gives insights into her diverse career path and highlights at ROHM.
​​​​​​​
Melanie, first of all: Congratulations to your ROHM anniversary! Could you please describe the "ROHM spirit" from your point of view?
Thank you – meanwhile I have been with ROHM even more than half of my life. It's amazing how time flies!
What I have experienced over and over again in the last years, and what still lasts until today, is the great team-spirit among all colleagues. I have met so many great and awesome people at ROHM – and even have made friends. What could be better than having friends at work?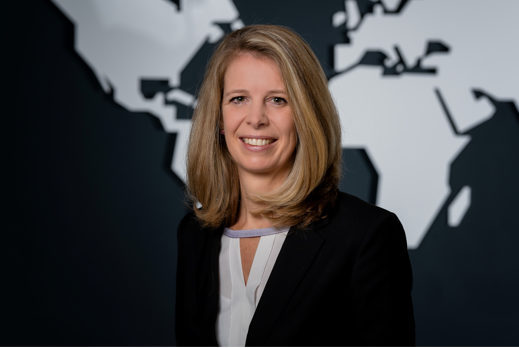 A ROHM expert: Melanie Schriefers has been working for ROHM since 26 years already.
Over the years I've have always experienced a positive working environment at ROHM –consisting of teamwork and good internal communication.
With ROHM there are so many long-time colleagues. Some of them even have reached their 30th anniversary at ROHM. This is certainly a proof that a lot of colleagues enjoy working at ROHM.
What is your motivation to work in the field of tech? In this context: What do you enjoy about ROHM?
Within the very dynamic electronics industry, ROHM is a company that focusses very much on the future. Also, the importance of environmental awareness and conscious management is increasing.
The energy consumption is increasingly threating our climate and environment. Therefore, we have to change our ways of energy consumption. In this regard, ROHM makes an important contribution to this topic as power savings and energy efficiency are our company's main goals. Thus, being part of ROHM, a leading technology company, gives me a good feeling.
Could you please introduce your working stations at ROHM?
In 1995, I have started my apprenticeship in the area of wholesale and foreign trade. I had the chance to get insights into all departments and to practically support them after some training. It turned out that the work within ROHM is very diverse and broad. I had the chance to see all ways of working and to meet new and interesting colleagues.
In 1998, I successfully completed my apprenticeship. Very soon it became clear that I could continue to work at ROHM. I was very happy to get the offer to start in the "Printer Sales Group" as an Inhouse Sales Coordinator.
Over the next couple of years, there have been many changes within this sales group, whether in terms of colleagues or integration into another sales group. My tasks and also the customer base changed from time to time. But I had been loyal to Inhouse Sales and also to some printhead customers over the years.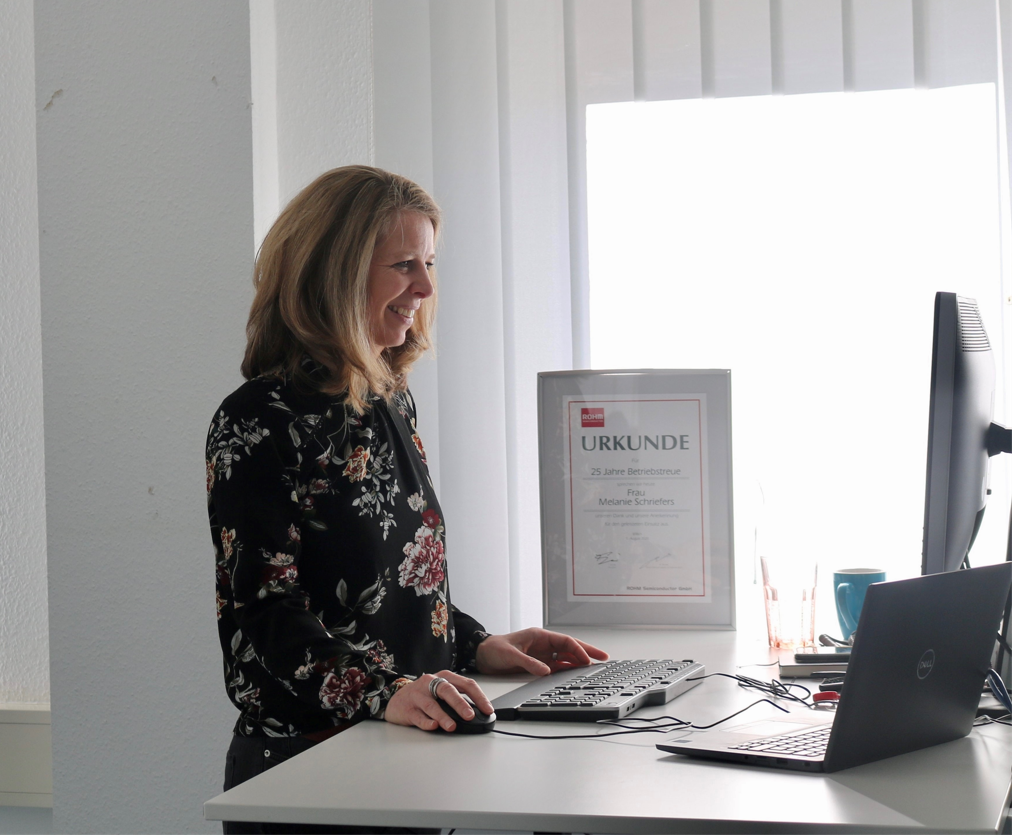 ​​​​​​​
After her parental leave, Melanie started to work for ROHM's Marketing Communication department.
As an Inhouse Sales Coordinator I often had been the first in line to support our customers. I have been working together with a lot of friendly and interesting colleagues in Willich and abroad and also in our Headquarter. There has always been a close and supportive cooperation within the team and of course with other departments. I have met some important customers and had the chance to see their production lines. This was very interesting.
In evening courses, I have done some professional trainings such as "Bachelor Professional of Trade and Commerce (CCI)" and "training supervisor".
In 2019, after a two-years-break of parental leave, I started working half-day in the lovely Marketing Communication (MarCom) team. This is a great chance to get to know ROHM from a different perspective. I was very pleasantly welcomed, and I feel comfortable about supporting the team.
During your time at ROHM, what were your personal highlights so far?
When thinking of highlights, then some moments of fun time come to my mind.
We had a lot of great ROHM company events that some of the long-time colleagues may remember: Games, competitions, delicious food, bands and dancing until dawn – it was a lot of fun. There have been so many funny events, such as knight games or offroad adventure camps.​​​​​​​​​​​​​​
The ROHM ladies always had funny ideas when Carnival, a regional and popular festivity in Germany, was close. Almost every year we had a special theme like "Emergency ROHM", "CSI ROHM", "ROHM Airlines" and "Suzuki's Castle". Also, we often met after work doing some sports together like playing Volleyball or Badminton.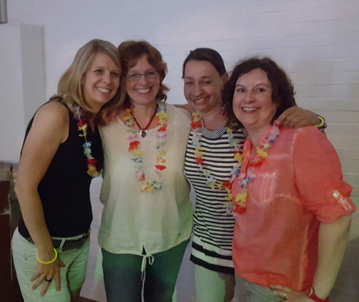 Colleagues and friends at once: During her time at ROHM, Melanie has created many unforgettable memories with her team.
​​​​​​​I hope that there will be some better times soon and to come together again with nice colleagues on such occasions.
Could you please outline ROHM's major changes throughout the years?
It has never been boring with ROHM – there is always a constant change. Throughout the years there have been permanent changes. Every new fiscal year starts with changes and new challenges. The change of office facilities, internal moves and organisation changes are the minor ones.
I remember some major changes with regards to our merchandise management system. Some years ago, we started to work with SAP more than adequate. We all had to solve a lot of challenges back then, at least for a certain while.
With a lot of respect, the people have foreseen another change from SAP to a ROHM internal system years later. This has been a smooth change.
A lot of colleagues have never experienced that today's ATSC and Power Lab block of building has been ROHM's warehouse before.
It was a big change for a lot of employees when the warehouse moved to the Czech Republic.
How does a typical working day look like for you?
My job is very diverse. I have some key tasks – such as budget control, invoice operation, managing expense share with our Japanese Headquarters, updating the German ROHM website, while supporting the team.
On top, there are some physical exhibitions coming up this year. I'm looking forward to support the team also during these events. There are some busy times ahead and quite a few things to do.
What do you like most about your current department?
The Marketing Communication department is an important department of our company and it is a very complex field. With the increasing digitization, there have been so many changes and new challenges. There are many facets that can spread the presence about ROHM brand and products. I am happy to be part of such an interesting division. On top, I am very glad to work with such a nice and talented team of five likeable and intelligent women.
The team is a big motivation since there is a positive atmosphere and a joint team-spirit. We have an open and honest communication – combined with a sense of humor.
Besides working for ROHM, you are also mother of a four-year old daughter. Could you please describe how you manage both roles?
Our 4-year-old daughter is our sunshine. She, of course, has most of my attention.
I started working again when she was two years old. It was important for us that I take care of her half-day, so I have decided to reduce my working time after my parental leave. In the morning she has fun in Kindergarten and in the afternoon we do things together. That fits well. Of course, I have to plan and schedule my time in a totally different way than before. Very often, I have to read a book to her in the morning – the most busiest time. And for sure, I allow this intensive time with my daughter in my daily routine. I am well organized and structured – that's often what matters and helps me to fulfill both roles. It always has been my ambition to do my work very well and to work targeted and efficiently.
I know a lot of working moms and dads at ROHM – and all of them are doing a great job. Kudos to those with two or three kids!!
Which career advice would you give to other women in tech who enter the industry?
Although I am not an engineer or technician, I would be pleased if the gender imbalance in technology professions could be counterbalanced a bit.
You never should be put off by technology. The best way for young talents to discover and find out their field of interest and their skills is to experience and work in as many departments as possible. Questions also help you to get taught and to learn more. It's not a shame asking questions.
Thank you very much for this insightful interview, Melanie!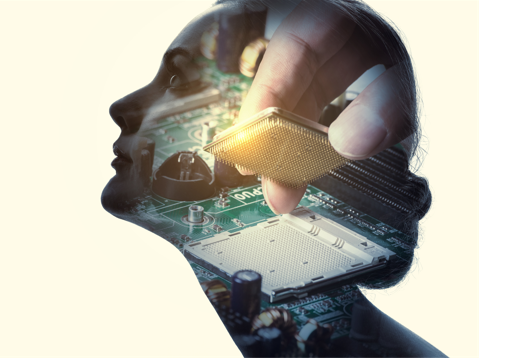 ​​​​​Find out more about ROHM's women in tech talents:
- Wenjie Dong, EDI and IT Business Process Specialist: "We need more IT women joining the industry. Be confident!" ​​​​​​​
- Kyoko Tago, Director Logistics: "Communication and cooperation are extremely important."
- Sowmya Karnati, Quality Engineer: "Whether male or female: Everyone should follow their interests."
- Imane Fouaide, Field Application Engineer: "Breaking stereotypes and supporting women in tech is crucial."
- Jie Ma, Global Key Account Mananger: "Connecting Technologies and Industries globally"
- Justine Hörmann, Head of Marketing Communication: "I've always had a big portion of curiosity for complex products." (podcast)🎙🎧:
​​​​​​