Back
ROHM at PCIM 2022        
05/19/2022
After nearly three years of mainly digital exchange, PCIM Europe, the leading international trade fair and conference for power electronics, opened its doors from May 10th to 12th. Under the motto "Let's power on", PCIM 2022 once again put the power electronics industry live in the spotlight in Nuremberg, Germany. This slogan was intended to send a signal in the direction of the "new normal" and expressed the energy of the community at the event.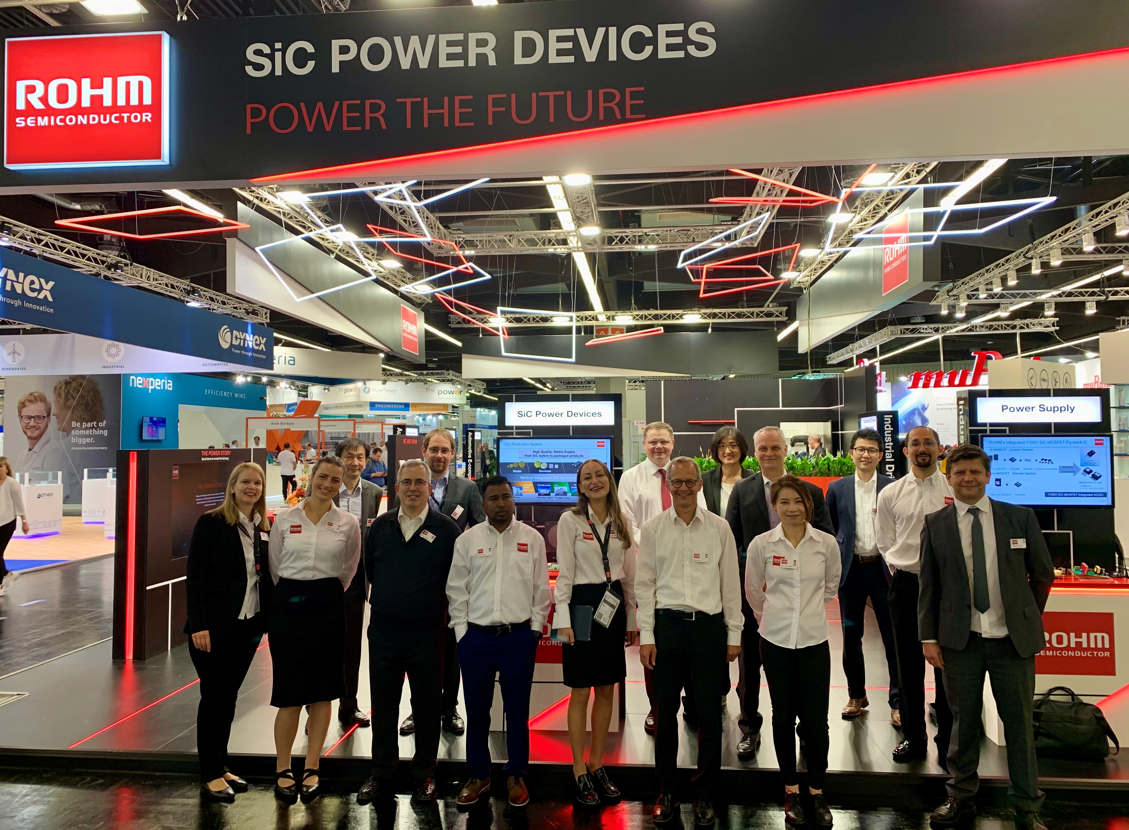 Team spirit on our ROHM booth at PCIM 2022.
Around 400 exhibitors from over 30 countries showcased a diverse range of products and services along the entire value chain of the industry. "The past two years have shown that personal exchange is much more intensive and familiar than via digital channels. Therefore, we were pleased to offer the community a platform for personal dialog and networking at our booth this year," says Wolfram Harnack, President of ROHM Semiconductor Europe. "The valuable conversations on our booth and discoveries made while walking through the lively exhibition halls were also a great pleasure again," adds Harnack.
Press conference with live stream to ROHM Headquarters in Japan
At this year's PCIM, ROHM Semiconductor Europe hosted a press conference together with a live stream to its Headquarters in Kyoto, Japan. ROHM's top management presented the company group's European and global business activities, strategies, and silicon carbide (SiC) investment plans to the technical journalists present.
ROHM's cross-continental press conference at PCIM 2022.
One of ROHM's highlights was the 4th generation of SiC MOSFETs: It achieves up to 50% lower switching loss and 40 % reduction of ON resistance without sacrificing short-circuit ruggedness. The latest generation offers a more flexible gate voltage range and supports turn-off with zero volt – enabling simple gate drive circuits with unipolar supply to be used.
Dr. Kazuhide Ino, Managing Executive Officer, CSO of ROHM Co., Ltd. stated during the press conference: "The demand for SiC will continue to grow, and ROHM will also increase sales. We will accelerate further investment and product development based on the technology we have cultivated as a leading SiC manufacturer. In addition, our company will continue to propose solutions that combine not only SiC products but also peripheral components and customer support."
Isao Matsumoto, President and CEO of ROHM Co., Ltd., is satisfied with the ROHM group's overall achievements and looks optimistically into the future. He explained to the journalists present: "We were able to achieve record sales in the last fiscal term and expect to continue strong performance in the current fiscal term. Accordingly, we revised the medium-term management plan upward and ahead of schedule. Among the global markets, we recognize Europe as a priority market to focus on, with many companies leading technological innovation in automotive and industrial equipment."
Exciting forum & conference presentations
ROHM's staff was represented at the PCIM Europe 2022 conference with numerous presentations. Aly Mashaly, Director Application and Technical Solution Center (Automotive Applications and Power Systems) at ROHM Semiconductor Europe held two lectures: "SiC: The driving force of e-mobility and a sustainable future" at the Industrial Forum and "The next level of wide bandgap design: SiC" during Bodo's Power Podium Discussion.
Aly Mashaly informed the PCIM audience about SiC updates.
"This month was my first time back in Nuremberg at PCIM. I've enjoyed the virtual events of the last two years, but nothing beats a face-to-face meeting. I've probably never looked forward to a show this much," says Aly Mashaly. "For me, PCIM was special with its return to a physical format this year, especially with the many new products and innovations ROHM introduced."
Additionally, Kevin Lenz, Application Marketing Manager at ROHM Semiconductor Europe, presented "ROHM's 4th generation SiC MOSFETS in onboard-charger application" at the E-Mobility Forum.
​​​​​​​​​​​​​​​​​​​​​​​​​​​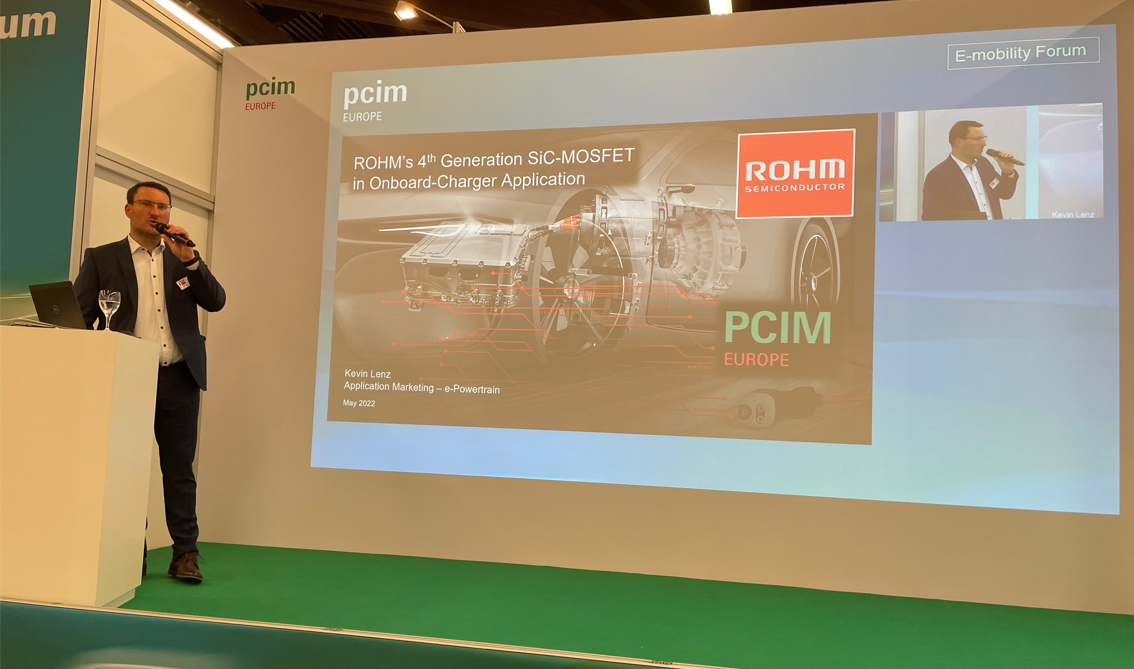 Kevin Lenz held a presentation about the application of ROHM's 4th generation of SiC MOSFETs.
On top, Rony Karim, Application Marketing Manager at ROHM Semiconductor Europe, gave a speech on "SiC 4G 1200V chip technology powers the future of industrial drives" at the Exhibitor Forum.
​​​​​​​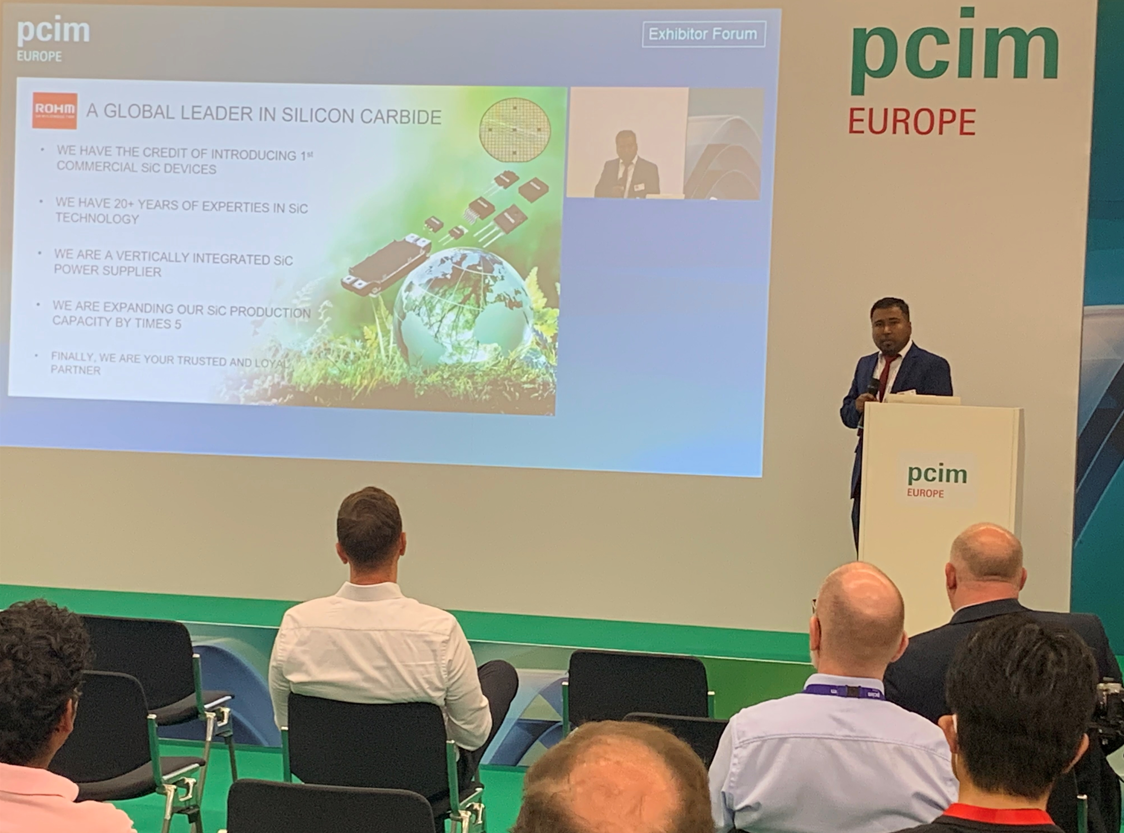 Rony Karim updated the PCIM audience about SiC applications in industrial drives.
ROHM relied on its proven booth concept to optimally present its selection of traction inverters, OBCs, e-compressors, solar inverters and chargers and industrial drives. Especially ROHM's 4th generation of SiC MOSFETs was a major attraction. Other highlight products at this year's show included:
• Gate Drivers BM611x series
• Fast-switching Super Junction MOSFETs R60xxYNx series
• Fast-recovery Diode Super Junction MOSFETs R60xxVNx series
• Gen. 6 Trench MOSFETs RS6xxxxBG/RS6xxxxBH series
• AEC-Q101 qualified IGBTs RGS series
• Hybrid IGBTs RGWxx65C series
• IGBT IPM BM6437xS-VA series
• 730V Integrated Fly Back Converter BM2P06xMF IC series
• Isolated DC/DC switching regulators BD7F (10x/20x) series
• 150V GaN HEMT devices
Wolfram Harnack was very pleased with the results after three fair days: "We are very glad that the high visitor quality of the first PCIM after the lockdown shows one thing above all: The industry needs and wants trade shows on site. Our customers want to touch products, network, and meet in person at the show. We are very satisfied with the course of the event."