Back
Technical Support at ROHM: Customer Service with many Facets
01/25/2022
ROHM's technical support team is the backbone of the company's customer service in Europe. Karim Zbiba, Senior Field Application Engineer at ROHM's Application and Technical Solution Center at ROHM's Stuttgart office, explains how he and his team offer a high-quality service to ROHM's European customers on different levels.
Karim, thank you very much for taking the time to give us some insights into your daily work. First of all, could you please shortly introduce your key job tasks?
Karim Zbiba: Our main task at ROHM's European LSI Application Engineering department is to support European customers on a technical level with their LSI products requests. LSI stands for large-scale integration: The technology for concentrating several million semiconductor devices in an integrated circuit.
One of Karim's focus applications: car displays
Mainly, I support Tier 1 customers from the automotive industry. For example, one of my focus areas revolves around safety relevant automotive solutions for future digital cockpit and displays in the car. On top, I support all Lapis products that include automotive, industrial and consumer solutions. In addition, we support industrial and consumer (end) customers via our distribution network.
In this regard, how does your typical working day look like?
Karim Zbiba: During my daily work, I try to understand our customers' existing and future architecture as well as their safety concepts. Moreover, I clarify their specifications. Based on this knowledge, I propose to them suitable ROHM solutions. Also, I clarify safety relevant features as well as taking care of error and problem handling as well as analyzing, resolving bugs and performing design reviews.
To support our promotion activities, I design system level evaluation kits and prepare demonstrators for real use case visualization during exhibitions and customer tech days.
Which kind of products are you focusing on?
Karim Zbiba: My focus application is the central information display (CID) and the cluster display.
Mainly, I am technically supporting our automotive functional safety relevant LVDS Bridge/TCON solution for future cluster, CID and passenger displays inside the car.
What are typical customer requests?
Karim Zbiba: Our customers approach us by providing new system requirements for coming projects triggered from OEMs in terms of requests for quotations (RFQs) or for information (RFIs). Moreover, they ask us to upgrade existing systems, to resolve technical problems or to provide alternatives.
​​​​​​​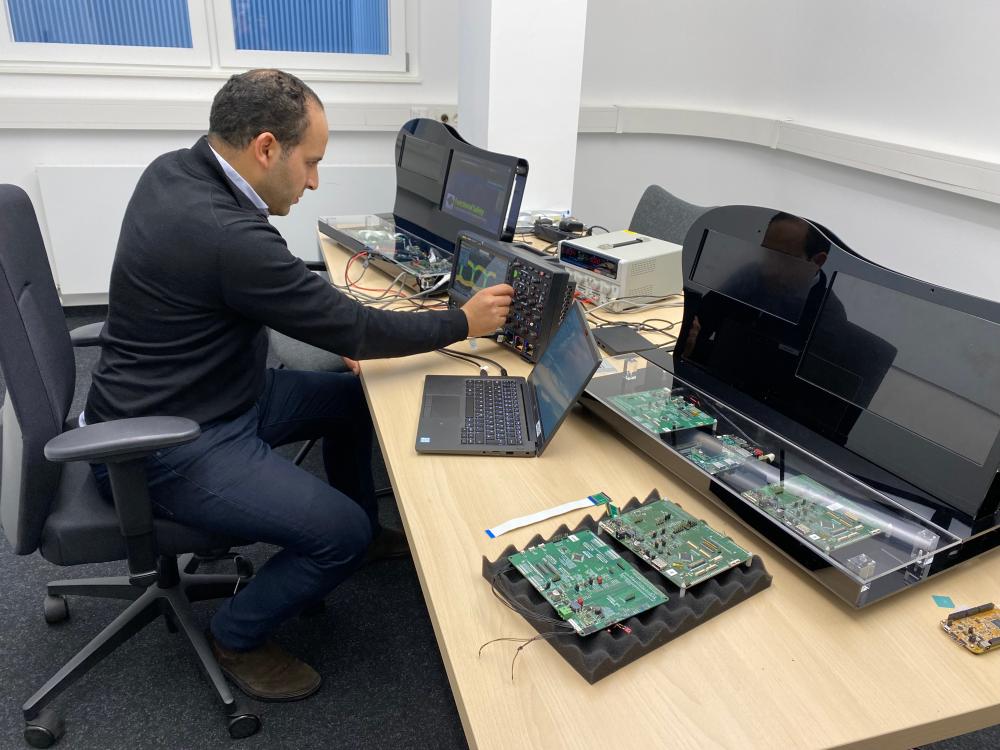 From ROHM's Stuttgart office, Karim tackles technical customer requests.
By clarifying all customer requirements, for example in my case the requirement of cluster and CID applications, or of hearing aids or smart watches with health monitoring features, our technical support team proposes the right and potential ROHM solution.
During your daily work: What are your typical challenges and what are your strategies to tackle them?
Karim Zbiba: Together with our customers, we solve complex challenges on a daily basis in a fast-paced and rapidly changing environment. At this, we face a wide variety of applications from different industries each day and switch between multiple concurrent tasks.
During our work it's crucial to demonstrate persistence – combined with strong analytical and problem-solving skills. At this, strong communication and presentation skills are key to support our customers with the best service and provide them with the right messages and answers. Finally, we offer them the best-fitting semiconductors. We also catch possible opportunity by proposing additional potential ROHM solutions in customer systems. On top, we are working with multiple and different multinational resources to develop targeted solutions for our customers.
With these strategies, we overall aim to build strong and influential relationships to our customers.
Could you please describe the special spirit of your team?
Karim Zbiba: We have a flat hierarchy, and this allows a certain freedom and high responsibility for each member. Each one from us always takes the initiative to drive very good results for the products he or she is responsible for.
On an application and system level, our AE/FAE teams collaborate effectively to support and propose the right solution for our customers.
Moreover, the cross-departmental teamwork at ROHM is special: For example, we consult our Sales team to find suitable products for our customers' applications to grow our revenue in focus applications. Also, we work together with our Application Marketing Managers to prioritize and target focus products and applications for ROHM opportunities and growth.
From your point of view: What is special about our company? Why are you motivated to work for ROHM?
Our Japanese company connects people with different nations from several countries. This motivates me a lot. To date, I have gained over 13 years of working experience and this is my seventh year working at a Japanese company. This shows that I feel very comfortable working for ROHM and I understand the Japanese culture and also the way of work very well.
I am confident to make a significant contribution at ROHM with my experience at different key automotive customers and suppliers. As I acquired a sound knowledge in dealing with cutting edge engineering principals, tools and practices with emphasis on designing smart innovative systems, I can enrich the ROHM team with my technical knowledge and automotive expertise.
Thank you very much for this insightful interview, Karim.