Back
Women in Tech: From Medicines to Microchips
07/08/2020
Wenjie Dong, EDI and IT Business Process Specialist at ROHM Semiconductor Europe, speaks about her second career as an IT professional.
When asking Wenjie Dong about her motivation to become an EDI and IT Business Process Specialist, a smile appears on her face – because originally she pursued a career as a medical scientist. After having studied at the renowned "Tongji University School of Medicine" in her hometown Wuhan, China, she came to Germany in 1992 and earned her medical doctor degree in molecular medicine in Heidelberg. Afterwards, she applied her academic skills in a Berlin laboratory where she worked under highest safety conditions. "This was a dangerous profession because I researched on viruses, bacteria and radioactive substances. But for me it was a big motivation to improve the conditions for humanity by developing new medical solutions," explains Wenjie.
Starting over
Nevertheless, when she became a mother a couple of years later she had to rethink her career. "The German law doesn't allow pregnant and nursing women to work in such a dangerous laboratory environment." Therefore, she took a three-year break to take care of her child. Afterwards, she decided to retrain as a "Systems, Applications and Products" (SAP) consultant in cooperation with the technology and electrical engineering group Siemens. During this one year of retraining, she noticed that next to her newly acquired IT skills and business process know-how, the working style she used to apply in her previous job was also required for her new role: "Like in medicine, SAP also requires a profound level of analytical abstraction capability and highly accurate work. In both professions you have to monitor processes very closely and an eye for details in crucial." At the same time – though she missed working in the lab – she noticed the many benefits a job in IT compared to her former medical profession had: "The new type of job was much more family-friendly since I started to work in a much safer environment than I experienced previously in the laboratory," says Wenjie.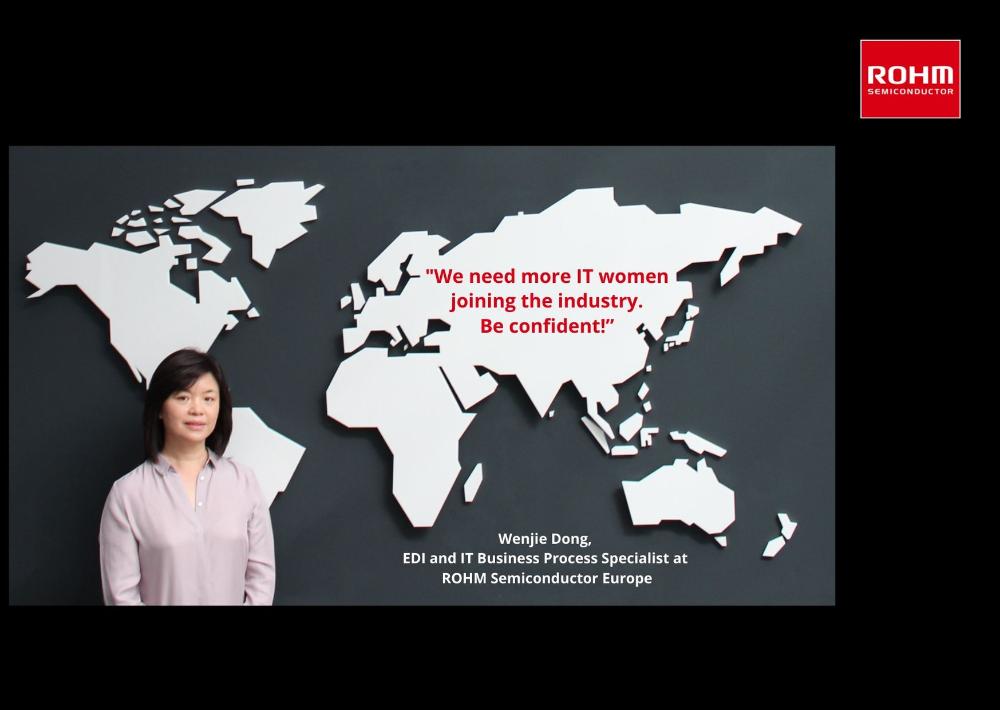 Next, she worked at the software department of the renowned media house Bertelsmann in Gütersloh, Germany, where she applied her SAP skills in the company's fully automated warehouse. During this time she also discovered her interest in logistics: "From the beginning on, I was fascinated by the many aspects logistics is connected to – from incoming orders to the procurement of goods."
Wenjie's fundamental interest for logistics was also one of the key reasons why she joined the Central Logistics Services department of ROHM Semiconductor's German office in Willich in 2001 as the first SAP consultant. "Back then, ROHM was just about to upgrade to SAP 4.0. So that was the perfect timing for me to start this position."
Exchanging B-2-B sensitive data, precise logistics planning and supporting BI-analytics
One of Wenjie's key tasks at ROHM is exchanging sensitive business data with ROHM customers safely. "Customer orders, especially order price, for example, require an encoded data connection in order not be visible for everyone," explains Wenjie. Furthermore, this woman in tech develops programs to plan the exact time and quantity of goods that is going to be delivered to ROHM customers. "This way, we are able to plan storage capacities as efficiently as possible – for ROHM and also for our customers," explains Wenjie.
Additionally, the EDI and IT Business Process Specialist supports administrative tasks of Business Intelligence (BI) tools, such as order backlogs, budget, forecasts, sales and billing.
Besides this forward-looking task, she also enjoys the international atmosphere and keeps noticing that more and more women in tech enter her field of profession: "Yesterday I had a telephone conference with a female customer in India, today I had a virtual meeting with another customer lady from Russia. Also, one of my IT colleagues at ROHM USA is female. I enjoy and appreciate the frequent exchange of experience across the pond with her a lot." Therefore, she encourages other young woman to pursue a career in tech, too: "At first, I thought these IT tools are so complicated. However, when you are disciplined, it's possible to obtain all the knowledge needed to get started. We need more IT women joining the industry. Be confident!"
The Female Force of IT: Facts and Figures
​​
In 1949, the US-American female computer pioneer Grace Hopper created the first compiler that translated source code into machine code. In 1957, she developed the programming language "Flow-Matic", which for the first time used English words as commands. (Source: Der Tagesspiegel, 2019)
About 75 percent of young girls express interest in the field of computer science (Source: Observer Media, 2017)
The proportion of women working in the IT sector was around 17 percent in 2019 (Source: Bundesverband Informationswirtschaft, Telekommunikation und neue Medien e.V. "Bitkom", 2019)