Back
On ADAS, Autonomous Driving, and Vehicle Safety Technologies
08/05/2020
What criteria are used when choosing a vehicle?
In addition to the conventional factors of brand, design, and size, recently more buyers are also looking for greater convenience (i.e. navigation) and comfort (e.g. seat heaters, audio system).
And in the last decade new trends have added to the list of criteria, such as ADAS (Advanced Driver Assistance Systems) and autonomous driving.
As you may be aware, there is a difference between ADAS and autonomous driving. Here we will introduce automotive safety technology while touching upon the various definitions and terminologies.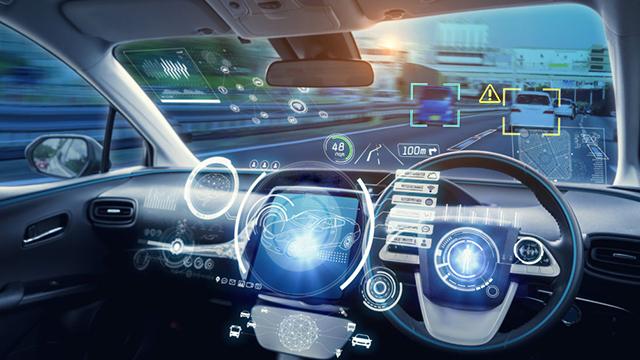 ADAS assists the driver to ensure greater safety
Although the terms ADAS and advanced driver assist systems are synonymous, ADAS is more commonly used.
The impetus behind the development of ADAS is to improve safety by preventing accidents and reducing driver load.
Until now, 'safe driving' consisted of drivers looking at the road and surrounding conditions and making decisions based on the situation. Although drivers can learn tips and tricks by gaining experience and/or going to driving school, traffic accidents still occur due to human error such as carelessness, impatience, as well as the deterioration of physical ability and cognitive decline. In fact, in Japan alone the number of accidents was 381,002 in 2019 (according to the National Police Agency in Japan). Although this figure is 50,000 less than the previous year, it shows that accidents are not unusual events.
Until recently, most systems operate after something occurs, such as airbags that deploy due to a strong impact, and ABS (Anti-lock Brake System) that operates by keeping the brake pedal firmly pressed until the car stops.
In contrast, ADAS is a system that helps drivers drive more safely by operating before something happens. Perhaps the biggest difference with traditional cars is that with ADAS the car and systems work autonomously through the use of programs and algorithms.
For example, with automatic braking. If a risk of collision is calculated based on vehicle speed and distance to a forward obstacle, the brakes will be applied even without driver interaction.
In this way, advances in technology are playing a major role in safe driving, which until now has been entrusted to the driver.
ADAS is not just automatic braking
The table below highlights some of the key features of ADAS.
Function
Overview
Adaptive Cruise
Control
Detects the vehicle ahead using a front-mounted sensor
and maintains a constant speed without pressing on the accelerator.
Collision Damage
Mitigation Braking
(Automatic Braking)
Sensors and cameras detect obstacles around the car
and alert the driver or perform automatic braking in order to avoid collision.
Lane Departure
Warning System
Utilizes a camera to analyze images of the traffic zones and centerline
on the road and warns the driver when a lane is crossed (i.e. due to swerving).
Also referred to as Lane Keep Assist.
Parking Support
System
Helps the driver park by communicating information on the surrounding environment
using radars and cameras mounted on the front/rear/left/right of the vehicle.
Also called Park Assist.
Lighting Control
Automatically adjusts the strength and direction of the headlights based on darkness,
steering angle (direction of turning), and presence of oncoming vehicles.
Driver Monitor
Analyzes facial expression and alerts the driver of sleepiness.
Navigation System
Provides route guidance and traffic conditions in real time.
Vehicle-to-Vehicle/
Vehicle-to-Road
Communication System
Communicates with other vehicles and traffic control systems
to support safer driving (i.e. through navigation).
Widespread use of automatic braking
Although ADAS has functions other than listed above, we will cover some typical features here. Among these, automatic braking is being adopted worldwide. At WP29 held in Geneva, Switzerland in June 2019, an international standard for collision mitigation braking in passenger vehicles was established in accordance with a joint proposal put forth by co-chairs Japan and the EU. As a result, automatic braking is becoming mandatory in each country.
For example, Japan has made it a requirement at an early stage. In fact, automatic braking will be mandatory on all new models released from November 2021. And for existing models as well, automatic braking will be required on all new vehicles from December 2025.
At the same time, automobile safety tests conducted by Euro NCAP in Europe and the Insurance Institute for Highway Safety (IIHS) in the US now require the use of automatic braking to obtain the highest safety rating, and starting with the UK's lowering of the insurance rating in 2012, many developed countries are giving preferential treatment and discounts on insurance premiums for cars with automatic brakes, laying the groundwork for its mandatory adoption.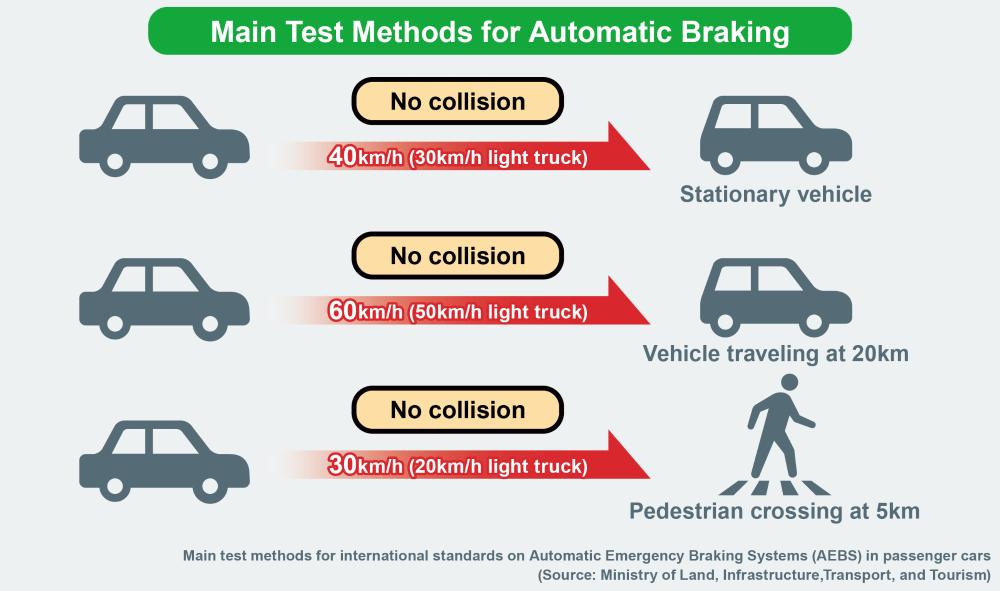 Vehicle technology development promoted by automobile manufacturers
Automotive manufacturers are currently developing a variety of ADAS functions in addition to global standards such as automatic braking mentioned above.
Some of these functions are available as standard and others as an option. A number of auto makers are promoting safety performance and packaging various features under their own brand.
Automated driving is an extension of ADAS
Until now, ADAS has often been used to denote autonomous driving. However, the functions introduced thus far specifically refer to driver assist systems. Since the two terms are often used interchangeably, some countries have asked auto makers to describe ADAS as 'driver support' instead of using the term 'autonomous driving'.
This begs the question: What is the relationship between ADAS and autonomous driving? Technically, there is an autonomous driving extension of ADAS, with functions classified into levels 0-5.
These levels were defined by the Society of Automotive Engineers (SAE) and adopted by the US Dept. of Transportation. The diagram below briefly explains the differences between ADAS and autonomous driving.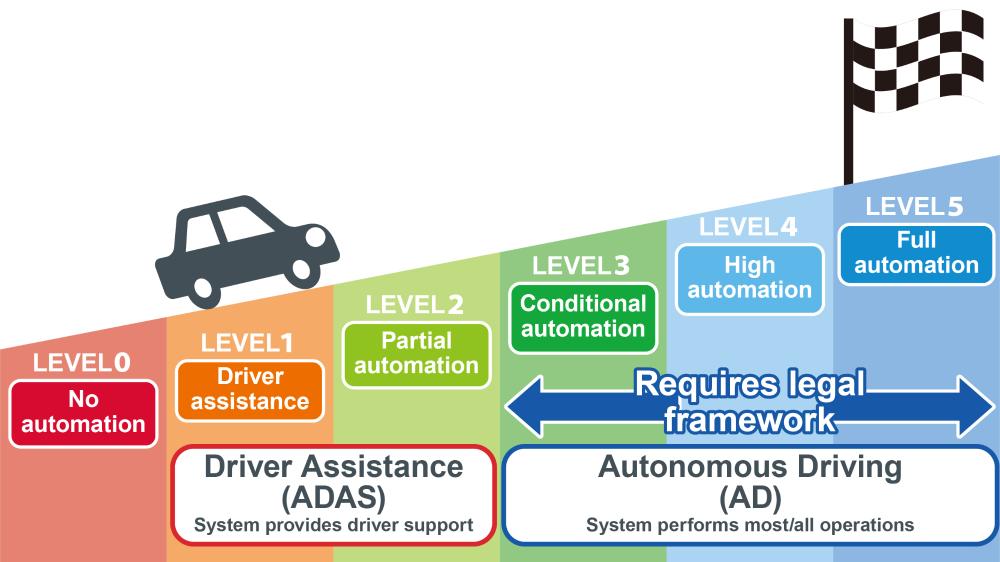 The boundary between ADAS and autonomous driving lies between Levels 2 and 3
This definition classifies Levels 1-2 as ADAS and 3-5 as autonomous driving. The differences between partial automation in Level 2 and conditional automation in Level 3 are outlined below.
The primary consideration is 'Who is monitoring the driving environment and operating the vehicle?'
To drive safely, the agent driving the vehicle must obtain information based on the surrounding conditions, including the road.
In Level 2 the driver is responsible for monitoring all tasks and must be ready to intervene if necessary. The system plays the role of collecting information on the driving environment and providing operational assistance in the form of acceleration/deceleration and steering.
In contrast, in Level 3 the system detects surrounding conditions using cameras and sensors to make informed decisions. The system performs most operations, but it is important to note that human intervention is still required in the case of technical issues such as system failure.
Safety is essential for technological development
In addition to ADAS and autonomous driving, there are always concerns when introducing new technology. Especially in the automotive field, where one mistake can lead to injury or loss of life, extreme safety is required. Therefore, the ADAS functions introduced here require reliable, stable operation.
High quality is needed not only for vehicle sensors and cameras, but for the onboard electronic components as well that form the foundation for the entire system.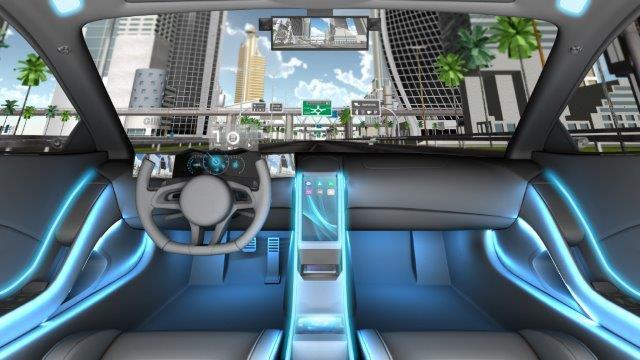 On the other hand, there is no guarantee that failures or malfunctions will not occur, regardless of the quality of electronic components and/or systems. And there are always risks that arise due to changing conditions and age-based deterioration.
The key measure when considering the reliability for these types of critical applications is 'functional safety'. Introducing the concept of functional safety is intended to reduce risk to an acceptable level and prevent serious injury even if a system or component fails.
ISO 26262 Automotive Functional Safety Standard
Functional safety is essential for improving the safety and reliability of ADAS and autonomous driving systems. For this reason, an international functional safety standard for vehicle electronic control was established.
ISO 26262 breaks down the guidelines for functional safety into 12 areas, from terminology and functional safety management to the concept phase together with system-level product development and semiconductor guidelines.
ROHM contributes to the prevention of automobile accidents
ROHM understands the importance of functional safety, and in 2018 was among the early semiconductor manufacturers to obtain ISO 26262 certification for the development process from German 3rd party certification organization TUV Rheinland. This indicates that ROHM's automotive device development process is recognized to support the highest level of safety requirements (ASIL-D).
ROHM also provides full support for functional safety necessary to achieve full-scale implementation of ADAS, such as releasing chipsets for high definition LCD panels used in functional safety ahead of the industry in 2017, and in 2019 developing the industry's first power supply monitoring ICs with built-in self-diagnostic function.
Chipsets for High Definition LCD Panels
Above chipsets integrate gate/source drivers and a timing controller for driving high definition LCD panels, gamma correction and power management ICs (PMIC) that provide optimal control, and functions capable of mutually detecting panel malfunctions as well as possible failure modes for each IC.
In the past, system malfunctions can cause the screen to freeze, possibly resulting in an accident, but ROHM's chipset supports functional safety by including a function that notifies drivers of abnormalities, making it possible to prevent serious accidents caused by failure of the speedometer and/or side mirror LCD panels.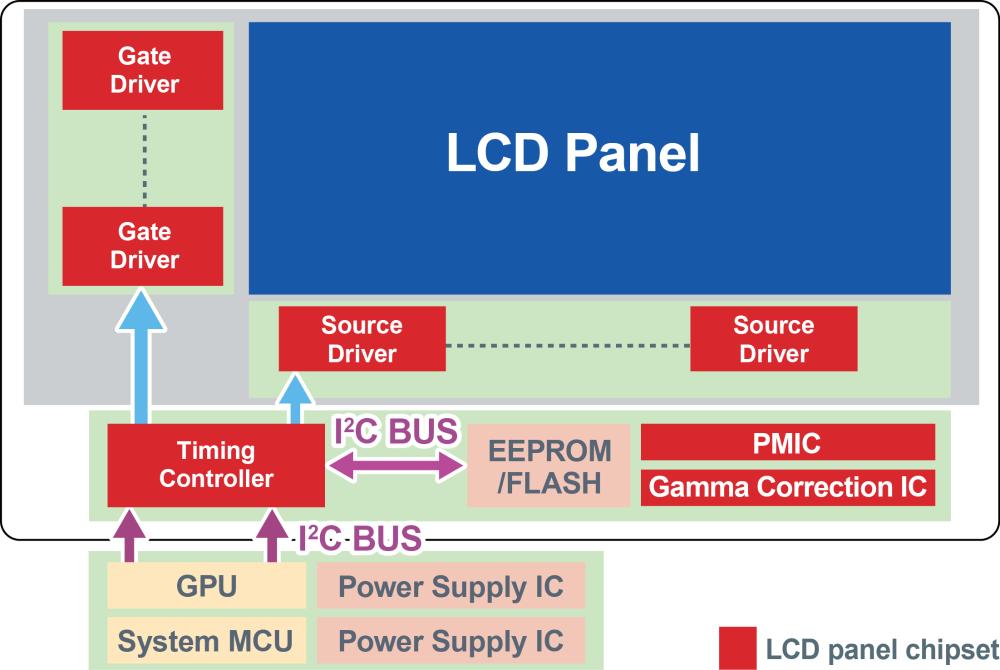 By carrying out product development with our corporate objective of Quality First established since the company was founded, ROHM has demonstrated its strengths in the automotive field where extreme quality is demanded.
Related Links
ROHM's approach to the functional safety of electronic components for safer, more reliable vehicles
https://www.rohm.com/blog/-/blog/id/6458028
Automotive Chipsets That Support Functional Safety in High Resolution Displays
https://www.rohm.com/news-detail?news-title=the-industrys-first-automotive-chipsets-that-support-functional-safety-in-high-resolution-displays&defaultGroupId=false