system_main_cms
Planning・Manufacturing
ROHM aims for appropriate quality at each stage of product planning and manufacturing. To provide safe and reliable products that satisfy market requirements in a timely manner, we conduct evaluations at each stage of development study, design review, initial flow, and mass production. At the development and design stages, design reviews are conducted with the participation of all departments to evaluate risks, consider countermeasures, and improve design quality. Front-loading development is another initiative for improving design quality. At the same time, after mass production, market evaluations are fed back and reflected in the quality system at each stage to establish a quality assurance system that always meets market requirements.
Quality Failure Response
In the event of failure, information is shared with quality-related departments for prompt investigation and analysis. Quality response departments have been established both in Japan and overseas, with a goal of providing primary response within 24 hours.
Cases deemed important are escalated to the management level, and the entire company works together to resolve problems as early as possible. The effectiveness of countermeasures is verified not only at the production plants, but also by the relevant departments at the head office.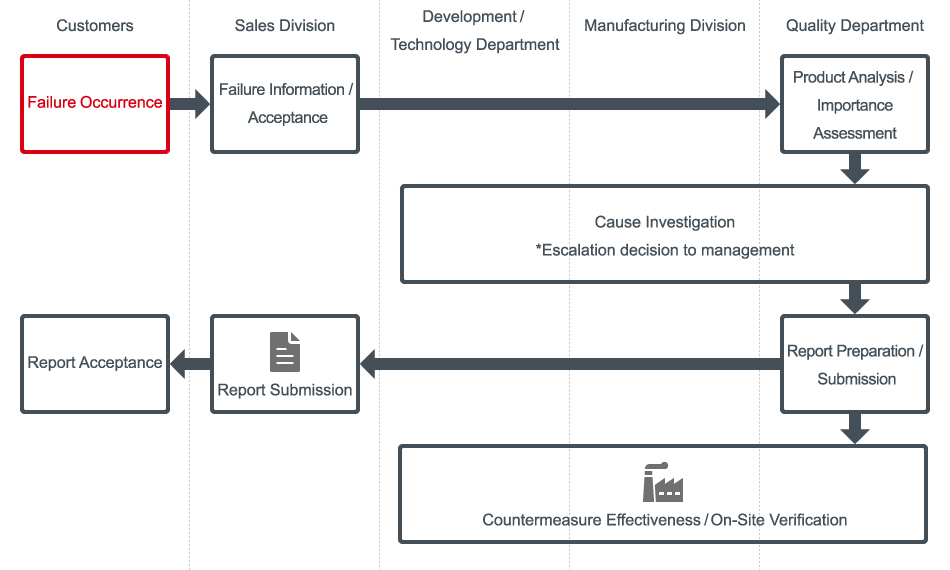 New_company jquery_v3.6.0.js