BD7F105EFJ-C (New)
Isolated Type Fly-back Converter IC with Integrated Switching MOSFET for Automotive
BD7F105EFJ-C (New)
Isolated Type Fly-back Converter IC with Integrated Switching MOSFET for Automotive
BD7F105EFJ-C is an opto-coupler-less isolated flyback converter. Feedback circuit by optocouplers or the auxiliary winding of transformers becomes unnecessary, contributing to reduction of set parts. Furthermore, the adoption of original adapted ON-time control technology enables fast load response. In addition, the various protection function realizes the designs of isolated power supply application for high reliability.
Product Detail
Part Number
|
BD7F105EFJ-CE2
Minimum Package Quantity
|
2500
Functional Safety:

A product that has been developed for automotive use and is capable of supporting safety analysis with regard to the functional safety.
Specifications:
Output Power [W]
4W@Vin=12V
Switch Current Limit(Typ.)[A]
2.6
SW frequency (Max.)[kHz]
363
Thermal Shut-down
Recovery
Under Voltage Lock Out
Yes
Operating Temperature (Min.)[°C]
-40
Operating Temperature (Max.)[°C]
125
Package Size [mm]
4.9x6 (t=1)
Common Standard
AEC-Q100 (Automotive Grade)
Find Similar
Features:
AEC-Q100 Qualified(Grade 1)
No Need for Optocoupler and Third Winding of Transformer
Set Output Voltage with Two External Resistors and Ratio of Transformer Turns
Adopt of Original Adapted ON-time Control Technology Fast Load Response
High Efficiency at Light Load Mode (PFM Operation)
Shutdown Function / Enable Control
Built-in 60V Switching MOSFET
Frequency Spectrum Spread
Soft Start Function
Load Compensation Function
Various Protection Function
Input Low Voltage Lockout (UVLO)
Over Current Protection (OCP)
Thermal Shutdown (TSD)
REF Pin Open Protection (REFOPEN)
Short Circuit Protection (SCP)
Battery Short Protection (BSP)
HTSOP-J8 Package
Overview
BD7Fx05EFJ-C utilizes a circuit configuration that achieves stable switching frequency characteristics without requiring a photocoupler, decreasing application size together with workload for noise design countermeasure. Leveraging ROHM's superior analog design technology allows the BD7Fx05EFJ-C to eliminate the need for photocouplers, transformer auxiliary windings, and peripheral components conventionally necessary to detect secondary-side voltage and current. On top, next to solving issues with photocouplers, such as large power consumption, fluctuating detection accuracy due to temperature, and deterioration over time, ROHM has also achieved greater miniaturization by reducing the number of components. As a result, it is possible to reduce the number of components – including the photocoupler – used for current detection by 10 (equivalent to a board area of 30%) compared to general isolated flyback power supply circuits.
The BD7Fx05EFJ-C is also equipped with an adaptive ON-time control function that fixes the switching ON time, ensuring a stable frequency of around 350kHz regardless of output power. To be complaint with the CISPR25 automotive EMC standard requires considerable noise design in the frequency range from 150kHz to 300kHz, but as BD7Fx05EFJ-C do not fall within this band, noise countermeasures can be greatly simplified. This, together with a spread spectrum function that minimizes radiated noise, contributes to reducing the number of efforts for noise design.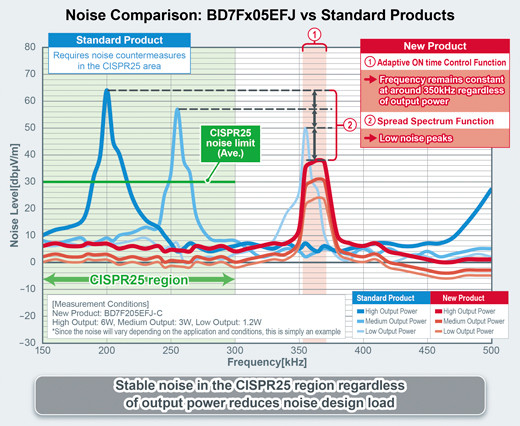 Application Examples
BD7Fx05EFJ-C is ideal for gate driver power supplies that must be isolated from the battery for safety.
Automotive: electric compressors, PTC heaters, inverters
Industrial: Power supplies, PLC (Programable Logic Controller), inverters
Evaluation Board
BD7F105EFJ-EVK-001

This evaluation board outputs an isolated 16.5V voltage from an input of 8V to 32V, and can output a maximum output current of 0.25A.
Evaluation Board
BD7F205EFJ-EVK-001

This evaluation board outputs an isolated 6.2V, 16.5V and 6.2V voltage from an input of 8V to 32V, and can output a maximum output power 6W.