BD83070GWL - Supporting Information
The BD83070GWL is a synchronous buck-boost DC/DC convertor providing 3.3 V or 2.5 V output from single-cell Li-ion battery or other input between 2.0 V and 5.5 V. It has the capability to support up to 1 A output over input voltage range of 2.7 V to 5.5 V. It seamlessly changes between buck and boost operations depending on the input voltage. It is based on pulse width modulation (PWM) and provides high efficiency for heavy load. While in PWM operation, internal FETs switch at fixed frequency 1.5 MHz typical. It automatically changes over control system to hysteresis pulse frequency modulation (PFM) to suppress switching loss and current consumption during light load. Battery drain fall down to only 2.8 μA typical at no load current. It is possible to disable auto-PFM/PWM mode by the MODE pin for suppressing output ripple and fixed frequency switching. The device is packaged in a 1.2 mm x 1.6 mm WLCSP package.
Overview
In recent years, the proliferation of battery-driven electronic devices has increased the demand for smaller components that can provide the necessary design flexibility and space for integrating new functions while minimizing power consumption to maximize battery life.
In response, ROHM developed a power supply IC that meets market needs by leveraging a vertically integrated production system utilizing in-house analog design expertise and specialized power processes. At the same time, high efficiency ultra-low-power boost (BU33UV7NUX) and buck (BD70522GUL) power supply ICs are available that allow users to significantly extend the operating time of battery-powered applications. With the new BD83070GWL, ROHM expands its offering with a buck-boost IC featuring industry-leading performance.
ROHM is committed to leveraging superior analog technologies to develop power-saving high performance power supply ICs that contribute to greater energy efficiency.
Sample

Energy-Saving Power Supply IC Lineup for Mobile Devices
Functions
Part No.
Current Consumption
Input Voltage
output Voltage
Max. Output Current
Operating Frequency
Max. Efficiency
Package
Boost
BU33UV7NUX
7µA
(MODE=L)
13µA
(MODE=H)
0.6 ~ 4.5V
3.3V
50mA
(MODE=L)
500mA
(MODE=H)
800kHz
91%
@1mA
VSON010X3020
(3mm x 2mm)
Buck
BD70522GUL
0.18µA
2.5 ~ 5.5V
1.2, 1.5, 1.8, 2.0, 2.5, 2.8, 3.0, 3.2, 3.3V
500mA
1MHz
90%
@10µA
VCSP50L1C
(1.76mm x 1.56mm)
Buck-Boost
BD83070GWL
2.8µA
2.0 ~ 5.5V
2.5, 3.3V
1000mA
1.5MHz
97%
@200mA
UCSP50L1C
(1.2mm x 1.6mm)
Key Features
1.Industry-leading 97% efficiency ensures ultra-high efficiency over a broad range of load current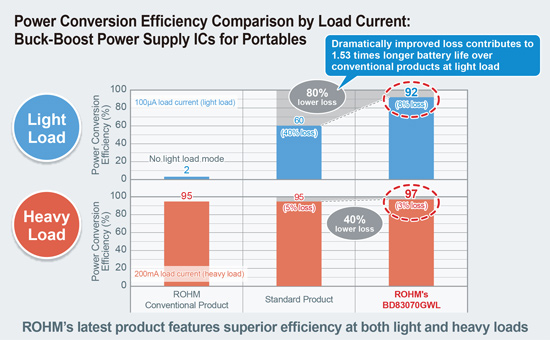 Integrating a low-RDS(on) MOSFET with 0.13μm BiCDMOS power process allows to achieve an the best power conversion efficiency in the industry of 97% during operation (200mA load current) and over 90% efficiency at other light loads (from 100μA) to heavy loads (1A). This enables ultra-high-efficiency power conversion in a wide variety of battery-powered applications.
In addition, ROHM's original control technology (X Ramp PWM Control) enables seamless buck-boost transition.
[Patent Nos. 2015-121194, 2016-243569, 2018-023007]
2.Buck-boost power supply IC achieves ultra-low current consumption (2.8μA)
Combining low current circuit that provides ultra-low current consumption and fast response and an optimized switching control function adapts to different load conditions to reduce loss results in a best-in-class current consumption of 2.8μA.
[Patent Nos. 2016-253301, 2016-253303]
Application Examples
◇Coin battery equipped sets (i.e. IoT)
◇Li-ion battery devices, including smartphones, tablets, and PCs
◇Battery-driven equipment such as toys and electric toothbrushes
Contributes to long-term operation in virtually any compact battery-powered application, regardless of functions or operating conditions