BD87581YG-C
EMARMOUR™, Automotive Excellent EMI Characteristics Input/Output Rail-to-Rail CMOS Operational Amplifier
BD87581YG-C
EMARMOUR™, Automotive Excellent EMI Characteristics Input/Output Rail-to-Rail CMOS Operational Amplifier
BD87581YG-C is input/output Rail-to-Rail CMOS operational amplifier. An operating voltage range is wide with 4V to 14V. This operational amplifier is the most suitable for automotive requirements such as sensor amplifier, engine control unit, electric power steering, anti-lock braking system and so on because it has features of high slew rate and low input bias current. Furthermore, they have the advantage of EMI tolerance. It makes easier replacing with conventional products or simpler designing EMI.
Product Detail
Part Number
|
BD87581YG-CTR
Minimum Package Quantity
|
3000
Functional Safety:

A product that has been developed for automotive use and is capable of supporting safety analysis with regard to the functional safety.
Specifications:
Power supply (Min.) [V] (+5V=5, +/-5V=10)
4
Power supply (Max.) [V] (+5V=5, +/-5V=10)
14
Circuit Current (Typ.) [mA]
2.3
Input Offset Voltage (Max.) [mV]
9
Input Bias Current (Typ.) [nA]
0.001
Slew Rate (Typ.) [V/µs]
3.5
Input Voltage Range [V]
VSS to VDD
Output Voltage Range [V]
VSS+0.03 to VDD-0.05
Voltage gain (Typ.) [dB]
110
Output current (Typ.) [mA]
3.5
Operating Temperature (Min.) [°C]
-40
Operating Temperature (Max.) [°C]
125
Package Size [mm]
2.9x2.8 (t=1.25)
Common Standard
AEC-Q100 (Automotive Grade)
Find Similar
Features:
EMARMOUR™ Series
AEC-Q100 Qualified (Grade 1)
Input/Output Rail-to-Rail
Low Supply Current
Wide Operating Supply Voltage Range
High Open Loop Voltage Gain
Overview
In recent years, advancements in electrification and mounting density have increased the amount of environmental noise in electric vehicles and cars equipped with ADAS. Generally, however, it is extremely difficult to carry out noise evaluation on individual boards and systems during automotive development since it must be performed after assembly. What's more, some results require improvements such as large-scale EMI countermeasures to lower noise.

The EMARMOUR™ series is designed to prevent malfunctions due to noise without the need to take special application measures. The latest BD8758xY series in particular has demonstrated superior performance under four international noise evaluation tests. For example, in ISO 11452-2 radio wave emission testing conducted by vehicle manufacturers, the output voltage of standard products fluctuates by more than ±300mV in all frequency bands, while the new BD8758xY series achieves ±10mV or less. At the same time, the CMOS element structure enables accurate, high-speed signal amplification – without being affected by external noise when installed inside the targeted sensor applications. This significantly improves reliability while reducing design production-hours in a wide range of applications, including anomaly detection systems.
Key Features
1. Breakthrough noise immunity reduces noise design resources considerably
Developed as part of the EMARMOUR™ series of op amps, these newest models achieved unprecedented performance in four international noise evaluation tests (ISO 11452-2 Radio Wave Emission Test, ISO 11452-4 Bulk Current Injection Test, ISO 11452-9 Proximity Antenna Immunity Test, and IEC 62132-4 Direct RF Power Injection Test ) conducted in ROHM's own anechoic chamber.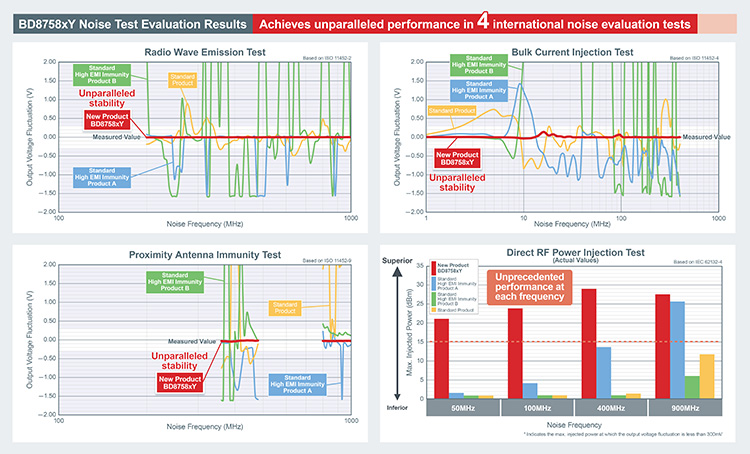 For example, in the ISO 11452-2 radio wave emission test, the output voltage of standard products can fluctuate by ±300mV or more across the entire noise frequency band, while ROHM's latest products achieve unprecedented noise immunity that limits variation to less than ±10mV. This not only eliminates the need for countermeasures at each frequency (i.e. a total of 10 CR filter components for a 2ch op amp), but also reduces the noise design resources for sensors and other components that play an important role in the system, contributing to reduced application design effort and improved reliability.
2. High accuracy simulation model prevents rework after prototyping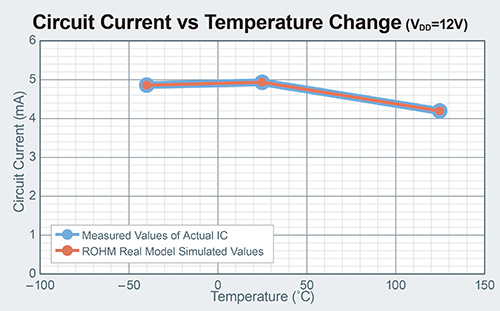 Application Examples
EV/HEV inverters, engine control units, eCall (vehicle emergency call system), car navigation/air conditioning systems
Industrial factory automation equipment, measurement equipment, measuring instruments, servo systems, and sensor systems
and other automotive/industrial applications sensitive to noise