What is the Nano Series?
Revolutionary power supply technologies that leverage analog expertise cultivated over many years to achieve greater miniaturization and energy savings.

The Nano Series, developed using our integrated production system in which all processes, from development to products, are performed in-house, consists of power supply ICs designed to meet current and future market needs.
Nano Pulse ControlTM
Enabling stable control of as narrow a pulse width as possible provides 2 distinct advantages
・Provides a monolithic power supply solution for applications requiring large step-down ratios
・Reduces mounting area (including coil)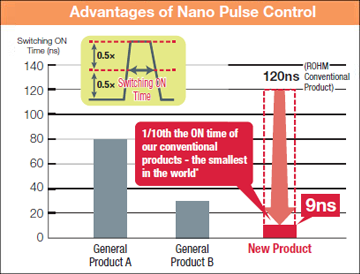 Nano EnergyTM
Stable operation using ultra-low current is achieved by reducing the current consumption of the IC itself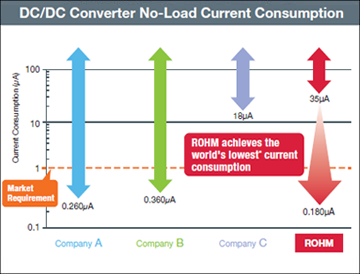 Enables long-term drive in battery-equipped devices
Development Background
In the electronic equipment field, in addition to the increasing functionality of smartphones and widespread use of wearables, the introduction of IoT devices that can operate and communicate wirelessly between devices without human intervention is attracting attention. In many cases these devices are driven by batteries, making it necessary to reduce power consumption. And although improving design and securing space for integrating new functions are progressing, miniaturization is also an important factor, leading to smaller drive batteries, but there is a large number of devices where maintenance (i.e. changing batteries) cannot be carried out regularly, especially in the IoT field, driving the demand to enable long-term operation (10 years) on a single coin battery.
In response to these market trends and themes, ROHM began developing technologies to significantly reduce IC power consumption. At the start, the lowest current consumption in the industry for power supply ICs was 360nA. This provided a baseline for our efforts.

Technology Development and Commercialization
When simply considering reducing current consumption, the first option is to raise the resistance value of the circuit, but this can lead to problems such as element current leakage, increased sensitivity to noise, and reduced response speed. In response, ROHM developed Nano Energy, a breakthrough technology that decreases current consumption during ultra-light loads while minimizing the ensuing trade-off. The result is a current consumption of 180nA, the smallest in the world*.
This technology was used to develop the BD70522GUL DC/DC converter, which delivers twice the battery drive time of conventional products at no-load (standby). In addition, high 90% power efficiency is enabled in the widest current range in the industry: 10uA to 500mA. ROHM was able to achieve these characteristics by leveraging proprietary circuit design, layout, and process technologies with its original vertically integrated production system.
*ROHM October 2017 study
A world of possibilities
Dramatic reductions in the power consumption of power supply ICs in the IoT field has brought about a demand to achieve 10-year drive on a single coin battery. This allows for a reduction in the amount of labor and costs required for device maintenance by enabling long-term drive with small batteries even in wearables that are becoming increasingly compact and multifunctional.
In addition, it will be possible to continue operation even in extremely low-power environments, such as energy harvesting systems that generate small amounts of electricity from light, heat, and vibration (which is expected to see increased adoption in a variety of fields).
At ROHM, Nano Energy will be used as a core technology to expand its lineup of power supply ICs to meet a range of customer requirements. At the same time, we plan on promoting the use of PMICs (Power Management ICs).