BD8P250MUF-C
Quick Buck Booster™, Nano Pulse Control™, 2.7 V to 36 V Input, 2 A Single Buck DC/DC Converter with Boost Function For Automotive
The BD8P250MUF-C is a synchronous rectification buck DC/DC converter with boost control function that utilizes ROHM's Quick Buck Booster™ technology to achieve improved response even when switching buck-boost operation, reducing the number of output capacitors by half over conventional solutions.

This technology supports a common design for both boost and buck-boost applications. Use the BD8P250MUF-C as a single-chip buck DC/DC converter for cold cranking or other instances where a drop in the output voltage is acceptable during the input voltage drop. Or, if the output voltage must be maintained, it can be utilized in a buck-boost DC/DC configuration by adding a dedicated boost-FET.

Additional features include a spread spectrum function that minimizes EMI, making it possible to easily clear the CISPR 25 Class 5 standard for noise in automotive electrical components. And leveraging original Nano Pulse technology reduces no-load current consumption to an unprecedented 8μA at 5V output from a 12V battery. This translates to 73% greater efficiency in buck and buck-boost operation at 0.1mA output load current over competitor products.
Product Detail
Part Number
|
BD8P250MUF-CE2
Minimum Package Quantity
|
2500
Functional Safety:

A product that has been developed for automotive use and is capable of supporting safety analysis with regard to the functional safety.
Specifications:
Common Standard
AEC-Q100 (Automotive Grade)
Integrated FET / Controller
Integrated FET
Synchronous / Nonsynchronous
Synchronous
SW frequency(Max.)[MHz]
2.4
Operating Temperature (Min.)[°C]
-40
Operating Temperature (Max.)[°C]
125
Package Size [mm]
4x4 (t=1)
Features:
Quick Buck Booster™
Nano Pulse Control™
AEC-Q100 Qualitied (Grade 1)
Boost Control Function
LLM(Light Load Mode)
Spread Spectrum Function
Power Good Function
Soft Start Function
Current Mode Control
Phase Compensation Included
Over Current Protection
Input Under Voltage Lockout Protection
Thermal Shutdown Protection
Output Over Voltage Protection
Short Circuit Protection
Wettable Flank QFN Package
Quick Buck Booster®
ROHM leveraged analog design technology and power system processes to develop Quick Buck Booster®, a breakthrough buck-boost technology that utilizes original high-speed pulse control technology dubbed Nano Pulse Control®.
As a result, responsiveness was dramatically improved, making it possible to provide a common design for both buck and buck-boost conversion while significantly reducing the capacitance of the output capacitor.

New method for maintaining a fixed boost ratio
Conventional buck-boost converters typically use a four-switch configuration that combines 2 switches each for buck and boost operation, requiring complicated control that utilizes individual PWM(Pulse Width Modulation) signals for driving the buck and boost switches based on input voltage. As a result, because the 2 'brains' for buck and boost must constantly carry out dialog, it becomes impossible to improve response. In response, ROHM introduced a new approach that controls only the buck side while fixing the boost ratio without controlling the boost side. Eliminating the need to control the boost side results in only one 'brain' left for control, making it possible to significantly improve response to input voltage fluctuations.
Moving away from the trend towards single-chip solutions allowed ROHM to provide a common design utilizing 2 chips to provide buck-boost operation by adding an optional boost IC to a buck converter topology.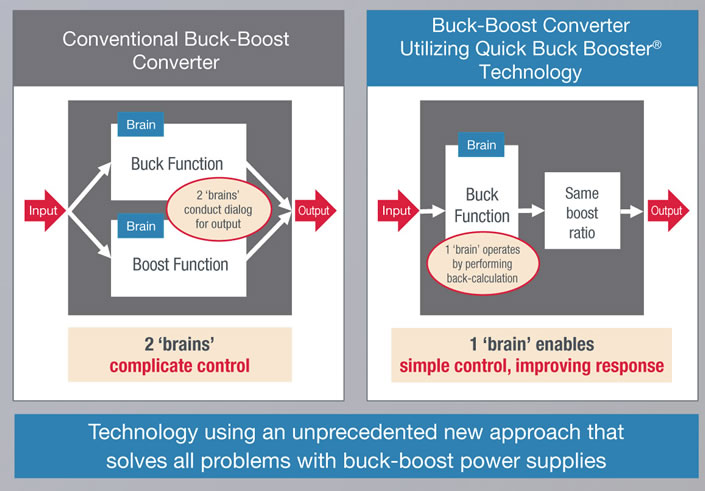 Technology that leverages the performance of buck converters for buck-boost operation
Quick Buck Booster® makes it possible to switch to buck-boost power supply while maintaining the characteristics of buck topologies that provide superior performance over conventional buck-boost converters. In other words,the characteristics of ROHM's high performance buck converters can be used for buck-boost operation,reducing current consumption along with the size and number of capacitors.

Feature1 Fast Response
Improved buck-boost converter response reduces output capacitance by half
ROHM's buck-boost power supply chipset with Quick Buck Booster® technology suppresses output voltage fluctuations to ±100mV, shortening fluctuation time considerably.
This ensures stable ECU operation during cranking.
In addition, it is possible to halve the capacitance of the capacitor connected to the output side to improve response, contributing to lower costs and greater space savings.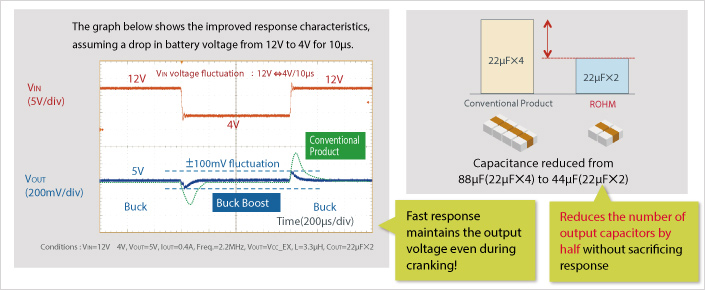 Feature2 Common Design①
Achieves a common design for buck and buck-boost,simplifying power supply design
The BD8P250MUF-C can operate as a superior single-chip buck converter or as a buck-boost chipset by simply adding a dedicated boost IC. In keeping with the customer's perspective, as shown in the diagram below by simply adding a dedicated boost IC to the same board with same external parts, a common design for both buck and buck-boost operation is possible,regardless of the minimum value of the battery voltage, which can vary depending on vehicle model. In addition, phase compensation is built in to facilitate switching. This reduces the time and effort required for power supply design.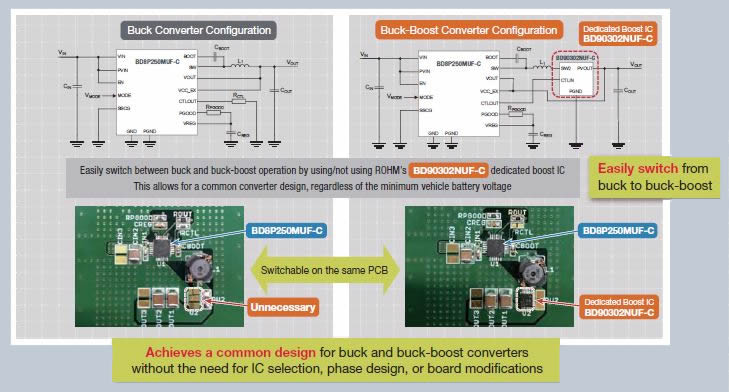 Feature3 Common Design②
Providing a common board design reduces power supply development load by 50%
Utilizing a common board design reduces development load by 50% compared with conventional methods requiring separate designs for both buck-boost and buck power supplies,since only one power supply needs to be considered and evaluated.

Feature4 High Efficiency
Reduces current consumption and significantly improves efficiency at light loads
Leveraging proprietary low current consumption technology allows ROHM to achieve an exceptionally low no-load current consumption of 8μA when obtaining 5V output from 12V battery voltage. As a result, efficiency under light and no loads has been significantly improved, achieving as much as 73% efficiency for both buck and buck-boost operation at an output load current of 0.1mA.

Feature5 Low EMI
Low noise that easily clears stringent international standards
Low noise is a requirement for DC/DC converters. The below graph shows the average and peak values for EMI when obtaining 5V output from 12V input. As these products operate at 2.2MHz, noise peaks normally occur at 2.2MHz, 4.4MHz,etc., but the built-in spread spectrum function applies a slight variation to the clock frequency, suppressing these peaks and significantly reducing EMI. In addition, ROHM was able to sufficiently clear the stringent international CISPR 25 Class 5* standard.

Design Resources
Documents
White Paper
Cutting-Edge Web Simulation Tool "ROHM Solution Simulator" Capable of Complete Circuit Verification of Power Devices and Driver ICs
Technical Articles
Schematic Design & Verification
Calculation of Power Dissipation in Switching Circuit
Considering Input Filter to Reduce Conducted Emissions by DCDC Converter
Considering Polarity of Power Inductor to Reduce Radiated Emission of DC-DC converter
Method for Monitoring Switching Waveform
Phase Compensation Design for Current Mode Buck Converter
Power Supply Sequence Circuit with General Purpose Power Supply IC
Suppression Method of Switching Noise Using Linear Regulator and Low Pass Filter
PCB Layout Techniques of Buck Converter
Measurement Method for Phase Margin with Frequency Response Analyzer (FRA)
Usage of SPICE Macromodel for DC/DC
Snubber Circuit for Buck Converter IC
Efficiency of Buck Converter
Calculation of Power Loss (Synchronous)
Inductor Calculation for Buck converter IC
Considerations for Power Inductors Used for Buck Converters
Capacitor Calculation for Buck converter IC
The Important Points of Multi-layer Ceramic Capacitor Used in Buck Converter circuit
Resistor Value Table to set Output Voltage of Buck Converter IC
Importance of Probe Calibration When Measuring Power: Deskew
Impedance Characteristics of Bypass Capacitor
Thermal Design
What Is Thermal Design
Method for Calculating Junction Temperature from Transient Thermal Resistance Data
Notes for Temperature Measurement Using Thermocouples
Two-Resistor Model for Thermal Simulation
Notes for Temperature Measurement Using Forward Voltage of PN Junction
Thermal Resistance
Precautions When Measuring the Rear of the Package with a Thermocouple
Tools
Simulations (Login Required)
ROHM Solution Simulator
is a new web-based electronic circuit simulation tool that can carry out a variety of simulations, from initial development that involves component selection and individual device verification to the system-level verification stage. This makes it possible to quickly and easily implement complete circuit verification of ROHM power devices and ICs, in simulation circuits under close to actual conditions, significantly reducing application development efforts.
BD8P250MUF / Frequency Domain
BDBD90302NUF / Frequency Domain
Models
BD8P250MUF-C SPICE Modeling Report
BD8P250MUF-C PSPICE Model
2D/3D/CAD
BD8P250MUF-C Footprint / Symbol
VQFN24FV4040 Footprint / Symbol
VQFN24FV4040 3D STEP Data
Packaging & Quality
Environmental Data
REACH SVHC Non-use Declaration