Overview
Full-SiC power module integrating SiC MOSFETs and SBDs An original electric field mitigation structure, along with a novel screening method, are utilized to maintain reliability and enable the development of the first mass production system for Full-SiC power modules. These new modules integrate SiC SBDs and MOSFETs, making high frequency operation above 100kHz possible (unlike conventional products).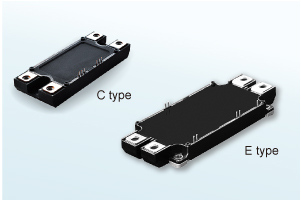 Key Features: Switching loss reduced by more than 80%
Full SiC power modules maximize high-speed performance. The result is significantly reduced switching loss compared with conventional Si IGBTs.
Features
High-speed switching
Low switching loss
High-speed recovery
Low inductance design
Enables Low Loss Even During High-Speed Switching Operation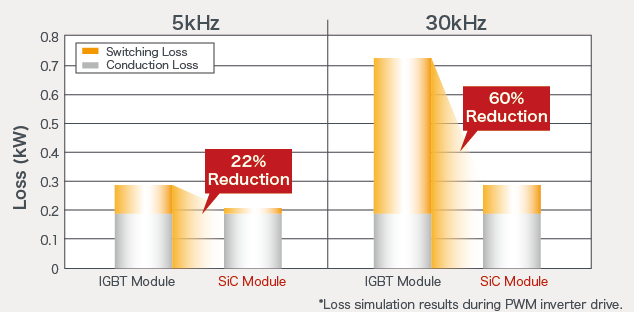 Circuit diagram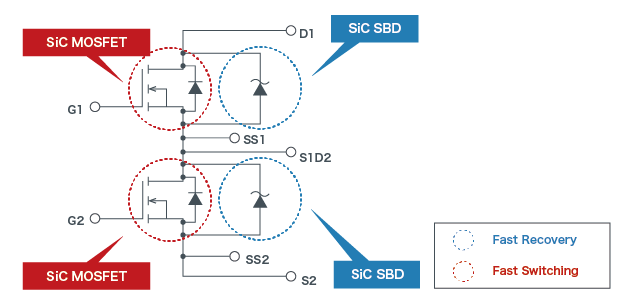 Lineup
Part No.
Absolute Maximum Ratings
Inductance(nH)
Package
Ther mistor
Internal Circuit Diagram※
VDSS
(V)
VGS
(V)
ID (A)
[Tc=
60°C]
Tj max
(°C)
Tstg
(°C)
Visol
(V)
[AC
1min.]
BSM080D12P2C008
1200
-6
~22
80
175
-40
~
125
2500
25
C type
45.6
×
122
×
17mm
-
BSM120D12P2C005
120
BSM180D12P3C007
-4
~22
180
BSM180D12P2E002
-6
~22
180
13
E Type
62
×
152
×
17mm
○
BSM300D12P2E001
300
※2 BSM400D12P3G002
-4
~22
400
10
G Type
62
×
152
×
17mm
※2 BSM600D12P3G001
600
※1Chopper types also offered. Please contact a ROHM sales office for details.
※2 Under Development
■External Dimensions

Evaluation boards
Gate drive circuit boards to drive Full SiC Power modules are available for evaluation purpose.
Feature:
Built in miller clamp function
Compatible with gate bias of both 0V to +18V and -3V to +18V.
(Removal and replacement of several components are required.)
P/N
BW9499H-EVK-01
BW9499H-EVK-02
BW9499H-EVK-03
BP59A8H-EVK-01
BP59A8H-EVK-02
※BP59A8H-EVK-03
※BP59A8H-EVK-04
SiC
Module
BSM180D12P3C007
BSM080D12P2C008
BSM120D12P2C005
BSM300D12P2E001
BSM600D12
P3G001
BSM400D12
P3G002
Appea
rance
Gate Drive IC
BM6101FV-C
RG ON
6.8Ω
2.2Ω
0.01Ω
1.8Ω
2.2Ω
RG OFF
8.2Ω
3.9Ω
0.2Ω
1.8Ω
2.2Ω
CGS
-
5.6nF
5.6nF
-
-
Gate Turn Off
Minus
Zero
Minus
Zero
Minus
Minus
Minus
Recom
mended VGS
+18V / -2V
+18V / 0V
+18V / -3V
+18V / 0V
+18V / -3V
+18V / -2V
+18V / -2V
※ Under Development
Please contact us if you need further information
Applications
High voltage motor drives
Inverters, Converters for Industrial equipment, EV station
Solar/wind power generation, power supply unit, induction heating equipment