BD90302NUF-C
5.5 V, 2 A Pch/Nch Power MOSFET with Drivers For Automotive
BD90302NUF-C
5.5 V, 2 A Pch/Nch Power MOSFET with Drivers For Automotive
BD90302NUF-C are boost MOSFET with drivers for BD8Pxxx Series exclusive use. BD8Pxxx Series is a buck DC/DC Converter with boost function. When used with BD8Pxxx Series, a synchronous buck-boost DC/DC Converter is constituted.
Product Detail
Part Number
|
BD90302NUF-CE2
Minimum Package Quantity
|
3000
Functional Safety:

A product that has been developed for automotive use and is capable of supporting safety analysis with regard to the functional safety.
Specifications:
Integrated FET / Controller
Integrated FET
Synchronous / Nonsynchronous
Synchronous
SW frequency(Max.)[MHz]
2.4
Operating Temperature (Min.)[°C]
-40
Operating Temperature (Max.)[°C]
125
Package Size [mm]
3x3 (t=1)
Common Standard
AEC-Q100 (Automotive Grade)
Find Similar
Features:
AEC-Q100 Qualified(Grade 1)
Built-in Pch/Nch Power MOSFET with Drivers
CTLIN Pin Enables to Control Pch/Nch Power MOSFET
Wettable Flank SON Package
Quick Buck Booster®
ROHM leveraged analog design technology and power system processes to develop Quick Buck Booster®, a breakthrough buck-boost technology that utilizes original high-speed pulse control technology dubbed Nano Pulse Control®.
As a result, responsiveness was dramatically improved, making it possible to provide a common design for both buck and buck-boost conversion while significantly reducing the capacitance of the output capacitor.

New method for maintaining a fixed boost ratio
Conventional buck-boost converters typically use a four-switch configuration that combines 2 switches each for buck and boost operation, requiring complicated control that utilizes individual PWM(Pulse Width Modulation) signals for driving the buck and boost switches based on input voltage. As a result, because the 2 'brains' for buck and boost must constantly carry out dialog, it becomes impossible to improve response. In response, ROHM introduced a new approach that controls only the buck side while fixing the boost ratio without controlling the boost side. Eliminating the need to control the boost side results in only one 'brain' left for control, making it possible to significantly improve response to input voltage fluctuations.
Moving away from the trend towards single-chip solutions allowed ROHM to provide a common design utilizing 2 chips to provide buck-boost operation by adding an optional boost IC to a buck converter topology.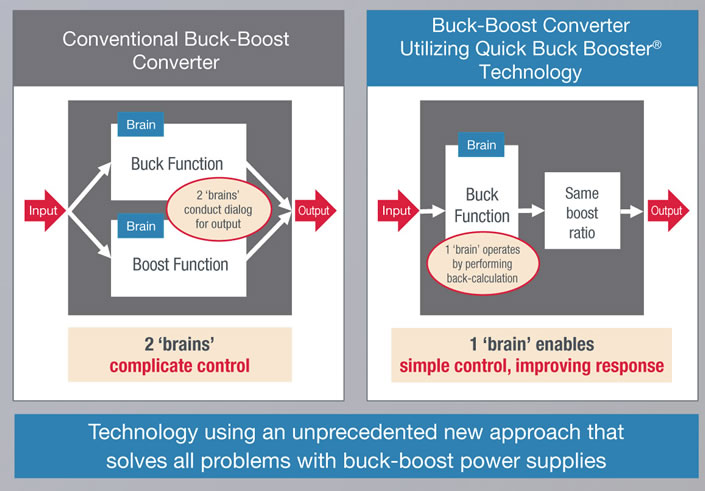 Technology that leverages the performance of buck converters for buck-boost operation
Quick Buck Booster® makes it possible to switch to buck-boost power supply while maintaining the characteristics of buck topologies that provide superior performance over conventional buck-boost converters. In other words,the characteristics of ROHM's high performance buck converters can be used for buck-boost operation,reducing current consumption along with the size and number of capacitors.

Feature1 Fast Response
Improved buck-boost converter response reduces output capacitance by half
ROHM's buck-boost power supply chipset with Quick Buck Booster® technology suppresses output voltage fluctuations to ±100mV, shortening fluctuation time considerably.
This ensures stable ECU operation during cranking.
In addition, it is possible to halve the capacitance of the capacitor connected to the output side to improve response, contributing to lower costs and greater space savings.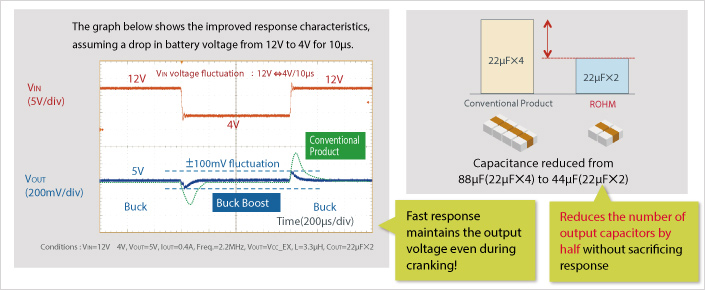 Feature2 Common Design①
Achieves a common design for buck and buck-boost,simplifying power supply design
The BD8P250MUF-C can operate as a superior single-chip buck converter or as a buck-boost chipset by simply adding a dedicated boost IC. In keeping with the customer's perspective, as shown in the diagram below by simply adding a dedicated boost IC to the same board with same external parts, a common design for both buck and buck-boost operation is possible,regardless of the minimum value of the battery voltage, which can vary depending on vehicle model. In addition, phase compensation is built in to facilitate switching. This reduces the time and effort required for power supply design.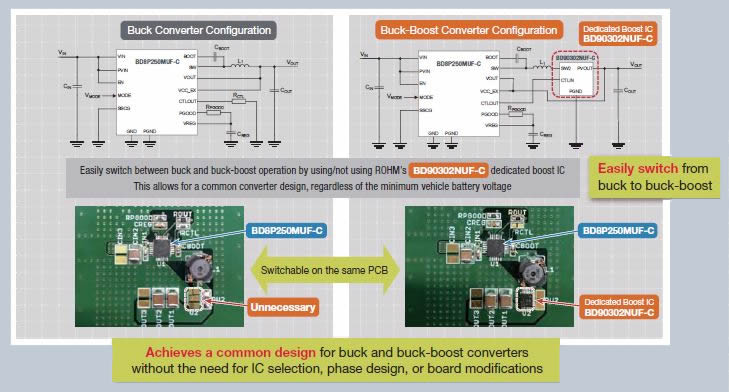 Feature3 Common Design②
Providing a common board design reduces power supply development load by 50%
Utilizing a common board design reduces development load by 50% compared with conventional methods requiring separate designs for both buck-boost and buck power supplies,since only one power supply needs to be considered and evaluated.

Feature4 High Efficiency
Reduces current consumption and significantly improves efficiency at light loads
Leveraging proprietary low current consumption technology allows ROHM to achieve an exceptionally low no-load current consumption of 8μA when obtaining 5V output from 12V battery voltage. As a result, efficiency under light and no loads has been significantly improved, achieving as much as 73% efficiency for both buck and buck-boost operation at an output load current of 0.1mA.

Feature5 Low EMI
Low noise that easily clears stringent international standards
Low noise is a requirement for DC/DC converters. The below graph shows the average and peak values for EMI when obtaining 5V output from 12V input. As these products operate at 2.2MHz, noise peaks normally occur at 2.2MHz, 4.4MHz,etc., but the built-in spread spectrum function applies a slight variation to the clock frequency, suppressing these peaks and significantly reducing EMI. In addition, ROHM was able to sufficiently clear the stringent international CISPR 25 Class 5* standard.