BD950N1WG-C
Nano Cap™, QuiCur™, 150mA 5.0V, Fixed Output LDO Regulator for Automotive
BD950N1WG-C
Nano Cap™, QuiCur™, 150mA 5.0V, Fixed Output LDO Regulator for Automotive
The BD950N1WG-C is linear regulator using the Nano Cap™ topology designed as low current consumption products for power supplies in various automotive applications requiring a direct connection to the battery. This product is designed for up to 45V as an absolute maximum voltage and to operate until 150mA for the output current with low current consumption 28μA(Typ). This can regulate the output with a very high accuracy ±2.0%.

What is Nano Cap™?
Nano Cap™ is a combination of technologies which allow stable operation even if output capacitance is connected with the range of nF unit.

What is QuiCur™?
QuiCur™ is a combination of technologies that provides high-speed load response.
Product Detail
Part Number
|
BD950N1WG-CTR
Minimum Package Quantity
|
3000
Functional Safety:

A product that has been developed for automotive use and is capable of supporting safety analysis with regard to the functional safety.
Specifications:
Withstand Voltage (Max.)[V]
45
Circuit Current[mA]
0.028
Dropout Voltage (Typ.)[V]
0.42(Io=0.1A)
Load Regulation[mV]
5(Io=0 to 150mA)
Output Capacitor[µF]
0.05
Over Current Protection
Yes
Over Voltage Protection
No
Under Voltage Lock Out
Yes
Operating Temperature (Min.)[°C]
-40
Operating Temperature (Max.)[°C]
125
Common Standard
AEC-Q100 (Automotive Grade)
Find Similar
Features:
Nano Cap™ Topology
QuiCur™ Topology
AEC-Q100(Grade 1)
Automotive grade
Over Current Protection(OCP)
Thermal Shutdown Protection(TSD)
Under Voltage Lock Out(UVLO)
Background
In recent years, the continuing digitization of all types of equipment has been increasing the number of electronic components, which in turn has been driving the demand to reduce the number of capacitors used for circuit stabilization to shrink both the size and the bill of material (BOM). This requires power supply ICs in power supply circuits that can achieve stable operation with small sized capacitors, but until now it had been difficult to achieve stable operation in applications with output capacitances of 1μF or less.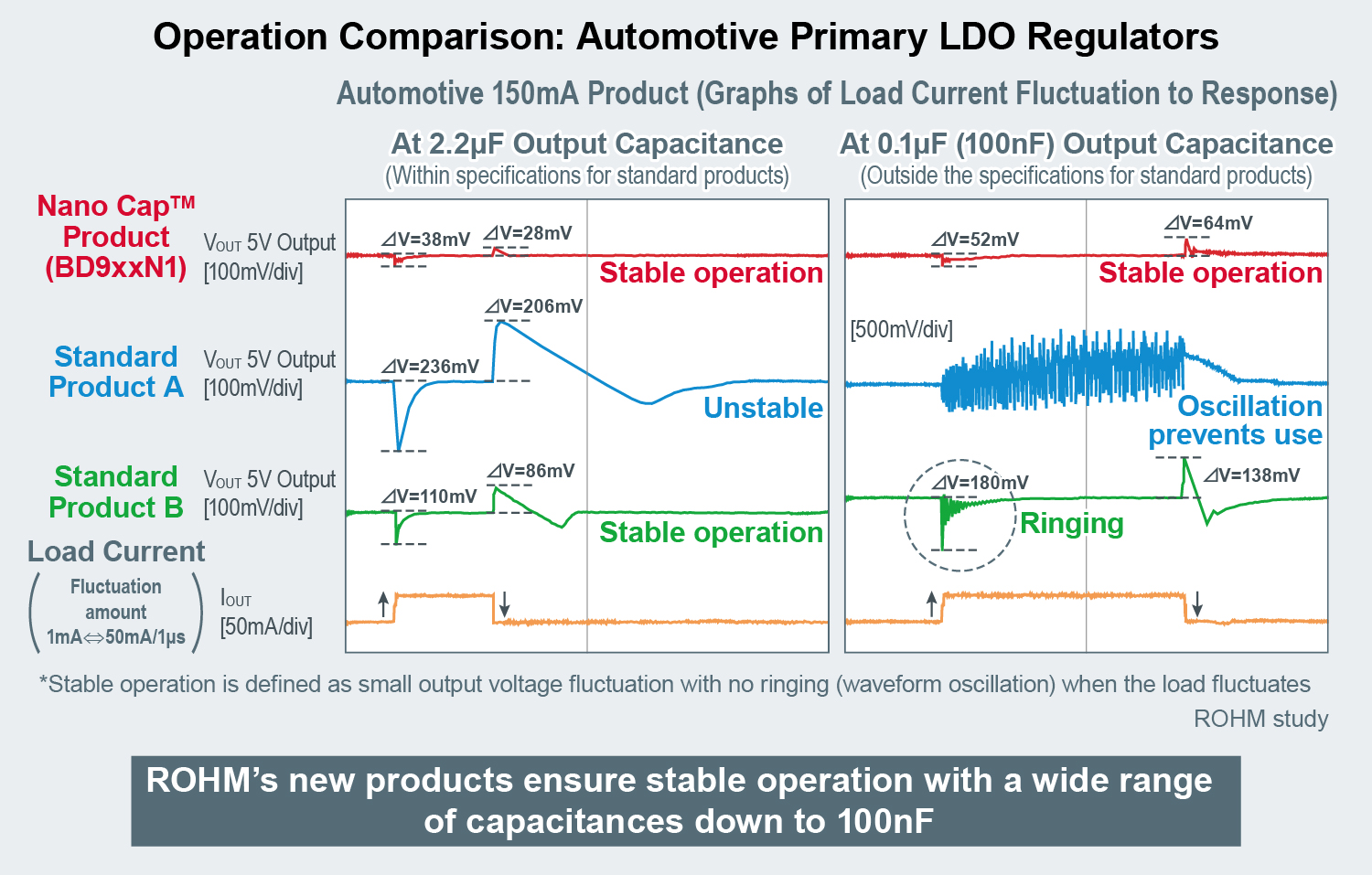 New Product Details
The new BD9xxN1 series of automotive primary LDOs meets the basic requirements of automotive products, such as operation above 125°C, qualification under the AEC-Q100 automotive reliability standard, and input voltages greater than 40V for the primary power supply. Incorporating ROHM's Nano Cap™ ultra-stable control technology supports an output capacitance of 100nF, which is less than 1/10 of the value of standard products, to ensure stable operation required by applications (output voltage variation within 100mV: condition is 1mA ⇔ 50mA/1μs load current variation) even when the input voltage and load current fluctuate. This makes it possible to provide high performance with a good balance in terms of output capacitance range and response characteristics.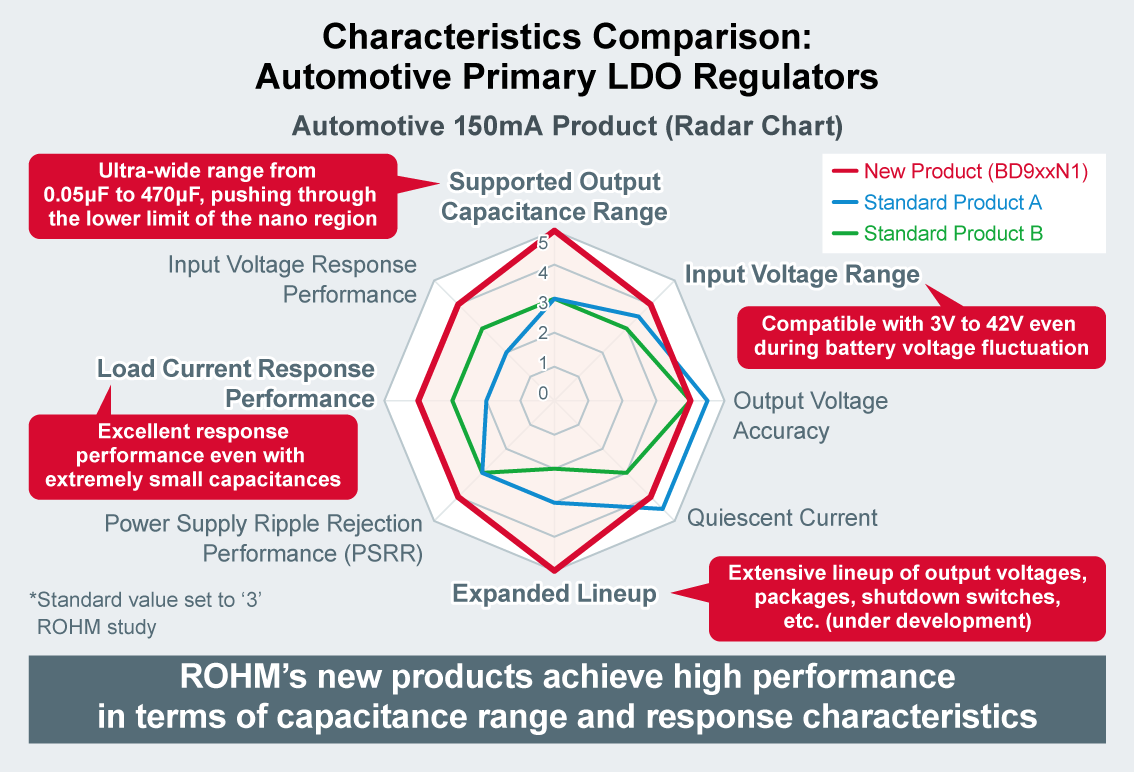 Application Examples
◇Powertrain (i.e. fuel injection) and tire pressure monitoring systems (TPMS)
◇Body systems (e.g. body control modules)
◇ADAS (e.g. Domain Controllers, ECUs, Zonal processing)
◇AInfotainment including instrument clusters and head-up displays (HUD)
Suitable for a wide range of applications in addition to automotive primary power supply systems.