BD750L05G-C
50mA, 5.0V, Fixed Output LDO Regulator for Automotive
BD750L05G-C
50mA, 5.0V, Fixed Output LDO Regulator for Automotive
The BD750L05G-C linear regulator is designed as low current consumption products for power supplies in various automotive applications. This product is designed for up to 45V absolute maximum supply voltage and operate until 50mA output current with low current consumption of 6µA (Typ). It can regulate the output at a very high accuracy of ±2%. This device features an integrated Over Current Protection to keep the device from a damage that is caused by short-circuit or overload. This product also integrates a Thermal Shutdown protection to avoid the damage from overheating. Furthermore, low ESR ceramic capacitors are sufficiently applicable for the output phase compensation.
Product Detail
Part Number
|
BD750L05G-CTR
Minimum Package Quantity
|
3000
Functional Safety:

A product that has been developed for automotive use and is capable of supporting safety analysis with regard to the functional safety.
Specifications:
Breakdown Voltage(Max.)[V]
45
Circuit Current[mA]
0.006
Output Short Current[mA]
120
Over Current Protection
Yes
I/O Voltage Difference (Typ.)[V]
0.26(Io=20mA)
Load Regulation[mV]
5.0(Io=0.1mA to 50mA )
Operating Temperature (Min.)[°C]
-40
Operating Temperature (Max.)[°C]
125
Package Size
2.9x2.8 (t=1.25)
Common Standard
AEC-Q100 (Automotive Grade)
Find Similar
Features:
AEC-Q100 Qualified(Grade 1)
Qualification Planned for Automotive Application
Over Current Protection(OCP)
Thermal Shutdown Protection(TSD)
Overview
The compact (2.9mm × 2.8mm) BD7xxL05G-C series meets key requirements for building redundant power supplies by providing high withstand voltage (Max.=45V) with low current consumption (6.0μA typ.).
At the same time, leveraging ROHM's strengths in analog technology ensures stable output voltage even during steep battery voltage fluctuations. Unlike standard products with an overshoot of almost 1.3V that requires a large output capacitor to prevent the rated voltage of downstream devices such as sub-MCUs from being exceeded, ROHM LDOs limit voltage overshoot to just 0.1V, supporting much smaller output capacitors. Together with elimination of voltage clamping diode, this reduces board area by approximately 29% over general solutions while minimizing the number of additional circuits needed to configure redundant power supplies. High resistance to disturbance noise is also achieved (shown to eliminate output voltage fluctuation at all frequencies during ISO 11452-2 antenna irradiation testing), reducing the design load for noise countermeasures.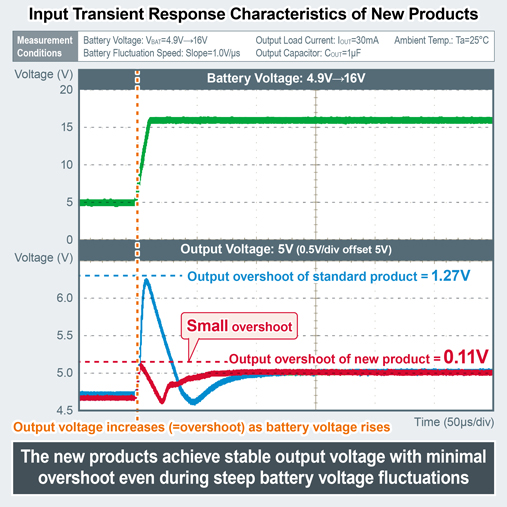 Application Examples
In addition to redundant power supplies, the space-saving low power consumption design makes them ideal for applications that operate when the engine is stopped.
Brake Systems
Electric Power Steering
ADAS ECUs
Drive Recorders
Body Control Modules
Battery Control Units
Real-Time Clocks
Door Handle Modules