BD83A04EFV-M
White LED Driver for Automotive with 4ch Current Driver Integrated, Built-in MOS for Boost, Boost DC/DC Converter
BD83A04EFV-M
White LED Driver for Automotive with 4ch Current Driver Integrated, Built-in MOS for Boost, Boost DC/DC Converter
This IC is a white LED driver for LCD backlight. It has MOS for boost and 4 ch current drivers for LED drive, making it ideal for high brightness LED drive. LED pin maximum voltage is 50V, making it suitable for driving medium LCD panels. The dimming is controlled by the PWM signal and can be set up to 20,000: 1@100Hz. It also supports analog dimming and can accommodate even higher brightness ranges by combining with PWM dimming. DC/DC converters can be controlled for boost applications, and the input operating voltage range is 4.5V to 48V.
Product Detail
Part Number
|
BD83A04EFV-ME2
Minimum Package Quantity
|
2000
Functional Safety:

A product that has been developed for automotive use and is capable of supporting safety analysis with regard to the functional safety.
Specifications:
Per Channel Drive(Max.)[mA]
120
Switch Current Limit(Typ.)[A]
3.6
Frequency(Max.)[MHz]
2.42
Operating Temperature (Min.)[°C]
-40
Operating Temperature (Max.)[°C]
125
Package Size [mm]
7.8x7.6 (t=1)
Common Standard
AEC-Q100 (Automotive Grade)
Find Similar
Features:
AEC-Q100 Qualified(Grade1)
Functional Safety Supportive Automotive Products
Built-in 4ch Current Driver for LED Drive
Built-in MOS for Boost
Current Mode Boost DC/DC Converter
Load Switch(M1) Control Pin
PWM Dimming(20,000: 1@100Hz, 100Hz to 25kHz)
Spread Spectrum Function
DC/DC Converter Oscillation Frequency External Synchronization Function
LSI Protect Functions(UVLO, OVP, TSD, OCP)
LED Anode/Cathode Short Circuit Protection Function
LED Open/Short Protection Function
Overview
These products leverage proprietary low power consumption technology to reduce losses in LED driver current control circuits. The result is 20% lower overall IC power consumption compared to conventional products under typical conditions (80mA/ch LED circuit current, 12V power supply). This contributes to lower power consumption in medium- to large-sized automotive displays where power consumption is an issue.
At the same time, all models are equipped with both DC and PWM dimming to meet a wide range of requirements. As there no longer exists a need to switch current feedback mode for low/high brightness change with ROHM's original seamless PWM dimming technology, flickering that occurs with general PWM dimming is reduced, improving system reliability.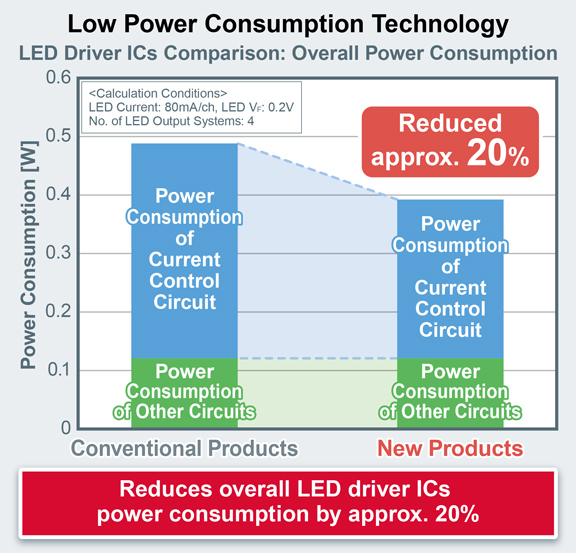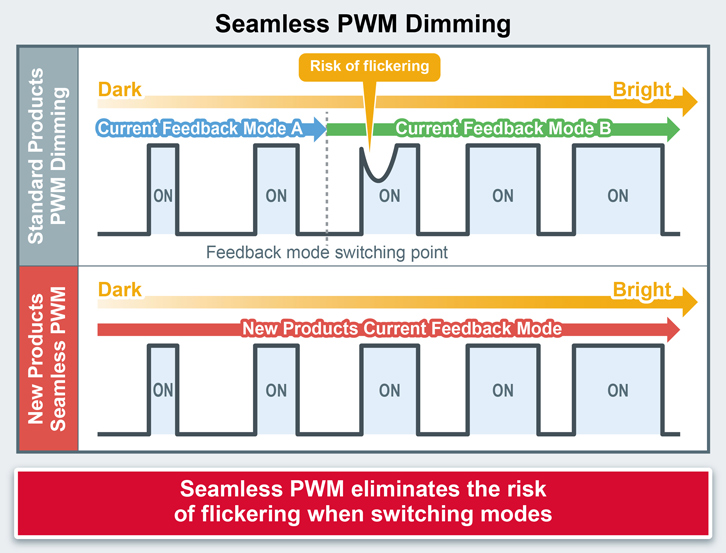 Application Examples
• Instrument clusters
• Car infotainment
• Head-up displays (HUDs)
• Electronic mirrors (side/rear view)
Compatible with a wide range of display sizes from 5-inch to 10+ inch class.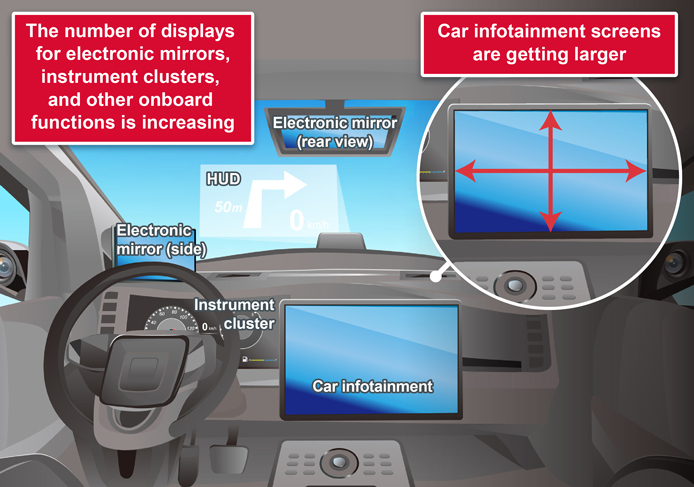 Reference Design / Application Evaluation Kit
4ch White LED Driver Built-in Current Driver Boost DC-DC Converter for Automotive BD83A04EFV-M