BD94130MUF-M (New)
24-channel Constant Current Drivers and 8-line Switch Controllers Embedded Backlight LED Driver
BD94130MUF-M (New)
24-channel Constant Current Drivers and 8-line Switch Controllers Embedded Backlight LED Driver
BD94130MUF-M is embedded 24-channel constant current drivers with 12bit PWM dimming and max 8-line switch controllers. This device can set LED constant current value by setting external ISET resistor. Communication with μ-controller via SPI is feasible.
Product Detail
Part Number
|
BD94130MUF-ME2
Minimum Package Quantity
|
1000
Functional Safety:

A product that has been developed for automotive use and is capable of supporting safety analysis with regard to the functional safety.
Specifications:
Topology
Constant Current
Series
Parallel Output LED Driver
LED Configuration
24 parallel
Per Channel Drive(Max.)[mA]
80
Ch to Ch Accuracy(Typ.)[±%]
3
Data Transfer Rate(Max.)[MHz]
20
Operating Temperature (Min.)[°C]
-40
Operating Temperature (Max.)[°C]
125
Package Size [mm]
8.0x8.0 (t=1.00)
Common Standard
AEC-Q100 (Automotive Grade)
Find Similar
Features:
AEC-Q100 Qualified (Grade 1)
Functional Safety Supportive Automotive Products
Integrated 24-channel LED Constant Current Drivers
Integrated 4/6/8-line Switch Controllers
SPI Interface (Cascade Connection Feasible)
12bit PWM Dimming
LED Constant Current Setting by ISET Resistor
Phase Shift Function
6bit Dot Correct (50% to 100%)
LED Open Detection and LED Short Detection
Adjacent LEDCH Short Detection
PGATE Short Protection
VINSW Over Voltage Protection
Slew Rate Control for PMOS Gate Driver
Abnormality Output FAILB Pin
Overview
The BD94130xxx-M series of matrix LED drivers combines an 8-line switch controller with 24-channel current driver - allowing control (dimming) of up to 192 zones mini-LED for backlighting with a single IC. On top of that, the mini-LEDs in each zone can be independently adjusted by using a local dimming function - contributing to larger contrast ratio, lower power consumption displays.
For example, with current mainstream 10-inch class infotainment displays that consist of approx. 600 zones, the BD94130xxx-M series enable operation with just one-fourth of the number of LED drivers compared to existing (48-zone) products - decreasing LED driver mounting area by approx. 84%. And this advantage will only increase as screens become larger and the number of zones rises inside next-generation cockpits.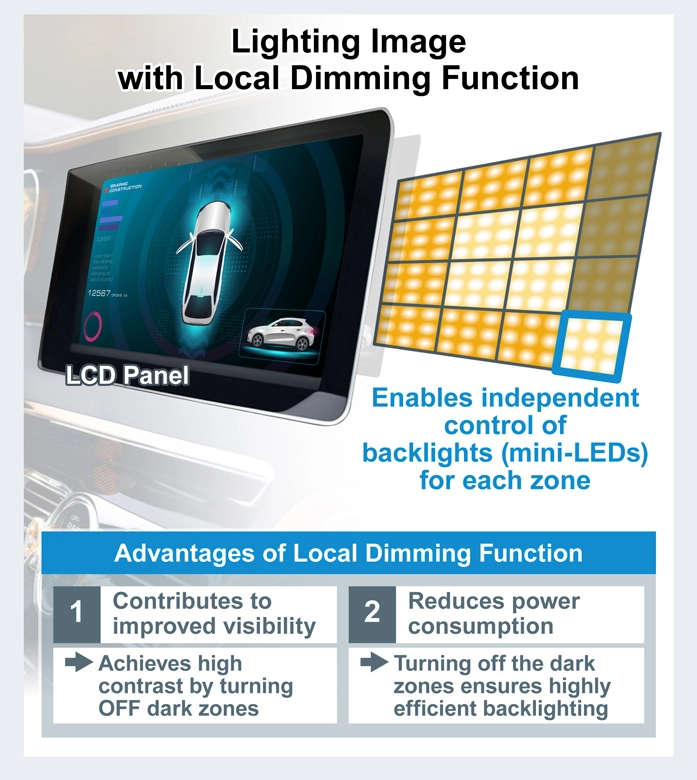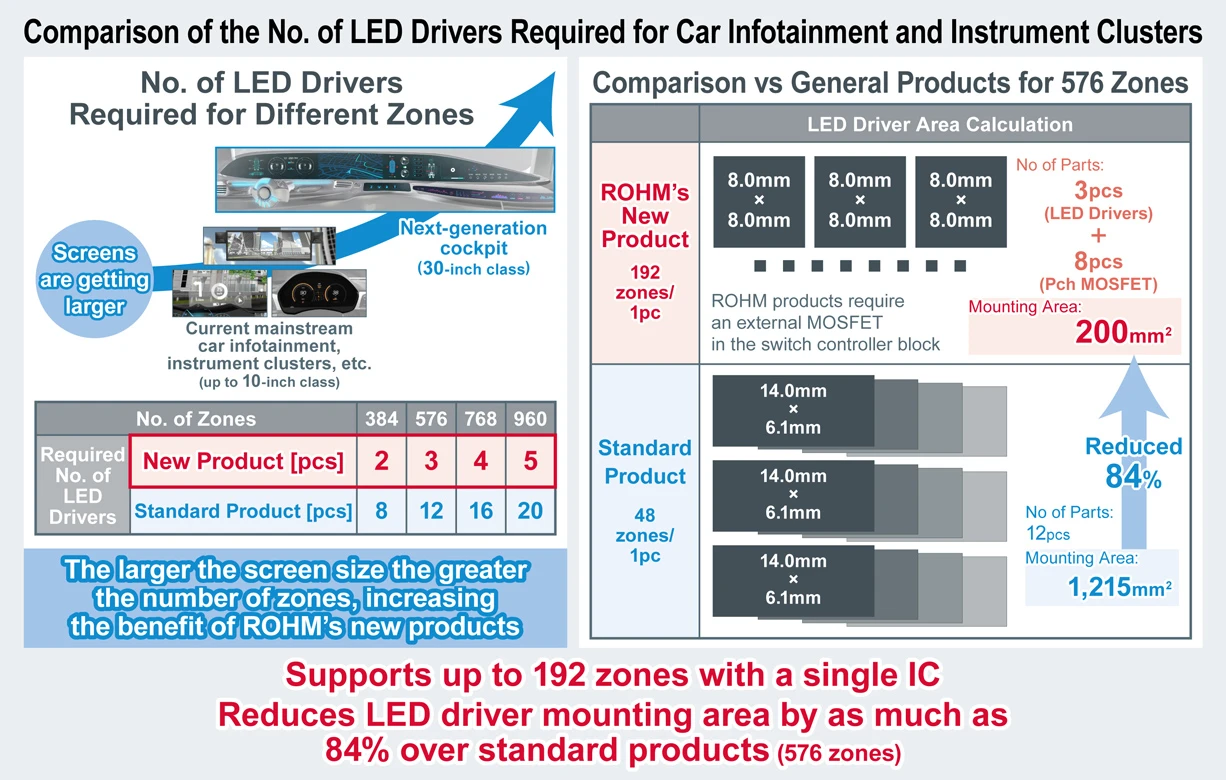 Application Examples
ROHM's BD94130xxx-M series are equipped with local dimming functionality to support a variety of high-contrast automotive displays.
• Electronic mirrors (side/rear view)
• Car infotainment
• Instrument clusters
• Head-up displays (HUDs)