RS6P100BH
Nch 100V 100A, HSOP8, Power MOSFET
RS6P100BH
Nch 100V 100A, HSOP8, Power MOSFET
RS6P100BH is a power MOSFET with low on - resistance, suitable for switching.


Product Detail
Part Number
|
RS6P100BHTB1
Minimum Package Quantity
|
2500
Specifications:
Package Code
HSOP8S (5x6)
Drain-Source Voltage VDSS[V]
100
RDS(on)[Ω] VGS=6V(Typ.)
0.0058
RDS(on)[Ω] VGS=10V(Typ.)
0.0045
RDS(on)[Ω] VGS=Drive (Typ.)
0.0058
Total gate charge Qg[nC]
29
Power Dissipation (PD)[W]
104
Mounting Style
Surface mount
Storage Temperature (Min.)[°C]
-55
Storage Temperature (Max.)[°C]
150
Package Size [mm]
4.9x6 (t=1.1)
Find Similar
Features:
Low on - resistance
High power package(HSOP8)
Pb-free plating ; RoHS compliant
Halogen free
100% Rg and UIS tested
Overview
This MOSFET achieves an industry-leading RDS(on) of 2.1mΩ – approx. 50% lower than conventional – by increasing device performance and adopting the HSOP8/HSMT8 package featuring low-resistance copper clip connections. What's more, improving the element gate structure reduces Qgd, which is generally in a trade-off relationship with RDS(on), by approx. 40% vs conventional products (comparing typical values for RDS(on) and Qgd for 60V HSOP8 package products). These improvements reduce both switching and conduction losses, greatly contributing to higher application efficiency. As an example, when comparing the efficiency of a power supply evaluation board for industrial equipment, this product achieves an industry-leading efficiency of approx. 95% (peak) in the output current range during steady-state operation.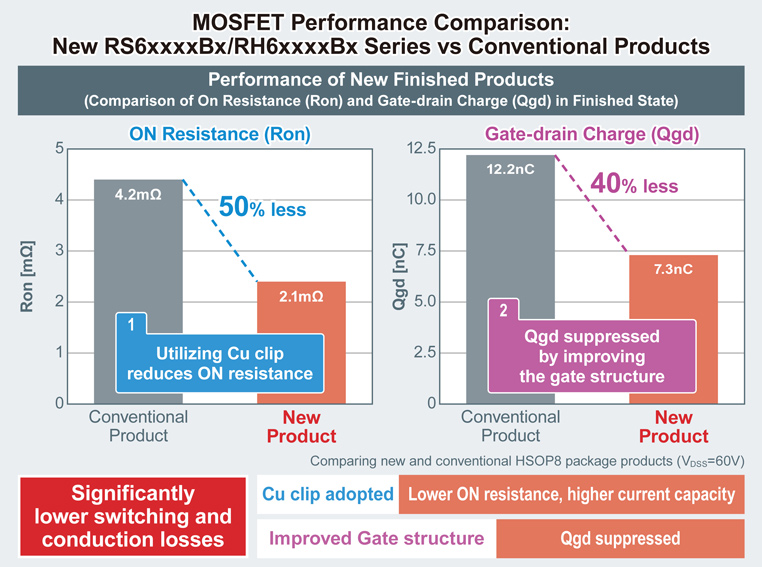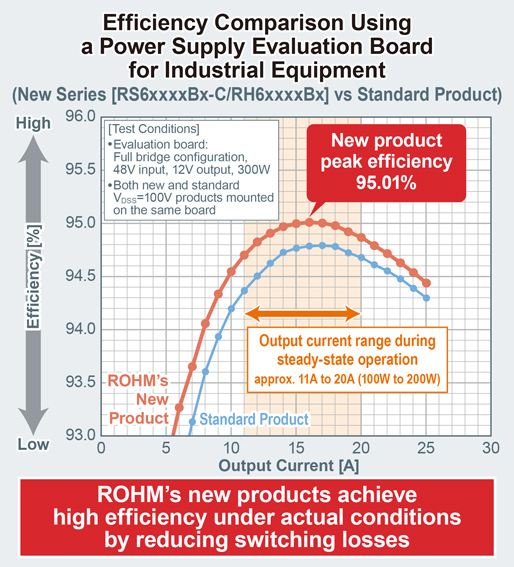 Application Examples
◇ Power supplies for servers and communication base stations
◇ Motors for industrial and consumer products
Also suitable for a variety of power supply circuits and motor-equipped devices