RA1C030LD
Nch 20V 3.0A, SMM1006, WLCSP MOSFET
RA1C030LD
Nch 20V 3.0A, SMM1006, WLCSP MOSFET
RA1C030LD is a WLCSP MOSFET with low-on resistance and High power package, suitable for Switching circuits, Single-Cell Battery Applications, Mobile Applications.
Product Detail
Part Number
|
RA1C030LDT5CL
Minimum Package Quantity
|
15000
Specifications:
Drain-Source Voltage VDSS[V]
20
RDS(on)[Ω] VGS=1.8V(Typ.)
0.2
RDS(on)[Ω] VGS=2.5V(Typ.)
0.13
RDS(on)[Ω] VGS=4.5V(Typ.)
0.08
RDS(on)[Ω] VGS=Drive (Typ.)
0.2
Total gate charge Qg[nC]
1.5
Power Dissipation (PD)[W]
1
Mounting Style
Surface mount
Storage Temperature (Min.)[°C]
-55
Storage Temperature (Max.)[°C]
150
Package Size [mm]
0.6x1 (t=0.25)
Find Similar
Features:
Low on - resistance.
High Power small Package.
Pb-free lead plating ; RoHS compliant.
Halogen Free.
ESD protection up to 200V (MM).
up to 2kV (HBM).
WLCSP (Wafer level chip size package)
Overview
The RA1C030LD is offered in the DSN1006-3 wafer-level, chip-size package (1.0mm × 0.6mm) that takes advantage of ROHM's proprietary IC process to achieve low power dissipation together with greater miniaturization. In terms of the figure of merit that expresses the relationship between conduction and switching losses (ON-resistance × Qgd), an industry-leading value has been achieved that is 20% lower than standard package products in the same package (1.0mm × 0.6mm or smaller), contributing to a significantly smaller board area along with higher efficiency in a variety of compact devices. At the same time, ROHM's unique package structure provides insulated protection for the side walls (unlike standard products in the same package with no protection). This reduces the risk of shorts due to contact between components in compact devices that must resort to high density mounting due to space constraints, contributing to safer operation.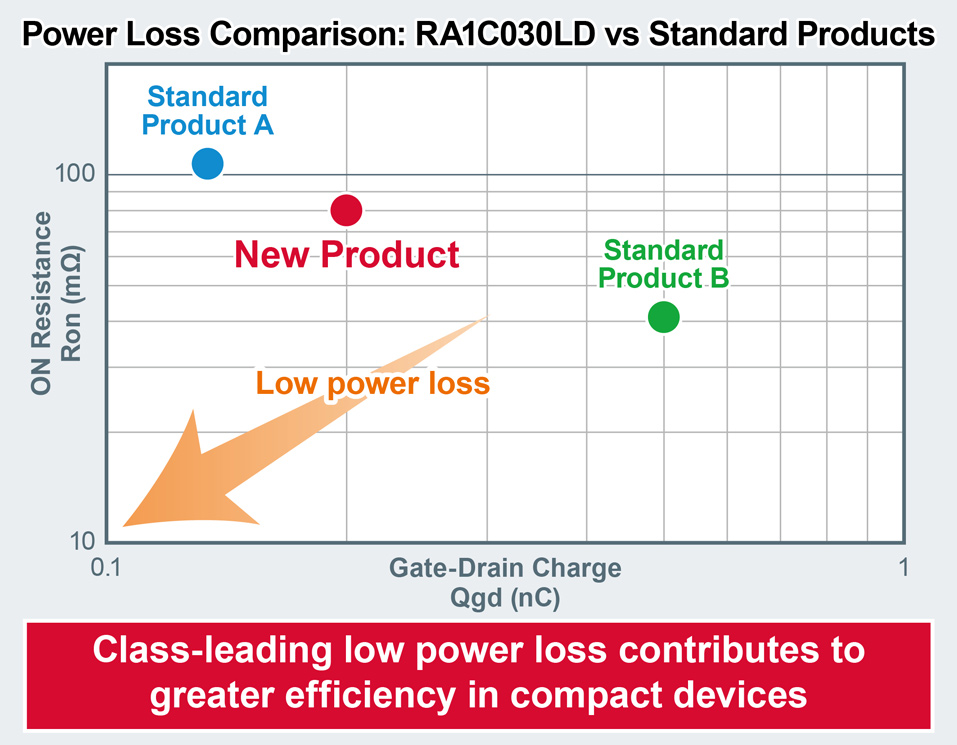 Application Examples
◇ Hearables (i.e. wireless earbuds)
◇ Wearables such as smart watches, smart glasses, and action cameras
◇ Smartphones
Also suitable for switching in a wide range of thin, compact devices.