R6077VNZ4
600V 77A TO-247, PrestoMOS™ with integrated high-speed diode
R6077VNZ4
600V 77A TO-247, PrestoMOS™ with integrated high-speed diode
R6077VNZ4 is a power MOSFET with fast reverse recovery time (trr), suitable for the switching applications.
Product Detail
Part Number
|
R6077VNZ4C13
Minimum Package Quantity
|
600
Specifications:
Applications
Motor, Inverter, LLC, PSFB
Drain-Source Voltage VDSS[V]
600
RDS(on)[Ω] VGS=15V(Typ.)
0.042
RDS(on)[Ω] VGS=Drive (Typ.)
0.042
Total gate charge Qg[nC]
108
Power Dissipation (PD)[W]
781
Mounting Style
Leaded type
Storage Temperature (Min.)[°C]
-55
Storage Temperature (Max.)[°C]
150
Package Size [mm]
15.94x21.07 (t=5.21)
Find Similar
Features:
Fast reverse recovery time (trr)
Low on-resistance
Fast switching speed
Drive circuits can be simple
Pb-free plating ; RoHS compliant
Halogen free mold compound
Overview
The R60xxVNx series adopts the latest proprietary processes to achieve the industry's fastest reverse recovery time while reducing ON resistance (which is in a trade-off relationship) by up to 20% compared to equivalent products.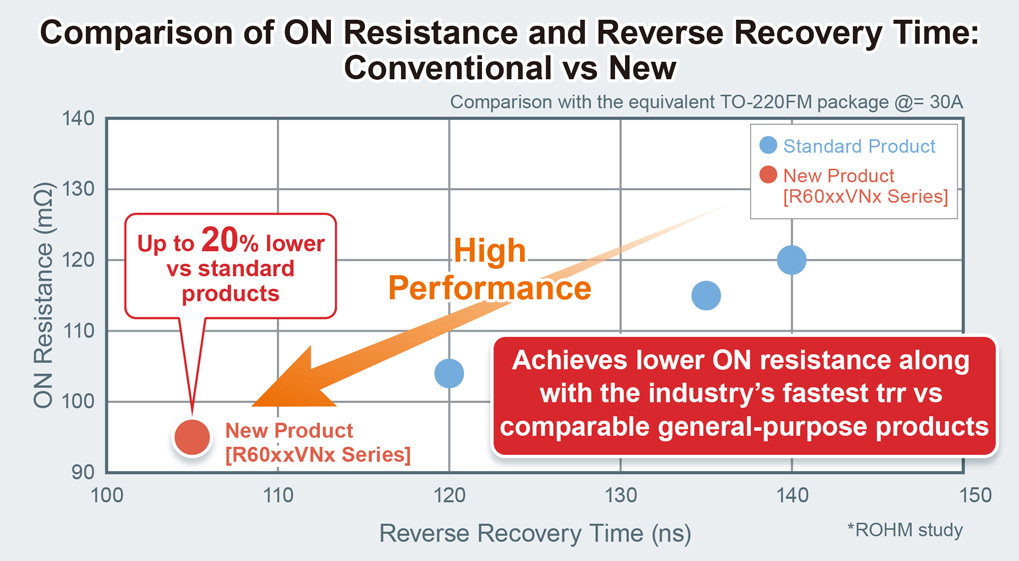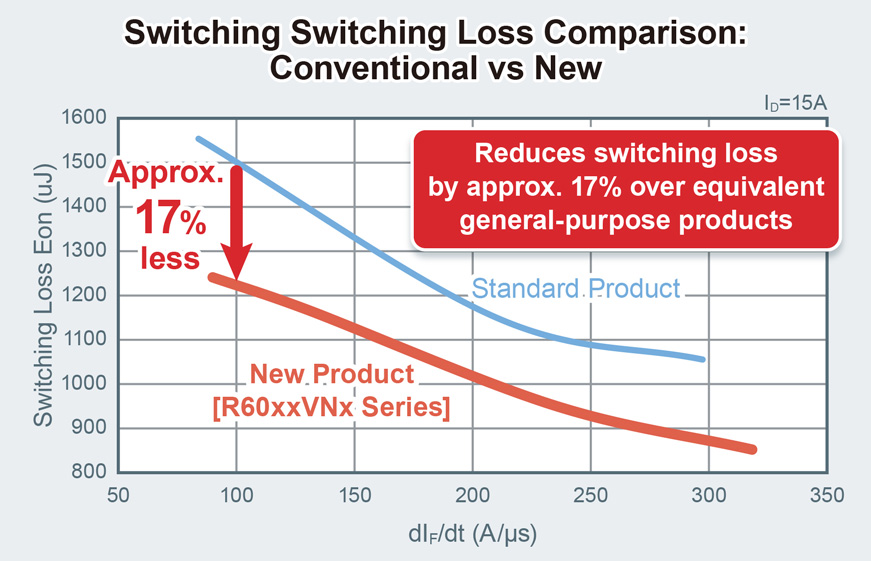 Key Features
1. Achieves class-leading low ON resistance and the industry's fastest reverse recovery time
ROHM's R60xxVNx series of PrestoMOS™ 600V Super Junction MOSFETs utilizes the latest processes to reduce ON resistance per unit area. Despite the difficulty in reducing ON resistance given the trade-off relationship with reverse recovery time, up to 20% lower ON resistance has been achieved compared to equivalent standard products (TO-220FM package), contributing to even lower power consumption in various applications.
2. The industry's fastest reverse recovery time (trr) minimizes switching loss
Generally, when miniaturizing processes, basic performance such as ON resistance is improved while reverse recovery time deteriorates. In contrast, ROHM's R60xxVNx series utilizes a proprietary high-speed technology to achieve the industry's fastest recovery time of 105ns while maintaining lower ON resistance compared to equivalent TO-220FM package products. Eliminating wasted current reduces power loss during switching by approximately 17% over standard products.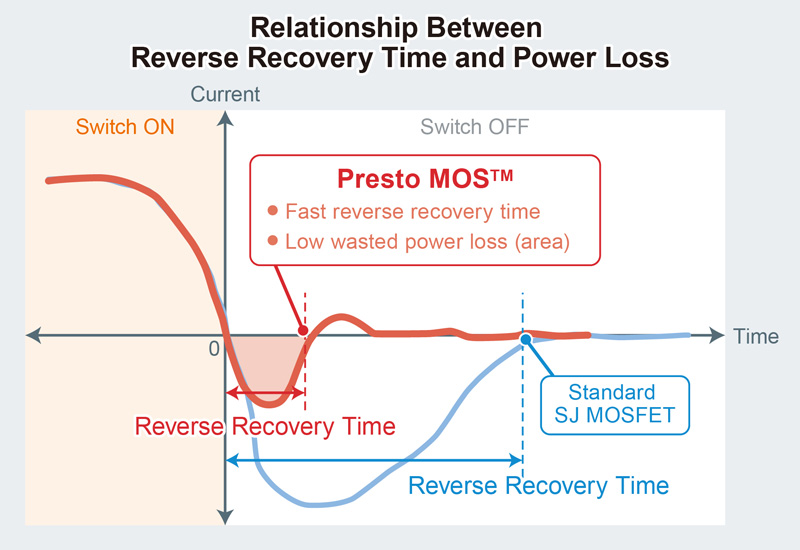 Thanks to these two features, the R60xxVNx series offers a higher efficiency than standard products, even when compared to evaluation boards using synchronous rectified boost circuits that pursue high efficiency (60mΩ class ON resistance products), contributing to significantly lower power consumption in applications such as solar power inverters and uninterruptible power supplies (UPS).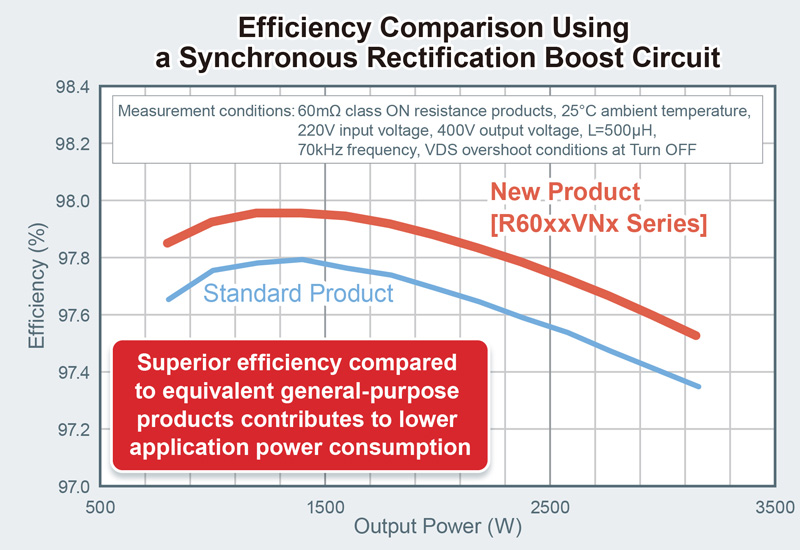 Application Examples
■EV charging stations, servers, base stations, solar power inverters (power conditioners), uninterruptible power supplies (UPS), Switched-Mode Power Supply (SMPS) and more
■White goods such as air conditioners
■Motor drives, power supply circuits, and the like