SMLD12WBN1W
Long Life Type Mini-mold Chip LED
SMLD12WBN1W
Long Life Type Mini-mold Chip LED
SMLD12WBN1W has a long life and the residual luminous rate exceeds 90% even after 1000 hours (under Ta=85℃,IF=20mA).
Product Detail
Part Number
|
SMLD12WBN1W1
Minimum Package Quantity
|
3000
Specifications:
Application
Home Appliance, Industrial Equipment, Helthcare, Amusement, Office Equipment, PC, Data Storage
Package size[mm]
1.6x0.8 (t=0.55)
Luminous Intensity(Single)(Typ.)[mcd]
120
Number of Brightness Rank
3
Chromaticity coordinates(x,y)
(0.295, 0.280)
Forward Voltage VF (Typ.) [V]
2.9
Power Dissipation [mW]
66
Operating Temperature[°C]
-40 to 100
Storage Temperature [°C]
-40 to 100
Find Similar
Features:
Long life exceeding 90% residual luminous rate even after 1,000hrs (Ta=85℃,IF=20mA)
1608 (0603) size small package
SMLD12WBN1W is a White chip LED with 1608 (1.6x0.8mm) size that achieves class-leading reliability. This new package offers superior mountability and long operational life, which makes it ideal for use in display panels (e.g. temperature control displays) in industrial and compact consumer equipment.
Key Features
High-reliability LEDs are required to guarantee no degradation in luminosity even with continuous operation for over 10 years. However, achieving this has not been possible until now due to the use of epoxy or silicone resins for molding of typical White chip LEDs. These types of material could not provide enough reliability to prevent degradation in luminosity or provide enough package strength to facilitate mounting on circuit boards.
ROHM has been providing 1608-size chip LEDs in colors ranging from Red to Green, and now it is adding White to this product range to meet market demand. The adoption of a new material that combines the benefits of epoxy and silicone resins made it possible to achieve class-leading reliability of White chip LED in such a small package.

Successfully maintained 100% luminous intensity during operational testing (25°C, IF=20mA, 1,000hrs)
Traditionally, Red and Green LEDs used in display panels of industrial equipment are less prone to cause yellowing of the resin due to light energy. Therefore, luminosity degradation has not been regarded as a problem. Epoxy resins with high mold hardness are commonly adopted for compact molded type LEDs. However, in the case of LEDs with a short wavelength (λD<527nm) such as White, the resin may turn yellow due to the energy of the light. To address this issue, the SMLD12WBN1W utilizes a new material for the sealing resin that maintains 100% luminosity during operational testing (25C, IF=20mA, 1,000hrs). This results in approx. 20x longer life when compared to the residual luminosity shown under the same conditions by similar products available in the market.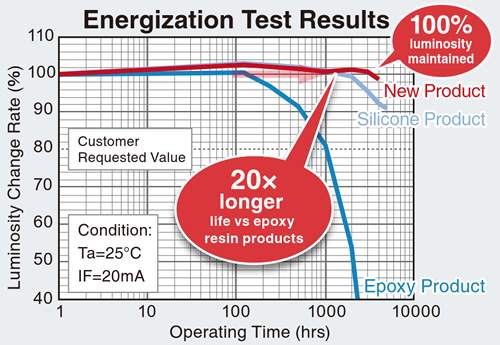 25x higher package strength than those using silicone resin
Although light intensity degradation can be improved by adopting silicone resin, the molding becomes easier to detach from the substrate. Measures to enhance mounting strength such as adding reflectors to compact LEDs cannot be used, and damage to the molding section remains a challenge.
The use of a new resin material improves the molding strength by 25x when compared to products using silicone resin even at high temperatures (Ta=150C). This minimizes defects during mounting on circuit boards, thus achieving superior mountability.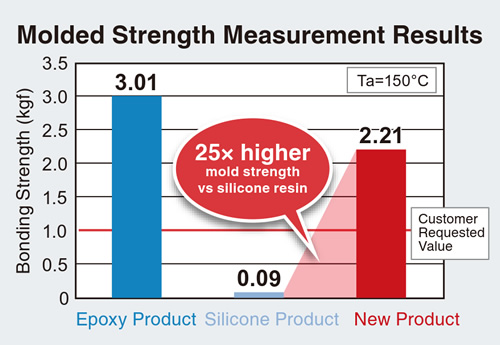 Lineup
Part No.
Emitting
Color
Forward Voltage[VF]
Dominant Wavelength[λD]
Brightness[IV]
Package
Size
Typ.(V)
IF(mA)
min.
(nm)
Typ.
(nm)
Max.
(nm)
IF(mA)
min.
(mcd)
Typ.
(mcd)
IF(mA)
SML-D12V8W
Red
2.2
20
625
630
635
20
16
40
20
1.6 × 0.8 mm
SML-D12U8W
615
620
625
25
63
SML-D12D8W
Orange
602
605
608
40
100
SML-D12Y8W
Yellow
587
590
593
25
63
SML-D12M8W
Yellow Green
569
572
575
10
25
SML-D12P8W
Green
557
560
563
2.5
6.3
SMLD12EN1W
3.0
5
520
527
535
5
56
140
5
SMLD12E2N1W
Blue Green
2.9
500
505
512
120
SMLD12E3N1W
490
496
502
85
SMLD12BN1W
Blue
465
470
475
14
40

NEW

SMLD12WBN1W
White
(x,y)(0.295, 0.280)
56
120