RGW80TS65CHR
High-Speed Fast Switching Type, 650V 40A, Automotive Hybrid IGBT with Built-In SiC-SBD
RGW80TS65CHR
High-Speed Fast Switching Type, 650V 40A, Automotive Hybrid IGBT with Built-In SiC-SBD
The RGWxx65C series is a 650V IGBT with a built-in SiC schottky barrier diode, which reduces turn-on switching loss. This is an AEC-Q101 compliant product. It can be used with confidence even in harsh environments such as xEV on-board chargers, DC/DC converters, solar power conditioners, and UPS.
Product Detail
Part Number
|
RGW80TS65CHRC11
Minimum Package Quantity
|
30
Specifications:
Series
W: High speed fast SW
Storage Temperature (Min.)[°C]
-55
Storage Temperature (Max.)[°C]
175
Package Size [mm]
16x21 (t=5.2)
Common Standard
AEC-Q101 (Automotive Grade)
Find Similar
Features:
AEC-Q101 Qualified
Low Collector - Emitter Saturation Voltage
Low Switching Loss & Soft Switching
Built in No Recovery Silicon Carbide SBD
Pb - free Lead Plating ; RoHS Compliant
Overview
In recent years, global efforts to reduce environmental burden and achieve a carbon-neutral and decarbonized society have spurred the proliferation of electrified vehicles (xEV). At the same time, the diversification of power semiconductors used in various vehicle inverter and converter circuits necessary to configure more efficient systems is currently underway, along with technological innovation of both ultra-low-loss SiC power devices (i.e. SiC MOSFETs, SiC SBDs) and conventional silicon power devices (e.g. IGBTs, Super Junction MOSFETs).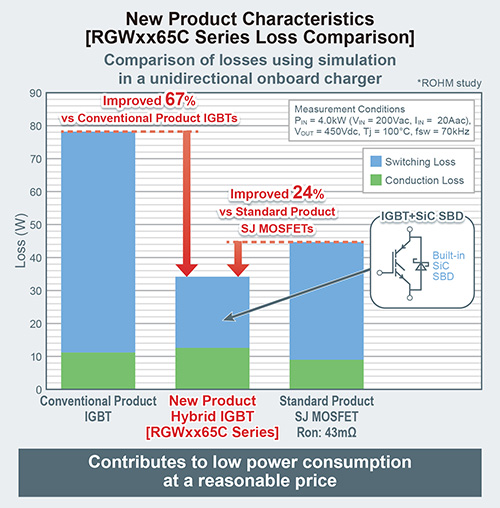 The RGWxx65C series utilizes ROHM's low-loss SiC Schottky barrier diodes in the IGBT's feedback block as a freewheeling diode that has almost no recovery energy and thus minimal diode switching loss. Additionally, since the recovery current does not have to be handled by the IGBT in turn-on mode, the IGBT turn-on loss is reduced significantly. Both effects together result in up to 67% lower loss over conventional IGBTs and 24% lower loss compared with Super Junction MOSFETs (SJ MOSFETs) when used in vehicle chargers. This effect provides good cost performance while contributing to lower power consumption in industrial and automotive applications.
Key Features
1. Reduces loss by 67% vs conventional IGBTs, providing optimal cost performance for popular automotive electrical control units and industrial equipment
The breakthrough RGWxx65C series utilizes an SiC SBD as the freewheeling diode for the IGBT. ROHM low-loss SiC SBDs significantly reduce turn ON loss over silicon fast recovery diodes (FRDs) used in conventional IGBTs. This reduces loss by 67% over conventional IGBTs and 24% over SJ MOSFETS (which generally provides lower loss than IGBTs) when used in vehicle chargers. Furthermore, a high efficiency of over 97% is ensured over a wide operating frequency range when we use this device for automotive charger – 3% higher than existing IGBTs at 100kHz – contributing to lower power consumption and good cost performance in automotive and industrial equipment applications.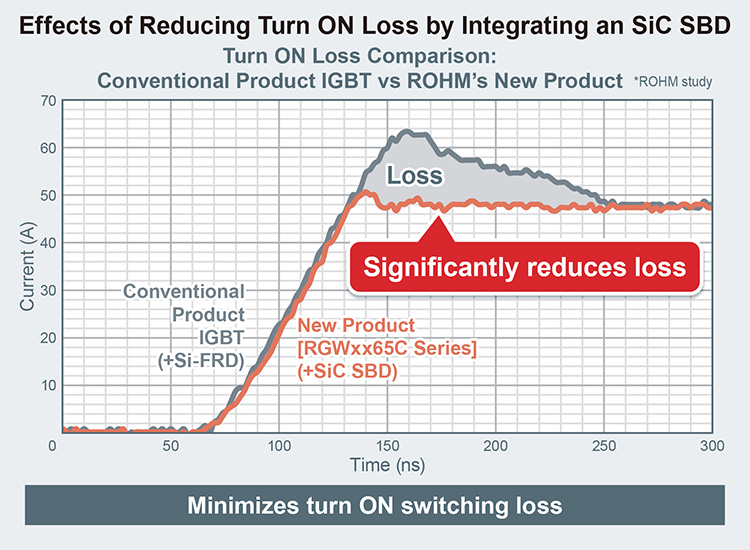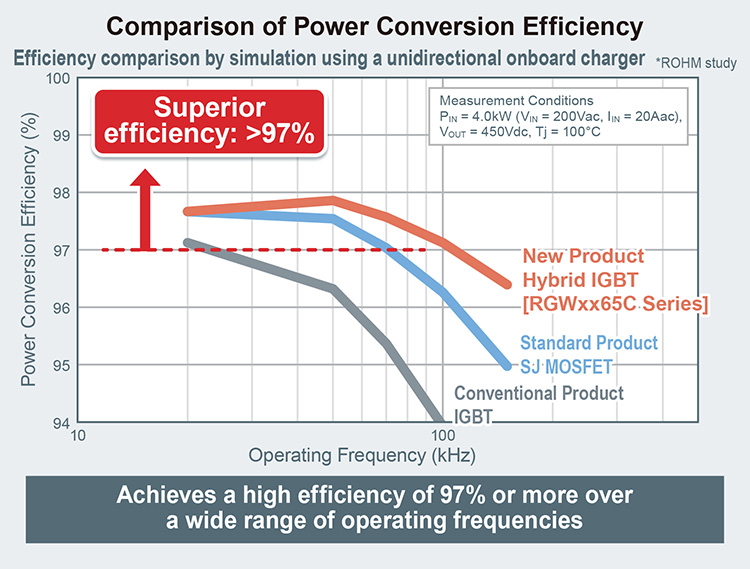 2. AEC-Q101 qualification enables use under harsh environments
These devices are qualified under the AEC-Q101 automotive standard for reliability, ensuring worry-free use even under severe conditions.
Application Examples
Automotive chargers (onboard chargers)
Vehicle DC/DC converters
Solar power inverters (power conditioners)
Uninterruptible power supplies (UPS)