RBR2VWM40A
Low VF, 40V, 2A, Schottky Barrier Diode
RBR2VWM40A
Low VF, 40V, 2A, Schottky Barrier Diode
RBR2VWM40A is low VF high reliability schottky barrier diode, suitable for general rectification.
Product Detail
Part Number
|
RBR2VWM40ATR
Minimum Package Quantity
|
3000
Specifications:
Mounting Style
Surface mount
Average Rectified Forward Current IO[A]
2
Forward Voltage VF(Max.)[V]
0.62
IF @ Forward Voltage [A]
2
Reverse Current IR(Max.)[mA]
0.05
VR @ Reverse Current[V]
40
Storage Temperature (Min.)[°C]
-55
Storage Temperature (Max.)[°C]
150
Package Size [mm]
1.3x2.5 (t=1)
Find Similar
Features:
High reliability
Small power mold type
Low VF
Overview
The RBR series features excellent low VF characteristics – key to improving efficiency and reducing loss. This makes them ideal for automotive applications as well as consumer electronics such as laptops where high efficiency is required.
The RBR series adopt a compact package (PMDE package) that reduces mounting area by 42% compared to existing products (PMDU package).
Key Features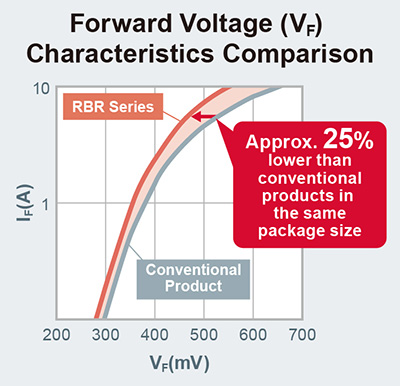 1. Low VF reduces loss
The RBR series achieves lower loss by reducing VF by 25% compared to ROHM conventional products of the same size while suppressing IR characteristics which is at tradeoff relation with low VF. This makes them ideal for automotive applications that require higher efficiency as well as laptops and other consumer electronics where greater energy savings are required.
In addition, chip size of RBR series is reduced while maintaining performance, resulting in a smaller package that minimizes footprint. For example, replacing the conventional 3.5mm×1.6mm size PMDU (SOD-123FL) package with the new 2.5mm×1.3mm PMDE decreases mounting area by approx. 42%.
2. New compact package added to ROHM's comprehensive lineup
The RBR series now includes 12 new 2.5mm×1.3mm PMDE package products (6 for consumer + 6 for automotive). This brings the total lineup to 140 products (30V/40V/60V withstand voltages, 1A to 40A current) that expands applicability to include both automotive and consumer applications.
Application Examples
・Automotive Applications such as LED headlamps and car accessories
・Notebook PCs