RBQ10BGE10A
100V 10A, TO-252, Cathode Common, Low IR Schottky Barrier Diode
RBQ10BGE10A
100V 10A, TO-252, Cathode Common, Low IR Schottky Barrier Diode
RBQ10BGE10A is a high reliability schottky barrier diode with low IR for switching power supply.
Product Detail
Part Number
|
RBQ10BGE10ATL
Minimum Package Quantity
|
2500
Specifications:
Package Code
TO-252 (DPAK)
Mounting Style
Surface mount
Reverse Voltage VR[V]
100
Average Rectified Forward Current IO[A]
10
Forward Voltage VF(Max.)[V]
0.77
IF @ Forward Voltage [A]
5
Reverse Current IR(Max.)[mA]
0.08
VR @ Reverse Current[V]
100
Storage Temperature (Min.)[°C]
-55
Storage Temperature (Max.)[°C]
150
Package Size [mm]
6.6x10 (t=2.4)
Find Similar
Features:
High reliability
Power mold type
Cathode common dual type
Low IR
Overview
The RBQ series delivers excellent low IR characteristics that enable stable operation in high temperature environments – significantly reducing the risk of thermal runaway which is a concern with SBDs. As such they are ideal for automotive powertrain applications and power supplies for industrial equipment that operate in high temperature environments.
And the RBQ series qualified under the AEC-Q101 standard to ensure automotive-grade reliability.
Key Features
1. Low IR ensures stable operation at high temperatures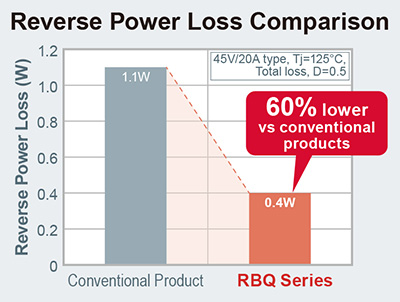 The RBQ series utilizes proprietary barrier formation technology to achieve the optimum balance between VF and IR for switching power supplies. As a result, reverse power loss is decreased by 60% compared to ROHM's conventional products, further reducing the risk of thermal runaway at high temperatures. This makes them ideal for automotive powertrain and industrial power supplies that operate in high temperature environments.
2. ROHM completes its lineup with new 100V products
The addition of 12 new 100V products (6 for consumer + 6 for automotive) to the RBQ series brings the total to 38 products comprised of both cathode common and single types in 45V/65V/100V withstand voltages and 10A to 30A of current.
Application Examples
・Industrial power supplies
・Audio
・Laptops
・xEVs
・Engine ECUs
・Secondary rectification in AC/DC and DC/DC circuits