RFS30TZ6S
650V 30A, TO-247-2L, Ultra Soft Recovery Type, Ultra Fast Recovery Diode
RFS30TZ6S
650V 30A, TO-247-2L, Ultra Soft Recovery Type, Ultra Fast Recovery Diode
RFS30TZ6S is a silicon epitaxial planar type ultra fast recovery diode featuring ultra high speed trr and soft recovery. Ideal for general rectification applications and PFC (continuous current mode) applications.
Product Detail
Part Number
|
RFS30TZ6SGC13
Minimum Package Quantity
|
30
Specifications:
Reverse Voltage VR[V]
650
Average Rectified Forward Current IO[A]
30
Forward Voltage VF(Max.)[V]
2.3
IF @ Forward Voltage [A]
30
Reverse Current IR(Max.)[mA]
0.005
VR @ Reverse Current [V]
650
Storage Temperature (Min.)[°C]
-55
Storage Temperature (Max.)[°C]
175
Package Size [mm]
15.94x20.95 (t=5.22)
Find Similar
Features:
Ultra fast recovery / Ultra soft recovery type
Ultra low switching loss
High current overload capacity
Background
In recent years, more effective use of electricity is necessary to cope with the rise in global power consumption. This is especially true for white goods and industrial equipment that handle large amounts of power such as EV charging stations. These require not only high electrical efficiency but also reducing workload for noise countermeasures in circuit design. In response, ROHM developed diodes that combine low VF for more efficient operation with fast trr characteristics that provide less loss and ultra-low noise during switching OFF.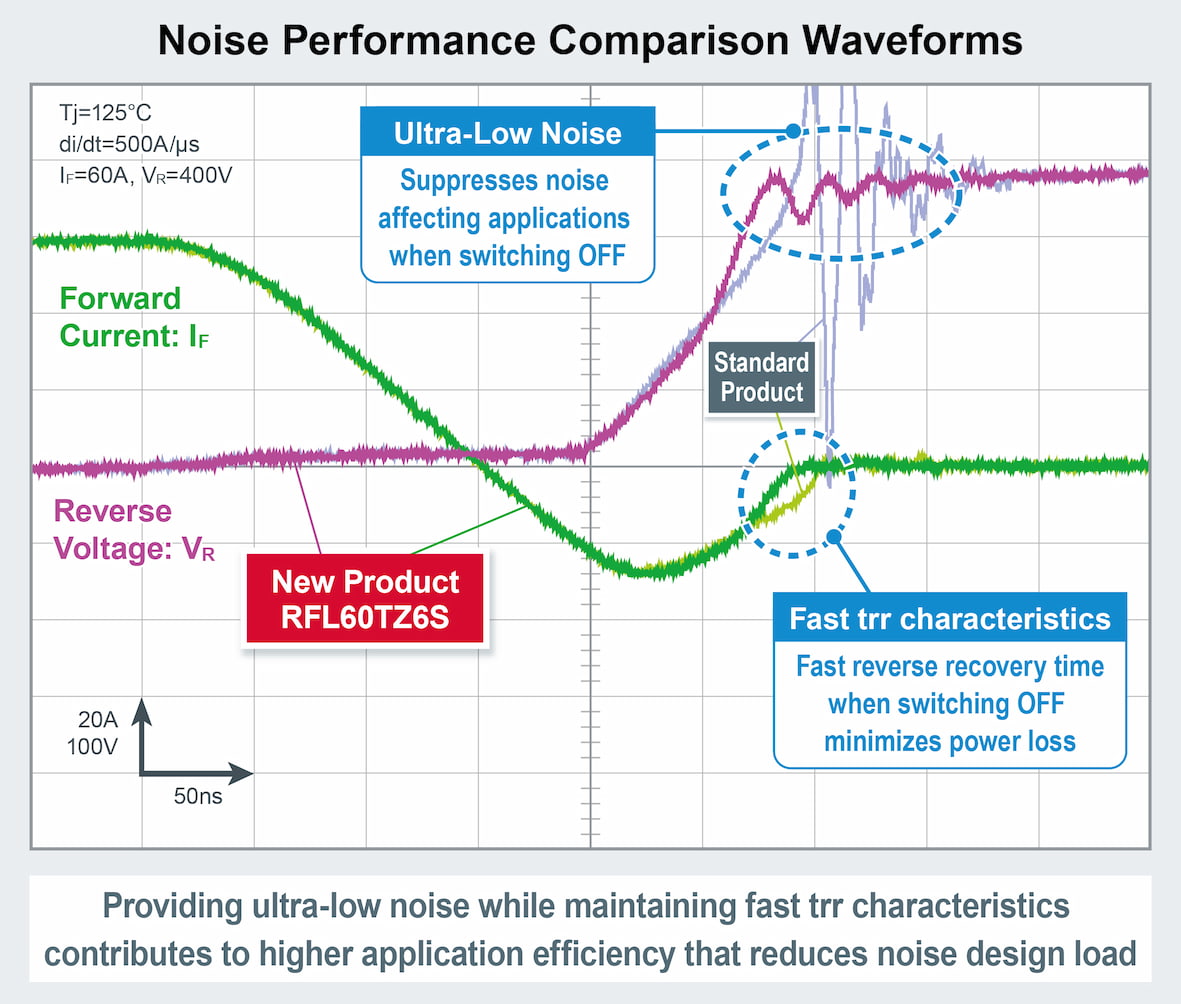 Applications
・PFC (Power Factor Correction) circuits in air conditioners, washers, refrigerators, etc.
・Secondary rectifier circuits in EV charging stations and the like
・Inverter circuits in machine tool robots, compressors, etc.
・Power supplies for servers, base stations, and more.
Circuit (Topology) Examples

Topology Selection
When designing power supply circuits, it is necessary to select a circuit configuration (topology) that matches the required specifications for input/output voltages, power, isolation, and other factors.
ROHM offers a selection page that recommends the optimum products for various topologies.
https://www.rohm.com/topology