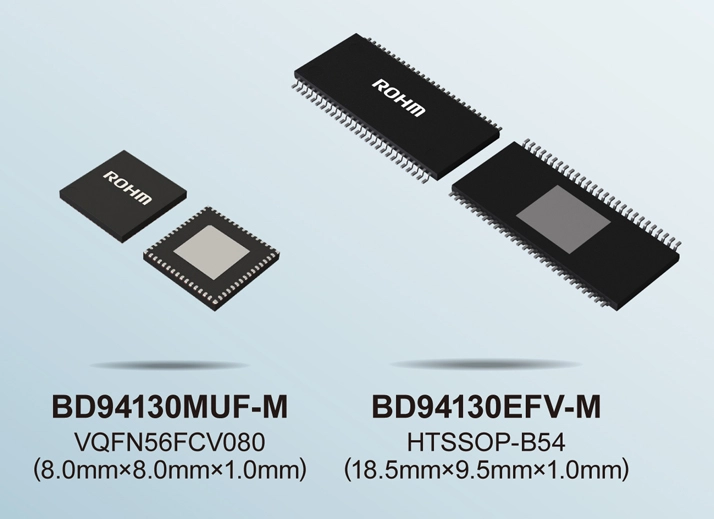 ROHM has developed LED driver ICs - the BD94130xxx-M series (BD94130MUF-ME2, BD94130EFV-ME2) - for automotive LCD backlights. The devices support large displays increasingly being used in next-generation car infotainment and instrument clusters.
In recent years, the advancement of ADAS (Advanced Driver Assistance Systems) together with expanding car infotainment functionality have prompted a shift towards higher resolution vehicle displays to improve visibility. As such, LED drivers with a local dimming function capable of turning off only the backlight in dark areas of the LCD improve display screen performance and reduce power consumption. They are now being considered by automotive manufacturers developing next-generation cockpits. But as the number of zones controlled with conventional direct-type LED drivers by a single IC is less than 100, the number of LED drivers and peripheral components will also increase as automotive displays become larger with more zones. This represents a significant design challenge.
To meet this need, ROHM developed products capable of controlling more zones than conventional ICs -making it possible to reduce the mounting area by reducing the number of LED drivers required. The BD94130xxx-M series of matrix LED drivers combines an 8-line switch controller with 24-channel current driver - allowing control (dimming) of up to 192 zones mini-LED for backlighting with a single IC. On top of that, the mini-LEDs in each zone can be independently adjusted by using a local dimming function - contributing to larger contrast ratio, lower power consumption displays.
For example, with current mainstream 10-inch class infotainment displays that consist of approx. 600 zones, ROHM's new products enable operation with just one-fourth of the number of LED drivers compared to existing (48-zone) products - decreasing LED driver mounting area by approx. 84%. And this advantage will only increase as screens become larger and the number of zones rises inside next-generation cockpits.
New Products: BD94130xxx-M
ROHM's BD94130xxx-M series of matrix LED drivers combines a 24-channel current driver with a switch controller that can be divided into 8 lines (Max.). The number of switch controller lines can be selected from among 3 patterns (4, 6, or 8) - via register settings, supporting a variety of specifications based on the number of zones and LED current consumption. In addition, a built-in feedback control function maintains a constant feedback voltage independent of LED temperature characteristics - reducing thermal design man-hours along with loss ratio.
Part No.
Data
Sheet
Input
Voltage
Range
[V]
No. of Switch
Controllers
(Divisions)
No. of Zones
No. of Output
Channels
Max.
LED Current
[mA/ch]
Communication
Method
Dimming Mode
Functions
Operating
Temperature
Range
[°C]
AEC-Q100
Qualified
Package
[mm]
4 Divisions
6 Divisions
8 Divisions
PWM
Dimming
[bit]
DC
Dimming
[bit]
Feedback
Control
LED
Open/Short
Detection
BD94130MUF-M
3.0
to
5.5
Selectable
from
4/6/8 lines
96
144
192
24
80
SPI
12
6
✓
✓
-40
to
+125
✓
VQFN56FCV080
(8.0×8.0×1.0)
BD94130EFV-M
HTSSOP-B54
(18.5×9.5×1.0)
Applications
ROHM's new products are equipped with local dimming functionality to support a variety of high-contrast automotive displays.
• Electronic mirrors (side/rear view)
• Instrument clusters
• Car infotainment
• Head-up displays (HUDs)
Terminology
Matrix Type

A method of lighting LEDs arranged in a matrix by combining a switch controller and current driver. The number of zones that can be controlled is large - making it ideal for applications with large LCD panels such as car infotainment and instrument clusters.

Local Dimming Function

An LED driver technology for controlling the brightness of backlight LEDs mounted directly behind the LCD panel according to the brightness of the image displayed. This makes it possible to achieve high-definition LCD display.

Direct Type

A drive system that directly controls one zone per current driver channel.