diversity_title
Diversity Development

Human Capital Management
sustainability_human-capital_navi_cms
diversity_main
Our Basic Policy
ROHM Group's priority is to acquire excellent human resources with diverse values regardless of nationality, gender, age, or disability. Therefore, we are actively promoting recruitment and promotion at the global level. We believe that it will be possible to provide products that will lead to the creation of innovation and the solution of social issues by demonstrating the individuality and abilities of diverse human resources and demonstrating teamwork as "ONE ROHM". Therefore, we have set "promotion of diversity" as a sustainability issue identified in 2021. Especially in the decision-making process, we believe that incorporating diverse ideas is necessary to make superior decisions, and we have therefore established indicators related to the promotion of diversity as key indicators. We will continue to take measures to ensure that everyone working at ROHM can maximize their abilities.
ROHM Group Employee Ratio by Item
(Number of Employees as of the End of March 2023: 23,754)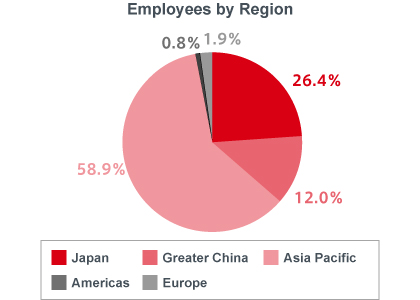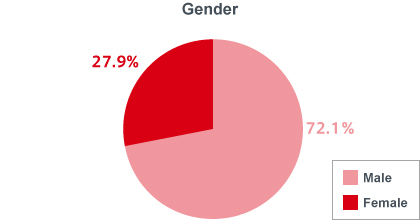 Note:
Regional categories are defined as follows:
Americas: North America, Central America, South America
Europe: Europe, Russia, Africa, Middle East
Greater China: China, Taiwan, Hong Kong
Asia Pacific: Southeast Asia, Korea, India, Oceania
Medium-term Targets and Results
ROHM has identified " Diversity Development" as one of the key sustainability issues related to human resource management, which is important for the sustainable growth of ROHM and society, and is working to achieve the target for FY2025.
Diversity Development
[Background and Challenges for Activities]
With production and sales bases around the world, ROHM Group consist of employees from a variety of nationalities and backgrounds.
By demonstrating the individuality and capabilities of these diverse human resources and teamwork as "ONE ROHM", innovation can be created, and products that lead to the resolution of social issues can be provided. To this end, regardless of gender or nationality, it is essential for employees to develop human resources with a global mindset that allows them to think proactively, accept different cultures and ideas from a broad perspective, and create new value. Based on this philosophy, ROHM Group has identified "Promoting Diversity" as an important management issue. We will take measures that everyone can make the most of their abilities.
Theme
Targets
(Target Year: FY2025)
Targets for FY2022
FY2022 Actual
Targets for FY2023
Promote women's active participation
Increase global female manager ratio to 15% by 2025 and to 20% by 2030
10.9%
12.6%
12.9%
Global capacity development and personnel allocation
①Establish a human capital development system for ROHM Group

・Continue training for next-generation leaders and provide opportunities to practice in a phased manner.
・Visualize the training history and skills of supervisors and employees within the HR system
・Establish a human resource development system centered on on-the-job training at Group companies in Japan

A total of 48 employees participated in next-generation leader training for department heads and section managers, completing the entire program
Expand selective training programs and expand them to some domestic Group companies as opportunities for employees to actively, selectively, and self-deterministically develop their careers
②Integrate the mixed human resources system and deploy it as a global system within the Group to promote the enhancement of career planning, appropriate human resource allocation, and the management and promotion of diverse human resources

・Deploy HR core system to domestic group companies
・Utilize the personnel database collected from the HR core system and reflect it in selective and elective training programs

・Deployment of the HR core system to domestic group companies started
・Accumulate attendance histories of selective and elective training programs in the HR database and use for analysis

In addition to the deployment of the HR Core System to overseas Group companies, begin to build a foundation for human capital information disclosure by establishing common management items.
③Accumulate strategic data on evaluation, compensation, promotion and placement
Create measures and an environment that eliminates the practice of seniority-based promotions, etc., utilizing grading, and partially introduce job-based employment
Partial introduction of job-based employment, annual salary, and individual contract-type personnel systems
Update selection, dismissal, compensation, and contract management of group company directors from a governance perspective
【Related Activities】
ROHM Group is focusing on five areas in order to promote diversity and inclusion.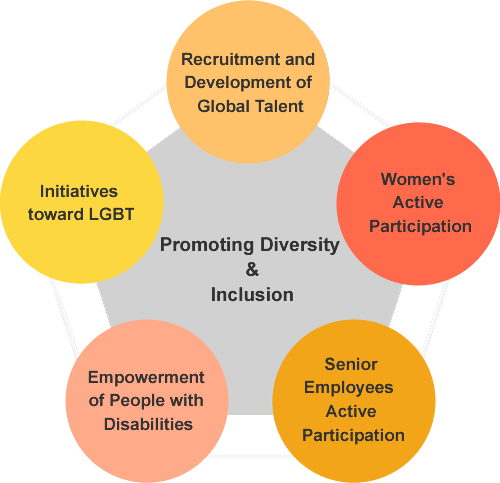 Recruitment and Development of Global Talent
ROHM has production and sales sites around the world, and our employees are of various nationalities. We believe that bringing together employees with diverse backgrounds to work as a team will lead to corporate innovation, solve social issues, and increase corporate value. To this end, it is important to hire and train global human capital. Global human capital is not only those who are fluent in languages, but also those who can think independently, accept different cultures, ideas, and thoughts from a broad perspective, and create new values. ROHM is actively working to find and hire global human capitals.
・Recruitment
In anticipation of the further expansion of our global business, ROHM is pursuing activities that will allow the recruitment of people who possess the skills and expert knowledge that we need, regardless of their nationality.
Furthermore, ROHM hires a given number of foreign-national employees each year, with a focus on international students.
TOPICS. Initiatives for Human Capital Development and Recruitment
[ Practical Training Internship ]
We provide opportunities to learn more about ROHM by experiencing ROHM's cutting-edge technologies at actual development sites and producing results with your own hands.
(Number of participants…FY2020: 57, FY2021: 66, FY2022: 92)
[ Features ]
・On-site employees provide close support for internships
・1-2 weeks of work experience
・Choose the program that suits you from more than 70 themes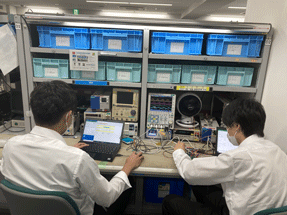 [ Social Problem-Solving Internships ]
ROHM is preparing an opportunity for participants to deepen their understanding of "in what situations ROHM products can solve social issues" based on group work in teams.
(Number of participants…FY2020: 372, FY2021: 597, FY2022: 538)
[ Features ]
・Provide students with a deeper understanding of social issues and the SDGs
・Learn how electronics technology can be used to solve various issues the society is facing
・Personal Interaction Among Talent
In 2010, we set up a program for accepting talent from the Group's overseas companies and we have accelerated our initiatives in human capital development in Group companies.
Since then, we have taken in more than 100 employees, mainly from China and the ASEAN region.
Due to COVID-19, acceptance was temporarily suspended from FY2020, but will resume in FY2024.
The aim of this program is for its participating employees to gain a feel for and learn about ROHM's culture and work styles and to blend that with the culture of their own country on their return, in the hope that they will serve as local leaders who will spread their learnings to those around them.
Taking in these employees from overseas also serves to breathe new culture into the Japanese workplace, fostering a culture that accepts diversity.Going forward, we will expand the target regions and duration of the program, to pursue the development of an organization that is even richer in diversity.
・Overseas Trainee System
Since FY2015, we have adopted an overseas trainee system that allows young employees to spend one year at an overseas Group company to experience different work. The aim is to discover and develop human capital capable of thinking on their own from a global perspective as well as launch challenges to stretch themselves by providing an opportunity for them to boos their experience by immersing themselves in different operations and cultures.
TOPIC.
Voice from the Participant of Overseas Trainee
In addition to experiencing business and daily life abroad, I was also able to feel momentum as well as the hungry attitudes of people, which I didn't feel in Japan, along with differences in what is considered the normal way of thinking. I realized that I had been working from a narrow perspective, using Japanese and personal values as my benchmark. I will work earnestly with a global perspective so that I can make use of what I learned abroad and make a contribution to society.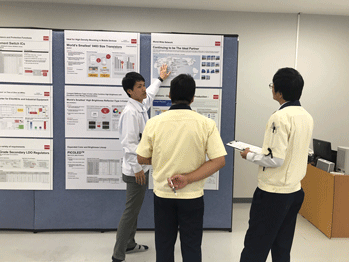 Women's Active Participation
ROHM has identified "diversity development" as an important management issue for sustainable growth, and its mid-term management plan and its achievement targets include promotion of women's career development and appointment of women and non-Japanese to management positions. The active participation of women is not only expected to lead to the securing of excellent human resources, but also to various effects such as "improved results" by understanding and solving problems from a different perspective than men, "improved career development image" for young female employees through the presence of role models, and "reform of corporate culture" by creating a climate in which women can play an active role regardless of gender. ROHM is committed to providing a wide variety of benefits to its employees. Based on this idea, ROHM is promoting efforts for career development of working women from all angles. In May 2021, we set the 2025 target of increasing the ratio of female managers in the entire ROHM Group to at least 15% by 2025, and increasing the ratio of female or non-Japanese executives in the head office to at least 10% by 2025. We will continue to enhance training opportunities, revise existing systems, and introduce new systems to achieve these targets.
1. Action Plan for Women's Active Participation
ROHM has formulated and disclosed, both internally and externally, an action plan based on the Act on Promotion of Women's Participation and Advancement in the Workplace and the Act of Advancement of Measures to Support Raising Next-Generation Children.
Furthermore, the company aims to realize work styles that suit diverse values by implementing a variety of initiatives aimed at the achievement of goals.
ROHM Co., Ltd. General Employer Action Plans (Excerpt)
Plan period:Apr.1,2023 to Mar.31,2027
Goal:
1. Increase the percentage of female engineers hired from new graduates to 15% or more.
2. Achieve a paid leave utilization rate of 50% or more for all employees.
3. Create an environment in which men can actively participate in childcare.
We have acquired the Next Generation Certification Mark (Kurumin Mark) for achieving the goals set in our action plan for April 1, 2019 - March 31, 2023.
2. Career Development Program for Female Employees
Various forms of training ranging from individualized training to training for department supervisors and superiors are carried out to promote the active participation of women.
Program
Purpose
Target
Career designing program for core position staffs (*1)
Training with the objective of helping women form future visions by providing thme with an opportunity to think about their future life and career plans, and consider what kind of an active role they can play
Core position staffs (*1)
Career designing program for administrative assistants (*2)
Administrative assistants (*2)
Leadership program for female employee
Training with the objective of discovering and developing future female leaders who can play an active role in business and employee management
Core position staffs (*1)
Diversity management program for managers
Training through which management-level employees reflect on their awareness related to the development of sucordinates and behavioral changes, and rethink their role as management who enable women to play an active role in a wide range of situations
Managers
*1. A regular full-time position with the prospect of promotion
*2. A position limited to general office work
[Training Results]
・Career Designing Program for Core Position Staffs
A career designing training program was implemented in June 2020 for the purpose of providing support to enable female employees to express their individuality. Around 90 percent of female core position staff (37 employees) participated in the training, providing an opportunity to re-examine their career plans from a medium- to long-term perspective.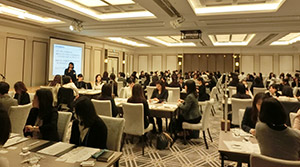 ・Career Designing Program for Administrative Assistants
Career designing training was conducted to support career formation by enabling employees to think about their future lifestyles and work styles. It was carried out in FY2020, and around 90 percent of the female employees targeted for training participated. The training was not limited to reflecting on careers to that point, but also led to the formation of a community among participants who usually have few opportunities to interact with each other.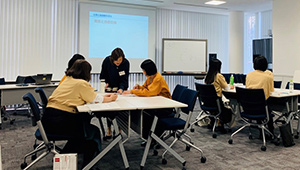 ・Leadership Program for Female Employees
Training was conducted for female employees aiming to be managers or leaders in future in order to let them find their own ideal image of a leader and provide them with the knowledge and skills required for taking action to approach that image.
The training was offered to 20 female employees who volunteered, and carried out three times over three months. Opportunities were provided to participants to aim for their own ideal leader image through basic lectures on leadership by outside instructors and presentations by female leaders actually working in other companies.
・Diversity Management Program for Managers
Diversity management training for managers was conducted to provide support on a workplace level for promotion of active participation of employees with diverse backgrounds including women, and all of ROHM's division heads participated.
This training involved inviting outside instructors to give presentations on the theme of "Managers Developing the Careers of Female Subordinates".
3. Career Course Transition System
The existing career course system was revised with the objective of encouraging general staff who wish to expand their duties and further advance their careers to switch to become core position staff. Until now, this was only available to general staff who were recommended by the company, but under the new system, all general staff who wish may apply, and those employees who pass the examination may switch to being generalists.
A cumulative total of 47 employees have been converted to core positions staff through this program, expanding the scope of their activities.
[ Number of Career Course Transitions(Total) ]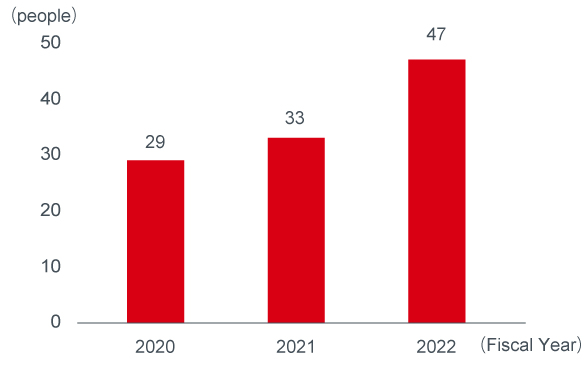 [ Voice of the Person in Charge ]
Expectations for expansion of professional development programs for overseas employees
I am an Assistant General Manager in the Euro/American Sales Division of ROHM Semiconductor Singapore, responsible for developing non-Japanese customers. I came across ROHM when I was looking for a job in sales because I like the challenge of communicating and negotiating with people.
For ROHM, quality includes not only our products, but also our employees and services. Therefore, we focus on improving quality throughout our business activities, such as ensuring a stable supply chain and striving to minimize our impact on the environment. I also feel that the company fosters a corporate culture that values employees and respects diversity, emphasizes teamwork, and provides individuals with opportunities for growth. In addition, the company encourages work-life balance and has introduced a flextime system to allow working mothers to balance work and home life, allowing them to continue working and actively participate in society.
I also admire ROHM's efforts to promote diversity and increase the ratio of female managers globally.
I believe that ROHM Head Office has always placed a strong emphasis on improvement and innovation, as well as continuous learning and professional development of its employees. I expect ROHM to make the same commitment to the professional development of its international employees as it does to its headquarters. I hope that ROHM will continue to focus on human capital and become a global major through its efforts to improve the value and motivation of its employees.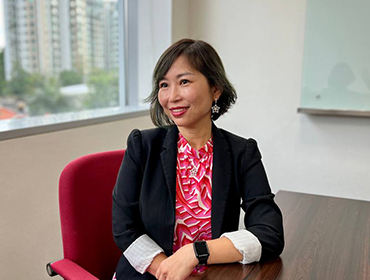 Senior Employees Active Participation
An age in which people live to be 100 years old has arrived, and there are major changes taking place in people's work and life styles. ROHM considers the preparation of an environment where competent senior employees with skills developed over their long career is extremely important for the future growth of the company.
In addition, assets such as senior employees' experiences, skills and networks inside and outside the company acquired through their long careers are also valuable assets for ROHM.
The company will establish an environment enabling active participation of senior employees, and strengthen its organizational structure to enable continued production of large output.
1. Reemployment system
Aiming to create a work environment in which employees can remain active even after retirement, we have uniformly set the reemployment period up to 65 years for all applicants, regardless of age.
2. Career Designing Program
To provide support that enables employees to proactively think about their own careers and self-actualization, ROHM implements, on a regular basis, age-group-based career training that helps each employee develop careers that are suitable to them. (Since 2012, we have conducted career design training for people in their 40s and 50s, with a total of more than 200 participants.)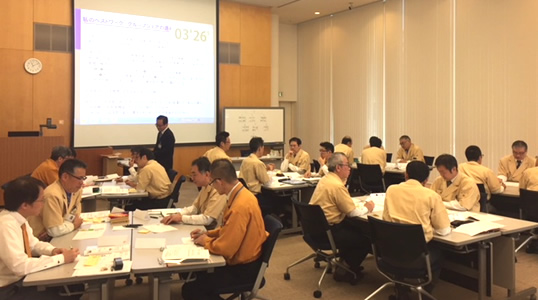 Voice from the Attendees
・It was useful as it offered me an opportunity to learn different sets of values, such as what others my age were thinking of.
・It gave me a chance to reflect on myself and my career plan, which was something that I didn't ordinarily think about.
・I was worried about my future career image, but this training gave me a good opportunity to think about it.
Empowerment of People with Disabilities
In promoting diversity and inclusion, we are actively working to employ and promote the activities of people with disabilities with the aim of realizing a work environment in which employees with disabilities can play an active role in various workplaces.
The employment rate as of March 2023 was 2.29% for the Group as a whole (statutory employment rate: 2.30%). This was due to the strong demand in the semiconductor market, especially in the automotive-related market, which lead to the increase in the overall number of employees in order to meet the supply.
To ensure the continued availability of human resources, starting in January 2019, we are promoting the switch from fixed-term contracts to permanent contracts, starting with employees who have been with the company for five years.
We are also improving the work environment by extending working hours according to work conditions, relocating to a new office with elevators, burying wiring under the floor, and installing ramps. We will continue our efforts to create a comfortable working environment for our diverse workforce.
Initiatives toward LGBT
ROHM Group will of course promote diversity and inclusion. However, to create workplace environment where everyone can work energetically, the inclusion of LGBT employees must also be insured, such as by giving consideration to their needs and proactively deepening the understanding of LGBT by other employees.
Going forward, we will promote the development of an environment where there is no violation of employee identities. This includes the implementation of in-house training and education, improvement and expansion of consultation services and the creation of working environments that are even more inclusive.
Approach in the Past
・Introduction of business names (implemented since April 2015)
This allows the use of a pseudonym (a names other than one's legal name) as a "business name"
・Revision of the dress code (implemented since April 2016)
We abolished the dress code (i.e., wearing of a designated skirt) that was established on a limited basis according to gender and employee category
・Removing gender field
We removed gender field on entry sheet for job application.
New_company jquery_v3.6.0.js