training_title
Human Capital Development

Human Capital Management
sustainability_human-capital_navi_cms
training_main
Our Basic Policy
ROHM Group has clearly established how to develop personnel through training in its "Basic Goals for Education and Training" "Basic Policy for Education and Training" that have existed within its corporate goals and policies as a universal philosophy since ROHM was founded.
Basic Goals for Education and Training

1. Develop personnel at all levels to constantly strive to obtain new knowledge and to acquire empirical reasoning ability from a broad perspective.
2. Train staff to be dedicated as leaders in their field by utilizing their knowledge and experience.
3. Develop personnel who can overcome any adversity and strive towards achieving targets.
4. Train staff to place the highest value on teamwork, resulting from the combined efforts of all individuals.
Basic Policy for Education and Training

1. All employees will use every available opportunity to enhance self-development.
2. Those in leadership positions will exemplify model behavior at all times.
3. The emphasis of education is on-the-job training led by the supervisors through daily operations. Supplementary training off the job is also provided.
4. Each head of all management levels will appraise staff fairly and conduct effective training programs periodically and consistently.
5. Appraisals for each head of all management levels is based, as a general rule, on the success of staff education and training.
In order to realize ROHM Group's management vision, it is important to develop next-generation leaders and professional human resources who can create innovation in accordance with the Basic Goals for Education and Training. Based on this idea, Diversity Development is set as a sustainability priority issue. The important themes are "recruiting and training human capital with a global mindset who can think things independently and create new value" and "securing next-generation leaders and professional human resources". By increasing the educational opportunities for employees, we will foster rewarding feelings of growth and improve employee performance, which in turn will lead to the growth of the company.
Human Capital Development System
The Basic Goals for Education and Training in the Corporate Objectives and Policies, which have existed as a universal philosophy since the company's founding, clearly define the type of human capital that should be developed through education and training. In accordance with the Basic Goals for Education and Training, we are working to establish and operate an education and training system at the group level and to systematically develop human capital who will be responsible for the next generation of management, as described below.
| Human Capital Development Structure | Objective |
| --- | --- |
| 1.Career Development | Learn the mindset, knowledge, and skills to think about and design one's own career and involve others in its realization. |
| 2.Job Specialization Human Resource Development | Learn the specialized knowledge and skills needed to perform one's job. |
| 3.Human Resource Development by Grade | Learn the minimum required knowledge and skills as a ROHM human resource, as well as the thinking skills that form the foundation for capacity building. |
| 4.Role-based Human Resource Development | Learn the knowledge and skills required for the development and management of subordinates and junior staff and organizational development. |
| 5.Periodic Assessment Career Assessment | Achieve self-improvement through objective self-reflection and deep introspection. |
| 6.Elective Human Resource Development | Learn the knowledge and skills necessary for your career on your own, when you need them. |
| 7.Selective Human Resource Development | A system for discovering, selecting, and systematically developing human resources who will support the company's management and technology. |
| 8.Experiential Human Resource Development | Gain the experience opportunities you need for your career. |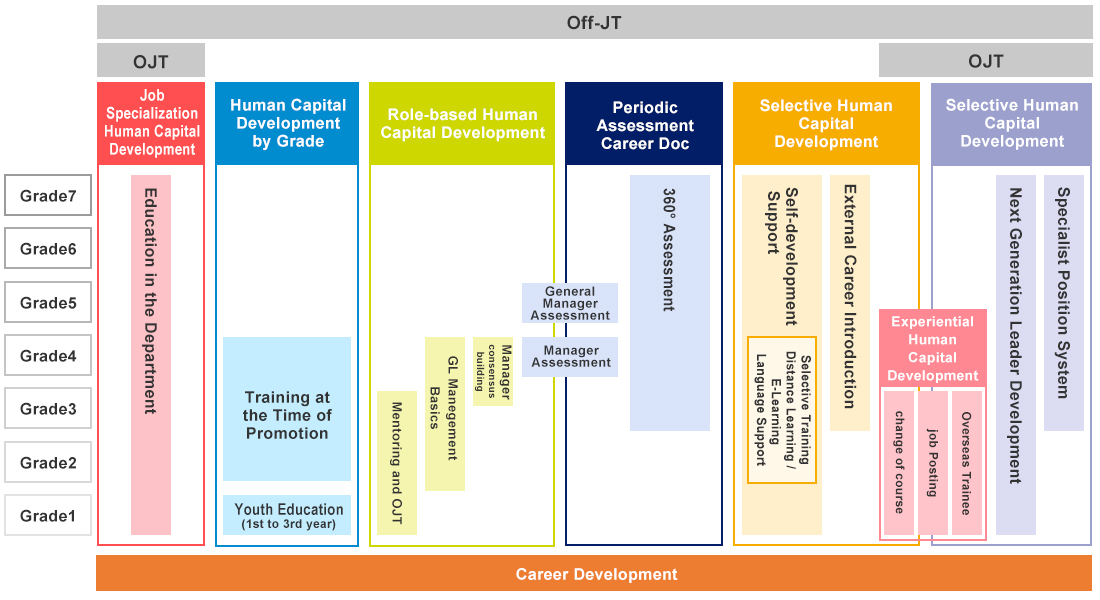 In-house Training Programs and Achievements
Category
Main Training Courses
Objectives
Number of Times Held
(Year)
FY2021
FY2022
Number of Participants
Attendance rate(%)
Number of Participants
Attendance rate (%)
Training Hours
(Hour/
Number)
Cost
(Thousands of Yen)
Training by job grade
Training for new graduates*1
Acquire basic knowledge as a working person and business etiquette (basic skills of a working person), as well as learning about the company and the basics of how to approach work.
1
131
100%
179
100
80
26,004
Follow up training for new graduates*1
Follow-up in the second and third year of employment to reflect on past experiences and renew goals together with peers who joined the company at the same time, to foster independence and take action to build their own careers on their own.
2
270
100%
222
100
8
1,021
New job grade training
Training to acquire the knowledge, skills, and mindset required of each grade. Based on the understanding of the company's objectives and policies, newly-promoted employees will think about the expectations for their roles in the future and set action goals.
7
283
96%
357
100
8 (Grade2)
14 (Grade3)
23 (Grade4)
11,066
Management training
Management training (by role)
Acquire basic knowledge and skill required for managers. Get the result by motivating team and staff through good communication.
3
84
100%
49
100
16 (GL)
2,797
Assessment training
Quantify the skills required for management to unite an organisation, analyse strengths and weaknesses, correctly recognise one's own management style and use it in the future management of the organisation.
4
70
100%
50
100
22 (Junior Managers)
31.5 (Department Managers)
12,210
Harassment Training
Aimed at managers responsible for increasingly complex human resources management to learn about the current situation in their companies and how to deal with problems in order to prevent misconduct, loss of human resources and mental health issues.
4
-
-
422
100
2
198
Career development training
Career designing program
Focuses on the individual's career, regardless of grade or role, and fosters the ability to act proactively to think about one's own career and achieve self-fulfilment.
2
187
100%
197
100
10
6,371
OJT/Professional skill
Mentor/Mentee training
Foster a culture of human resource development and encourages long-term career development through the development of new employees.
10
176
100%
244
100
8
2,660
Next Generation Leader Development
-
A succession plan system that aims to quickly discover excellent human resources who will be candidates for next-generation management, and to develop and secure them from a long-term perspective, which will drive ROHM's stable growth.
24
50
100%
48
100
96
24,193
Career course transition system
-
A system aimed at promoting course conversion to key positions for limited key employees who want to broaden their range of duties and take on the challenge of further career advancement.
-
4
100%
14
100
7
460
Learning language abroad system
-
Support acquisition of the language skills required for carrying out business overseas, through a program that allows one to four weeks of study at a language school in the Philippines.
-
0
-
0
-
-
-
Selective Human Resource Development
Elective training
Provides selective training in the three areas of "Reskilling Update," "Career Design," and "Leadership Development" in order to provide selective career development opportunities.
16
-
-
564
100
8
2,885
1 : Training for new graduates and Follow up training for new graduates are also available to employees of affiliated companies in Japan.
2 : The second half of the year has been shifted to an elective training program.
Training to Instill Corporate Objectives and Basic Management Policies
ROHM carries out training to instill corporate objectives and basic management policies. The objective is to enable all ROHM Group employees to become aware of their raison d'etre within the company, as well as to recognize company's direction and goals, so that they can help achieve established company targets through their work.

New_company jquery_v3.6.0.js