BU33JA3DG-C (New)
300mA 3.3V, CMOS LDO Regulators for Automotive
BU33JA3DG-C (New)
300mA 3.3V, CMOS LDO Regulators for Automotive
The BUxxJA3DG-C series are linear regulators designed as low current consumption products for power supplies in various automotive applications. These products are designed for up to 6.5V as an absolute maximum voltage and to operate until 300mA for the output current with low current consumption 37µA (Typ). These can regulate the output with a very high accuracy, ±2%. These regulators are therefore an ideal for any applications requiring a low current consumption. A logical "HIGH" at the EN pin turns on the device, and in the other side, the devices are controlled to disable by a logical "LOW" input to the EN pin. The devices feature the integrated Over Current Protection to protect the device from a damage caused by a shortcircuiting or an overload. These products also integrate Thermal Shutdown Protection to avoid the damage by overheating. Furthermore, low ESR ceramic capacitors are sufficiently applicable for the phase compensation.
Product Detail
Part Number
|
BU33JA3DG-CTR
Minimum Package Quantity
|
3000
Functional Safety:

A product that has been developed for automotive use and is capable of supporting safety analysis with regard to the functional safety.
Specifications:
Breakdown Voltage(Max.)[V]
6.5
Circuit Current[mA]
0.037
Over Current Protection
Yes
Over Voltage Protection
No
Output Capacitor[µF]
0.47
Operating Temperature (Min.)[°C]
-40
Operating Temperature (Max.)[°C]
150
Package Size
2.9x2.8 (t=1.25)
Common Standard
AEC-Q100 (Automotive Grade)
Find Similar
Features:
AEC-Q100 Qualified(Grade 1)
Output Shutdown Function (EN Function)
Over Current Protection (OCP)
Thermal Shutdown Protection (TSD)
Overview
The BUxxJA3DG-C series meets basic requirements, including a compact size, support for 125°C operations, qualification under the AEC-Q100 automotive reliability standard, and output voltages required for automotive secondary LDO regulators.
At the same time, output currents up to 300mA are provided from 1.7V to 6.0V wide input voltage range in a small form factor. In addition, output noise is reduced by 40% over general products (ex: 55μVrms at the BU33JA3DG-C), reducing the effect on minute electrical signals. This is making them ideal for power supplies in compact, high-performance automotive applications where noise is a concern.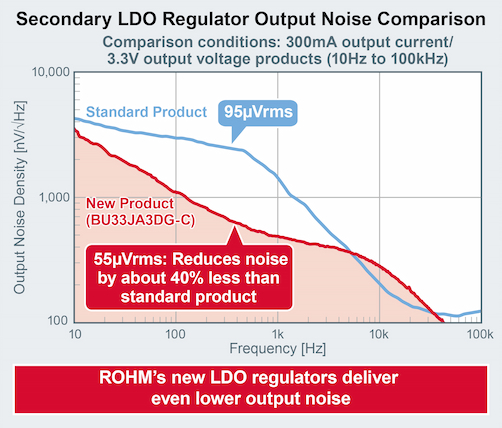 Application Examples
◇ ADAS, sensors, cameras and radar
◇ Car infotainment systems including clusters and head-up displays (HUDs)
Enables use in a wide range of applications and fields, especially secondary power supplies for noise-sensitive automotive applications.