January 20th, 2022
Optimized antenna layout reduces development load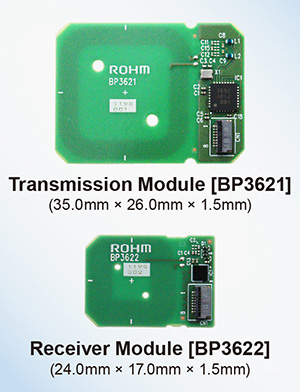 ROHM has developed compact wireless charger modules with an integrated antenna board: the BP3621 (transmitter) and the BP3622 (receiver). The new modules allow to add wireless power supply functionality to smaller devices such as smart tags/cards or PC peripherals.
Wireless power supplies are increasingly being adopted in smartphones, smart watches, and other compact devices. By utilizing wireless power technology, devices can improve water and dust resistance by eliminating the need for terminal contacts. However, the existing low frequency standards for power transmission – coupled with restrictive antenna designs – limit the degree of miniaturization that can be achieved. These limiting factors are accelerating the demand for standards and methods that can be universally adopted in compact devices. In addition, the power transmission efficiency can vary – depending on the antenna shape, size, and distance. Therefore, it is often necessary to repeat prototyping, adjustment, and evaluation on the system – representing a large development burden for antenna design and layout.
In response, ROHM has developed 13.56MHz wireless charging modules that allow users to easily add wireless power functionality to thin and compact devices. Measuring just 20mm2 to 30mm2 each, the BP3621 (transmitter) and BP3622 (receiver) incorporate an optimized antenna (coil) layout. It enables configuration of a compact wireless charging system using the 13.56MHz frequency band to deliver up to 200mW. The full-flat backside board structure facilitates mounting in thin, compact devices – contributing to greater flexibility in chassis design in contrast to conventional solutions. Moreover, using the transmitter and receiver modules as a pair can significantly reduce the development load for prototyping, adjustment, evaluation, and other processes necessary to achieve high efficiency wireless charging. At the same time, the built-in antenna supports bi-directional data communication and NFC Forum Type 3 Tag operation, expanding applicability.
Going forward, ROHM will continue to develop compact modules, with efficient power transfer up to 1W and also NFC Forum-compliant to support a wider range of applications.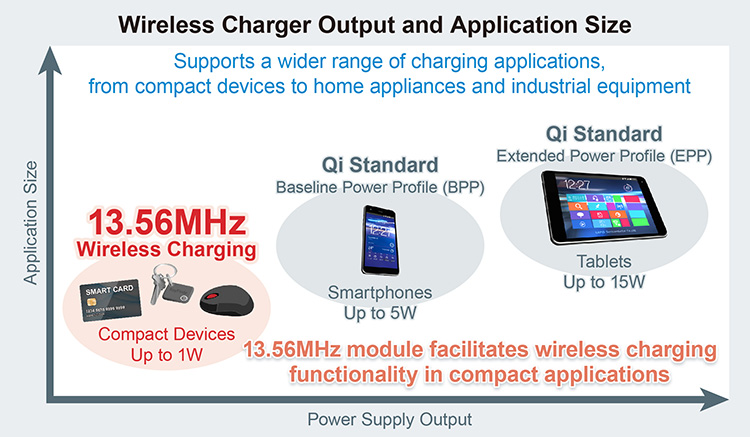 Key Features
1. Modular design with integrated antenna board makes it easy to achieve wireless charging functionality, significantly reducing development load
ROHM's new antenna-equipped modules combine original simulation-based design technology with matching adjustment and an optimized board layout design to reduce wiring loss. As a result, pairing the transmission and receiver modules can provide up to 200mW of power. Unlike conventional solutions where the antenna and control circuit are configured separately, wireless charging performance is guaranteed, enabling product evaluation without the need for antenna/layout design or characteristics evaluation. This module significantly reduces the development and design load required for board modification, making it easy to achieve wireless charging functionality.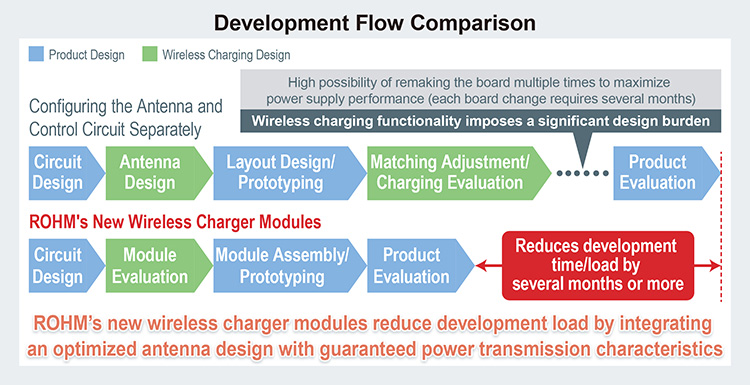 2.Adopting the 13.56MHz frequency band contributes to greater miniaturization, delivering greater design flexibility
Targeted for compact devices such as smart tags and PC peripherals (i.e. mice), these new modules utilize the magnetic resonance method in the 13.56MHz frequency band to reduce antenna size. This makes it possible to develop a compact module that integrates a wireless charger IC, matching circuit, and antenna that was difficult to achieve in the past. Wireless charging provides greater reliability through improved resistance to dust and water by eliminating physical terminals, while the full-flat backside structure with front-mounted components contributes to simpler housing structures and greater design flexibility.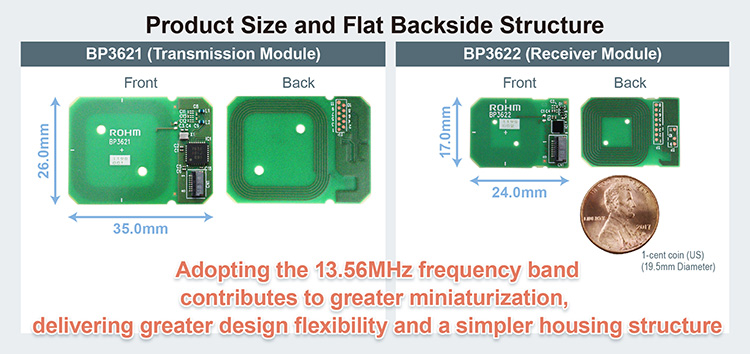 3.Integrated antenna expands communication functionality
The same high frequency band as the NFC communication standard is used, allowing the built-in antenna to transmit both data and power. Both bidirectional data communication (256B Max. at 212kbps) and NFC Forum Type 3 Tag transmission are supported, allowing for functions ranging from firmware download and secure data transfer and rewriting of sensor/device/authentication information to battery output voltage values.
Product Lineup

Pricing: $36.6/unit (samples, excluding tax)
Availability: Available for purchase through online distributors Digi-Key, Mouser, and Farnell.
Supporting Information
The following materials necessary for achieving wireless functionality are available on ROHM's website.
◇ Datasheets ◇ Application Notes
Application Examples
Compact devices such as smart tags, smart cards, and ID cards
Mice, remote controls, and other PC peripherals
Portable healthcare equipment
Terminology
NFC Forum Type 3 Tag
A short-range communication technology that uses the 13.56MHz frequency band whose specifications are defined by the NFC Forum. Type 3 Tag is one standard.

Magnetic Resonance
A method in which antennas (coils) used for sending and receiving power are placed in a resonant state to transmit magnetic field vibrations, allowing current to flow.