*ROHM July 13th, 2023 study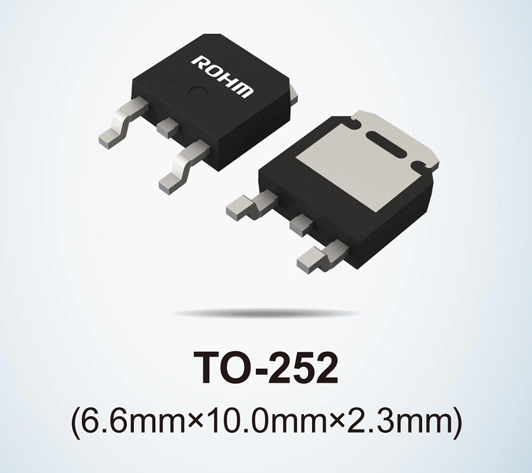 ROHM has added three new models, the R60xxRNx series, to its PrestoMOS™ lineup of 600V Super Junction MOSFETs. These devices are optimized for driving small motors in refrigerators, ventilation fans, and other applications where noise suppression is important.
Greater energy efficiency in equipment is required in recent years in response to the tightening of the global power supply, with motor drives accounting for up to 50% of the world's total power demand. For this reason, high efficiency MOSFETs are increasingly being used in inverter circuits that convert power to drive motors. At the same time, however, countermeasures against noise generated from MOSFET operation typically involve adding components and/or changing circuit patterns, so there is a need to reduce both man-hours and costs. But reducing power loss and noise are generally in a trade-off relationship, making it difficult to achieve both.
To meet these needs, in 2012, ROHM began mass production of the PrestoMOS™ lineup of Super Junction MOSFETs featuring the industry's fastest reverse recovery time(trr) characteristics, which has received high marks for achieving lower power consumption. The lineup now includes three new models that provide best-in-class noise characteristics while maintaining the fast trr through an optimized structure.
The new R60xxRNx series maintains the high-speed trr characteristics of PrestoMOS™ while minimizing noise. An industry-best trr of 40ns is achieved by improving conventional lifetime control technology, reducing switching losses by approx. 30% over general products that translates to lower application power loss. At the same time, the newly developed Super Junction structure reduces noise characteristics (which are inversely related to faster trr) by about 15dB compared to standard products (under ROHM measurement conditions at 40MHz). Delivering industry-leading characteristics reduces the number of man-hours and parts required for noise countermeasures.
Going forward, ROHM will continue to expand its high voltage MOSFET lineup in different packages and even lower ON resistances that contribute to environmental protection by reducing power consumption in a variety of applications.
PrestoMOS™
'Presto' is an Italian musical term meaning 'very fast'.
PrestoMOS™ is ROHM's original power MOSFET that maintains the high withstand voltage and low ON resistance of Super Junction MOSFETs while speeding up the trr of the built-in diode. Reducing switching losses make it ideal for a wider range of applications with inverter circuits, such as air conditioners and refrigerators.
*PrestoMOS™ is a trademark or registered trademark of ROHM Co., Ltd.
Product Lineup
Part No.
Data
Sheet
Polarity
[ch]
VDSS
[V]
ID
[A]
PD
[W]
*TC=25°C
RDS(on) (Typ.)
[mΩ]
*VGS=15V
Qg (Typ.)
[nC]
*VGS=15V
trr (Typ.)
[ns]
Package
R6004RND3
N
600
4
60
1,330
10.5
40

TO-252
<DPAK>
R6007RND3
7
96
730
17.5
50
R6009RND3
9
126
510
22.5
55
Package indicates JEDEC code. <> refers to the General package code.
Application Examples
◇ Refrigerators
◇ Ventilation fans
◇ Fan motors
Also suitable for a variety of devices equipped with small motors.
Terminology
Super Junction MOSFET (Metal Oxide Semiconductor Field Effect Transistor)

A type of transistor, MOSFETs can be divided by device structure into DMOSFET (Double-diffused MOSFET), planar, and super junction topologies. Super Junction MOSFETs deliver superior breakdown voltage and output current than both DMOSFETs and planar types, while also featuring lower loss when handling large power.

trr (Reverse Recovery Time)

The time it takes for the built-in diode to switch from the ON state to completely OFF. The lower this value is, the smaller the loss during switching.

Lifetime Control

The time it takes for carriers (holes or electrons) that have moved when voltage is applied to the semiconductor to recombine when the voltage is stopped is called the lifetime, and the technology that makes recombination easier by intentionally creating defects in the semiconductor crystal structure is called lifetime control.