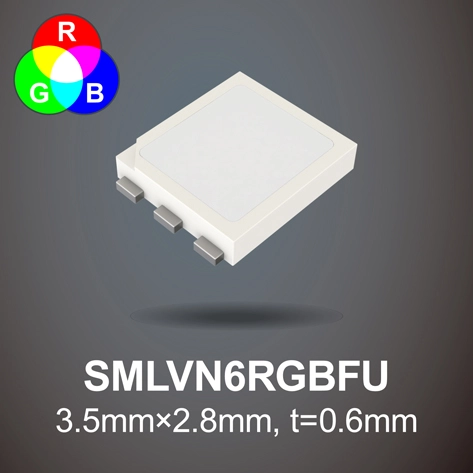 ROHM has developed an RGB chip LED, SMLVN6RGBFU ideal for automotive interiors, such as function and status indicators in instrument clusters, CID (Center Information Displays) and accent lighting for footwells and door handles.
In recent years, more driver assistance functions (i.e., automatic speed control, vehicle distance/white line detection) have been introduced as vehicles become progressively electronic and sophisticated. As such, the demand for RGB chip LEDs capable of expressing a range of colors to indicate operational status in instrument panels and meter clusters is rising. In addition, there's also an increasing need to create a comfortable and luxurious cabin space with decorative lighting using RGB chip LEDs.
In response, ROHM has developed an RGB chip LED that further minimizes color variation by precisely controlling the luminous characteristics of the RGB elements and improving color mixing through in-house device technology.
Generally, developing RGB chip LEDs that emit light at the specified color requires precise control of the wavelength and brightness of the mounted red, green, and blue (RGB) elements individually and methods to enhance color-mixing capability. ROHM has minimized element color variation over general products by utilizing a vertically integrated production system from the element fabrication stage - one of ROHM's strengths. At the same time, original element color mixing control technology reduces color variations caused by color mixing that tends to occur in RGB chip LEDs, resulting in accurate color expression required in automotive interiors. ROHM also supports detailed color matching tailored to user specifications with the chromaticity simulation system.
As we advance, ROHM will continue to contribute to improving in-vehicle comfort and safety by developing industry-leading products optimized for automotive lighting through a quality-first approach.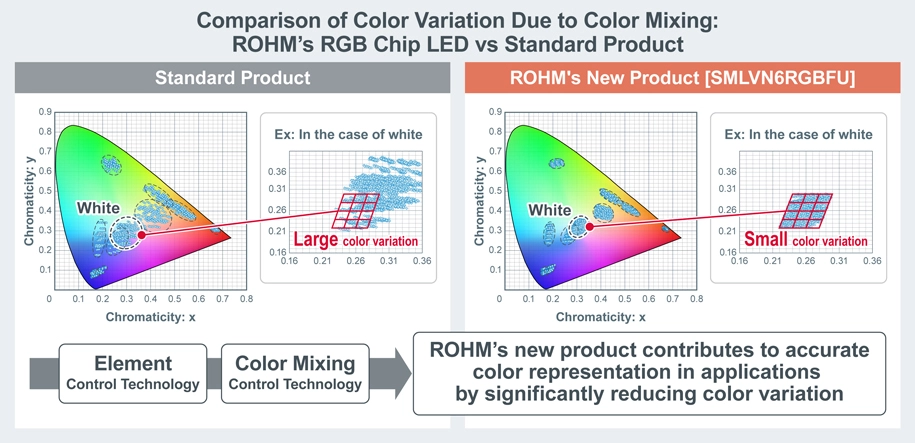 Chromaticity Simulation System
Product Lineup
Part No.
Data
Sheet
Emitting
Color
Absolute Max. Ratings (Ta=25°C)
Electrical Optical Characteristics (Ta=25°C)
AEC- Q102
Package
Size
[mm]
Total
Permissible
Loss
PD[mW]
Forward
Current
IF[mA]
Peak
Forward
Current
IFP[mA]
Operating
Temp.
Topr[°C]
Storage
Temp.
Tstg
[°C]
Forward
Voltage VF
Typ.
[V]
 
Dominant
Wavelength λD
Typ.
[nm]
 
Luminous
Intensity IV
[mcd]
Typ.
 
IF
[mA]
IF
[mA]
IF
[mA]
SMLVN6RGBFU
Red
400
50
100
-40
to
+100
-40
to
+100
2.1
20
621
20
750
20
✓

3.5×2.8,
t=0.6
Green
40
100
3.3
20
525
20
1800
20
Blue
40
100
3.3
20
470
20
430
20
IFP conditions: Pulse Width ≤ 1ms, Duty ≤ 1/20
Application Examples
◇ Indicators for function/status display: Instrument clusters, CID, car audio/navigation, heater control, etc.
◇ Automotive Ambient lighting: footwells, roof, handles, cup holders, etc.
Terminology
CID (Center Information Display)

It typically comprises of a large LCD embedded in the center of the cockpit. In addition to displaying car navigation and In-Vehicle Infotainment (IVI), its role has expanded to include controlling the Air Conditioner and other vehicle functions in recent years.

Indicators

These are devices that notify the status of various vehicle operations.

RGB Chip LED

An LED that can produce the full range of colors by combining elements for the three primary colors of light: R (Red), G (Green), and B (Blue).